(View From The Couch is a weekly column that reviews what's new on Blu-ray and DVD. Ratings are on a four-star scale.)
Jesse Eisenberg and Kristen Stewart in American Ultra (Photo: Lionsgate)
AMERICAN ULTRA (2015). A lightweight but likable piece that basically finds Jason Bourne reborn as a slacker, this stars Jesse Eisenberg as Mike Howell, a stoner leading a dead-end life in a puny West Virginia burg. His only source of joy is his girlfriend Phoebe (Kristen Stewart, Eisenberg's Adventureland co-star), who's supportive even when his frequent panic attacks prevent them from ever leaving their tiny town for vacation. Unbeknownst to Mike, though, is the fact that he's really a highly skilled government agent whose mind has been wiped clean — a situation that's reversed when a supercilious CIA yuppie (Topher Grace) orders him terminated. Activated by his former agency handler (Connie Britton), Mike is as surprised as anyone when he finds himself able to take down trained assassins with his bare hands or, in one amusing sequence, a deftly tossed frying pan. The notion of a Cheech & Chong burnout as a 007 knockoff is an amusing one, and Eisenberg plays the part perfectly. Equally impressive is Stewart, who continues to demonstrate that she will easily outpace the fanboy detractors — even a late-inning revelation concerning her character doesn't take away from the warmth and empathy she brings to the role. What does detract is the decision of director Nima Nourizadeh to tackle each kill with overkill. Nourizadeh feels that one coat of crimson won't suffice when another three layers can be added, and while this gore should prove too cartoonish to offend many people, it does grow tiresome and occasionally takes us out of otherwise soundly choreographed action sequences. On balance, American Ultra won't be mistaken as the ne plus ultra of secret agent capers, but it mostly handles its assignment with ease.
Blu-ray extras include audio commentary by director Nima Nourizadeh; a making-of featurette; and a gag reel.
Movie: **1/2
AMY (2015). At the 50th Annual Grammy Awards in 2008, Amy Winehouse was the big winner, nabbing five prizes. But there are no winners in this look at the rapid rise and even more rapid downfall — and death — of the British singer-songwriter. There are only losers — in a literal sense, the friends who lost their dearly beloved (such as her childhood chums), and, in a less charitable sense, the enablers who frequently looked the other way as she repeatedly turned to drugs and booze, and especially the villains largely responsible for her tragic lot in life. That the bad guys tower so prominently over almost every aspect of this nonfiction feature makes Amy an especially difficult watch. It's depressing to witness how this young girl from London, this phenomenal talent with the sultry, soulful voice, got swallowed whole by the fame she didn't necessarily seek out but which arrived as a result of her incredible gift. This is poignant material, with the outrage mostly emanating from the presence of the sleazebags who effectively co-opted her life for their own sordid pleasures. Naturally, there's the paparazzi, but more to the point, there are the two men who should have loved and protected her more than anybody else in the world but instead betrayed her at every turn: her vile father Mitch Winehouse and her creepy husband Blake Fielder-Civil. Both are cut from the same cloth — heartless men who abandoned her when she was an unknown, only to reappear after she amassed her fortune and then proceeded to use her vulnerability to their own advantage. It's difficult to ascertain which of the pair is the bigger scumbag — or, to put it in philosophical terms, if you had only one bullet, which of these lowlifes would you choose to put down?
Blu-ray extras include audio commentary by director Asif Kapadia; deleted scenes; and previously unseen performances by Winehouse.
Movie: ***
Christopher Lee in Count Dracula (Photo: Severin Films)
COUNT DRACULA (1970). In some respects one of the more faithful screen adaptations of Bram Stoker's Dracula, this English-language co-production from Spain, Italy and West Germany finds the prolific Jess Franco (with nearly 200 directing credits to his name) toning down his commonplace sex 'n' gore to present a stately version of the vampire classic. It's a good effort by all, even if it does fall short of complete success. Christopher Lee, who spent many years playing Dracula in Hammer's successful franchise, forsakes the animal magnetism and portrays the Count as a stuffy aristocrat who becomes visibly younger the more he drinks the blood of innocents. Franco provides an appropriately somber atmosphere for the proceedings, but an obvious low budget (the pack of wolves patrolling the terrain outside Dracula's castle is played by a pack of German shepherds) and wretched performances by the no-name actors in the supporting ranks damage the picture's pedigree. Herbert Lom, best known as the twitching Chief Inspector Dreyfus in The Pink Panther series, is an interesting choice to play Professor Van Helsing (Franco originally tried to snag Vincent Price), while it's amusing to see Klaus Kinski as the insect-munching Renfield, nine years before he graduated to the role of bloodsucker in Werner Herzog's Nosferatu remake. The cast also includes cult figure Soledad Miranda as Lucy — a rising actress who gained further exposure when Franco cast her in more films (including Vampyros Lesbos), she was killed in a car accident at the age of 27.
Blu-ray extras on this uncut edition of the film include audio commentary by film historian David Del Valle and actress Maria Rohm (who plays Mina); 1971's Cuadecuc, Vampir, which is part making-of feature and part experimental film; an interview with Franco; and Lee reading from Stoker's Dracula.
Movie: **1/2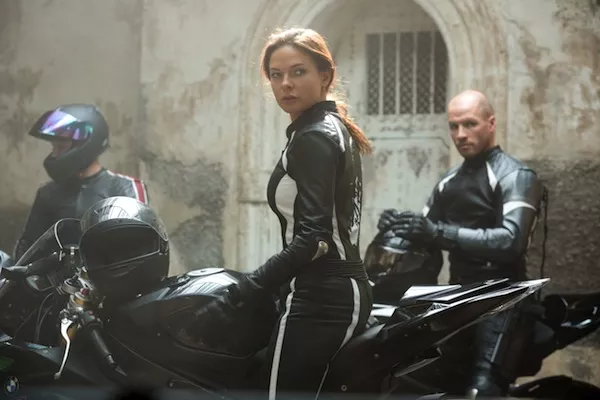 Rebecca Ferguson in Mission: Impossible — Rogue Nation (Photo: Paramount)
MISSION: IMPOSSIBLE — ROGUE NATION (2015). To be honest, Rogue Nation isn't the best of the five M:I films to date, as it fails to match the stylized sleekness of I, the character dynamics of III or the needle-to-the-heart adrenaline charge of IV (aka Ghost Protocol). But for a franchise that began nearly two decades ago (and was a hit TV show before that), here's one that somehow manages to retain its freshness. Only the daft II was a dud; otherwise, this series continues to satisfy at a fast and furious clip. The Impossible Mission Force is being disbanded at the behest of CIA director Alan Hunley (Alec Baldwin) — more's the pity, since IMF agent extraordinaire Ethan Hunt (Tom Cruise) needs all available resources to help him track down Solomon Lane (Sean Harris), a particularly nasty character who heads a terrorist outfit known as The Syndicate. But since Hunley views Ethan as a maverick whose methods are too reckless, he not only won't help him but actively seeks to have him arrested. As bro-centric as any spy game out there — the males (Jeremy Renner, Simon Pegg and Ving Rhames) remain from picture to picture while the females get swapped out like hotel linen — the series at least has created some memorable heroines in the later installments. This one's no exception, with Rebecca Ferguson equipping her character, an international woman of mystery named Ilsa Faust, with the proper mix of wariness and weariness. Harris provides a genuine strain of whispery menace as Solomon Lane, and it's always amusing to watch Baldwin bloviate. As for Cruise, he can be dependably found at the center of the film's complicated set-pieces. But, guys, enough with those face-swapping masks, OK?
Blu-ray extras include audio commentary by Cruise and director Christopher McQuarrie; a making-of featurette; a piece on Cruise; and breakdowns of the action sequences.
Movie: ***
Ann Christy and Harold Lloyd in Speedy (Photo: Criterion)
SPEEDY (1928). While not a masterpiece on the order of 1923's Safety Last! (released on Blu-ray by Criterion in 2013) and 1925's The Freshman (released on Blu-ray by Criterion in 2014), Speedy still ranks as grade-A entertainment from the great Harold Lloyd. It also carries the added distinction of serving as his last silent movie — while the comedian had already made close to 200 features and shorts over a 15-year span, he would go on to make only seven talkies over an 18-year stretch before retiring at the age of 53. Lloyd stars as Harold Swift, an affable lad who also goes by Speedy (a nickname shared not only by Lloyd's character in The Freshman but also by the actor himself in real life). Unable to hold a job because he's always distracted by his love for the New York Yankees (cue an amusing cameo by Babe Ruth, playing himself), Speedy nevertheless steps up to the plate when the father (Bert Woodruff) of his sweetheart (Ann Christy) gets pressured into selling his horse-drawn streetcar so a railroad line can be established in its place. While a street skirmish between railway thugs and Speedy's elderly friends (some who had served during the Civil War!) overstays its welcome, the rest of the picture — from the clever Coney Island set-pieces to the hilarious running gags involving police officers — provides pure bliss. For the first annual Academy Awards, Speedy earned Ted Wilde a nomination for Best Director, Comedy Picture, a separate category from Best Director, Dramatic Picture — the two designations were combined the next year into just Best Director.
Blu-ray extras include audio commentary by Bruce Goldstein, director of repertory at New York's Film Forum, and Scott McGee, director of program production at Turner Classic Movies; a video essay featuring stills from deleted scenes; archival footage of Babe Ruth; and the 1919 Lloyd short Bumping Into Broadway.
Movie: ***1/2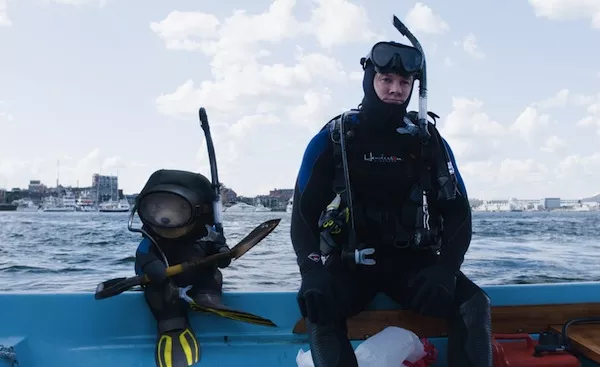 Mark Wahlberg in Ted 2 (Photo: Universal)
TED 2 (2015). This sequel to 2012's Ted finds the talking teddy bear (again voiced by creator Seth MacFarlane) and his girlfriend Tami-Lynn (Jessica Barth) getting married even as his best bud John (Mark Wahlberg) still aches over his divorce from Lori (in other words, Ted co-star Mila Kunis is MIA). But John stirs himself to action when it turns out the US government plans to designate Ted not as a "person" but as "property," thereby stripping him of all his rights. The pair seek legal aid, finally acquiring the services of a pot-smoking junior attorney (Amanda Seyfried) whose intelligence regarding the law is matched only by her ignorance of film references (she's never heard of Gollum and confuses Star Wars with Star Trek). The charm of Ted is that it never took itself too seriously; the problem with Ted 2 is that it does. As Ted fights for his rights, MacFarlane turns up the drama, seeking by any means necessary to compare Ted's plight with that of blacks, gays, and other persecuted groups in this country. But it's hard to take such grandstanding seriously in a movie that also finds time to have John get accidentally covered from head to toe in semen. Ted 2 also suffers from a touch of sequelitis, as MacFarlane lazily brings back the nutty Donny (Giovanni Ribisi) to provide some late-inning menace. Still, what counts most in a comedy is the laugh ratio, and Ted 2 comes out blazing and rarely runs out of ammo. Seyfried matches up nicely with the guys, and at least two of the cameo appearances really deliver. Plus, any movie that stages its climactic set-piece at Comic Con clearly has its furry finger on the pop-culture zeitgeist.
The Blu-ray contains both the theatrical version as well as an unrated cut that runs 10 minutes longer. Extras include audio commentary by MacFarlane, Barth and co-writers Alec Sulkin and Wellesley Wild; deleted scenes; a look at the Comic-Con sequences; and a gag reel.
Movie: ***