AMOUR
***
DIRECTED BY Michael Haneke
STARS Jean-Louis Trintignant, Emmanuelle Riva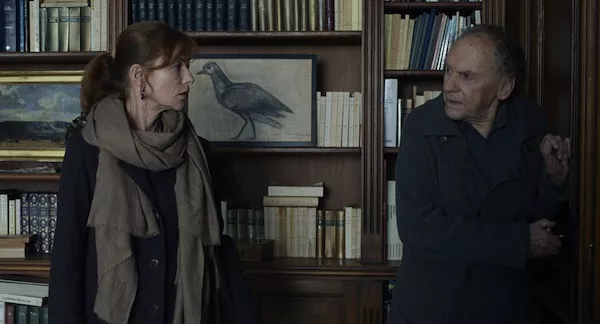 FATHER KNOWS BEST: Georges (Jean-Louis Trintignant) ignores the advice of his daughter (Isabelle Huppert) in Amour. (Photo: Sony Pictures Classics)
It won the Palme d'Or at the Cannes Film Festival. It has earned Oscar nominations in five major-league categories, including Best Picture. Its writer-director and lead actress have each won or been nominated for more than a dozen international awards. Clearly, Amour, Michael Haneke and Emmanuelle Riva don't really need me to additionally sing their praises (although praise is indeed all I have), so let's discuss Jean-Louis Trintignant for a moment.
Julie Christie earned reams of awards for her portrayal of a woman suffering from Alzheimer's in 2006's Away from Her, yet for me, the best performance in that film was given by the largely overlooked Gordon Pinsent as her loving husband, a good man reacting to his wife's condition with a believable mix of empathy, kindness and helpless frustration. In Amour, a bracing, brutal study of an octogenarian couple and the final snatch of time they have together, Trintignant plays a comparable role to that of Pinsent.
Riva's character, a former music teacher named Anne, has started to wear down, more in the physical sense but a bit in the mental department as well. Her husband Georges does what he can to keep her comfortable — and, as her body continues to deteriorate, he also tries to keep her alive, refusing to allow her to give up on him, on herself or on the life they built together.
Riva's performance is indeed amazing — watching Anne's fierce pride attempt to claw its way through the vagaries of her body is heartbreaking — but no less impressive is the turn by Trintignant. Georges brooks no interference from outsiders — whether it's the caregiver who insultingly treats Anne like an infant or his own well-meaning daughter (Isabelle Huppert) — and the actor applies a testiness to his portrayal that provides it with additional heft.
Because this is a Haneke production, the man behind Cache and Funny Games doesn't forsake his usual abstractions (the ending has already been interpreted in several different ways, with no theory rising above the rest), and there's also a slight yet familiar chill that wafts through the entire movie. Yet Haneke exhibits nothing but warmth and devotion toward his central couple, and his movie ends up serving as a testimonial not only to these universal characters but also to the two French icons portraying them.