(View From The Couch is a weekly column that reviews what's new on Blu-ray and DVD.)
Emmanuelle Riva in Amour (Photo: Sony)
AMOUR (2012). It won the Palme d'Or at the Cannes Film Festival. It nabbed the Academy Award for Best Foreign Language Film and also scored four additional nominations (including Best Picture). Its writer-director and lead actress each won or were nominated for over a dozen international awards. Clearly, Amour, Michael Haneke and Emmanuelle Riva don't really need me to additionally sing their praises (although praise is indeed what I have), so let's discuss Jean-Louis Trintignant for a moment. Julie Christie earned reams of awards for her portrayal of a woman suffering from Alzheimer's in 2006's Away from Her, yet for me, the best performance in that film was given by the largely overlooked Gordon Pinsent as her loving husband, a good man reacting to his wife's condition with a believable mix of empathy, kindness and helpless frustration. In Amour, a bracing, brutal study of an octogenarian couple and the final snatch of time they have together, Trintignant plays a comparable role to that of Pinsent. Riva's character, a former music teacher named Anne, has started to wear down, more in the physical sense but a bit in the mental department as well. Her husband Georges does what he can to keep her comfortable — and, as her body continues to deteriorate, he also tries to keep her alive, refusing to allow her to give up on him, on herself or on the life they built together. Riva's performance is amazing — watching Anne's fierce pride attempt to claw its way through the vagaries of her body is heartbreaking — but no less impressive is the turn by Trintignant. Georges brooks no interference from outsiders — whether it's the caregiver who insultingly treats Anne like an infant or his own well-meaning daughter (Isabelle Huppert) — and the actor applies a testiness to his portrayal that provides it with additional heft. Because this is a Haneke production, the man behind Cache and Funny Games doesn't forsake his usual abstractions (the ending has been interpreted in countless ways, with no theory rising above the rest), and there's also a slight yet familiar chill that wafts through the movie. Yet Haneke exhibits nothing but warmth and devotion toward his central couple, and his movie ends up serving as a testimonial not only to these universal characters but also to the two French icons portraying them.
Blu-ray extras include a making-of featurette and a Q&A session with Haneke.
Movie: ***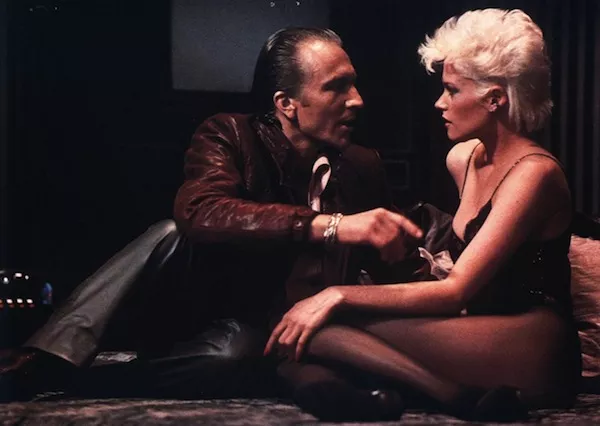 Craig Wasson and Melanie Griffith in Body Double (Photo: Twilight Time)
BODY DOUBLE (1984). Is Body Double Brian De Palma's most underrated film or merely a guilty pleasure on my part? Naturally, I make the case for the former. Savaged by most critics upon its original release (the late Roger Ebert was one of its sole defenders), the film blew me away back in '84 and, 29 years later, continues to deliver with its orgy of vicarious thrills, visceral pleasures and comic riffs (amazing that most reviewers mistook this for a serious movie!). Just as De Palma's excellent Dressed to Kill was an homage-or-rip-off-take-your-pick of Hitchcock's Psycho, Body Double uses both The Master's Vertigo and Rear Window as its twin starting points and then wanders off in its own delirious direction. Craig Wasson plays a struggling actor whose nocturnal stint as a Peeping Tom allows him to see that a beautiful neighbor (Deborah Shelton) might be in mortal danger; caught in the middle, he tricks porn starlet Holly Body (Melanie Griffith) into helping him get to the bottom of things. Woe be to the viewer who tries to accept this film at face value; instead, the movie gets its charge from De Palma's careful manipulation of cinematic artifice and audience expectations. Basically an extended middle finger to those who trashed Dressed to Kill, the movie — stunningly shot (by Stephen H. Burum) and beautifully scored (by Pino Donaggio) — is loaded with sexual imagery (how can you miss the positioning of that power tool right before it strikes?), sly stabs at Hollywood-business-as-usual, and now-kitschy 1980s injections (including a music video sequence set to Frankie Goes to Hollywood's "Relax"). In her career-making performance, Griffith steals the show as Holly Body — her work earned her a Golden Globe nomination as well as the Best Supporting Actress prize from the National Society of Film Critics ... but no love from the Academy snobs, of course.
Blu-ray extras include four making-of featurettes and Donaggio's isolated score.
Movie: ***1/2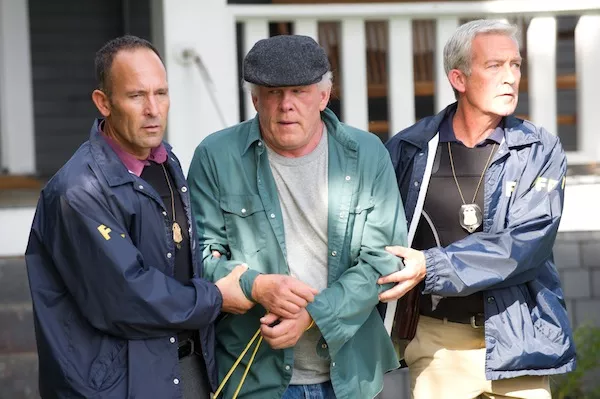 Nick Nolte in The Company You Keep (Photo: Sony)
THE COMPANY YOU KEEP (2013). There's a musty smell surrounding The Company You Keep, director-star Robert Redford's drama about a smalltime lawyer who's forced to go on the lam after he's outed as a murderous 1970s radical. Redford, an admirable progressive in real life, used to routinely channel his politics into his pictures — All the President's Men and Three Days of the Condor are two of his great films in this vein — and this latest effort feels like an AARP-sanctioned update of those pictures, only with the teeth missing. It also includes many scenes set at a newspaper office where editors bark at staff members in the trusty Perry White-Jimmy Olsen manner and where reporters tend to do most of their research on microfilm machines, only remembering every once in a while that there are computers parked on their desks. As for the climax, it doesn't crackle with excitement as much as shuffle with purpose, like a diner waitress taking an order on a slow weekday night. Redford stars as Jim Grant, a widower raising his daughter (Jackie Evancho) while doing plenty of pro bono work. The arrest of a housewife (Susan Sarandon) who turns out to be a former member of the Weather Underground's more radical branch — a reactionary involved with a bank heist that left a guard dead — prompts smug young reporter Ben Shepard (Shia LaBeouf) to aggressively pursue the story, and he eventually discovers that Jim Grant is actually Nick Sloan, who's been wanted all this time for his participation in the bank job. Jim/Nick is forced to go on the run, but is he trying to merely escape capture or is he seeking evidence that will clear his name? Redford, whose 1994 directorial effort Quiz Show remains one of the unsung masterpieces of its decade, and scripter Lem Dobbs (Haywire), adapting Neil Gordon's novel, have created a perfectly respectable film that's fairly intelligent until it elects to insult our intelligence with an obvious and lazy denouement that would have been predictable even 40 years ago. The star-studded cast also includes Nick Nolte, Julie Christie, Terrence Howard, Anna Kendrick and more.
Blu-ray extras include a making-of featurette; a discussion of the historical movement behind the Weather Underground; the press conference with Redford and co-stars Stanley Tucci, Brit Marling and Evancho; and footage from the New York red carpet premiere.
Movie: **1/2
Christopher Lambert in Greystoke: The Legend of Tarzan, Lord of the Apes (Photo: Warner Bros.)
GREYSTOKE: THE LEGEND OF TARZAN, LORD OF THE APES (1984). Edgar Rice Burroughs' jungle swinger has been brought to the screen on nearly 100 separate occasions, including Elmo Lincoln's big-screen christening of the role in the silent era, Johnny Weismuller's popular portrayal in 12 movies during the 1930s and '40s, Ron Ely's run on the '60s TV show and Miles O'Keeffe's attempt in the unspeakably awful Tarzan, the Ape Man, starring Bo Derek as the virginal, banana-nibbling Jane. None of the adaptations have really bothered to adhere closely to Burroughs' superb first novel in his literary series, but this is the version that has managed to come the closest. Helming his first picture since his Chariots of Fire walked off with the Best Picture Oscar for 1981, director Hugh Hudson has fashioned a visually resplendent film that, while perhaps a bit too rigid to offer the proper degree of high adventure synonymous with the Tarzan trademark, contains no small measure of compelling sequences (particularly during the all-apes-all-the-time early portion) and strong performances. Christopher Lambert is highly expressive as John Clayton (aka Lord Greystoke, aka Tarzan), while Andie MacDowell (making her film debut, though her voice was dubbed by Glenn Close) is fine as Jane Porter. But it's two British vets — Ian Holm as the Belgian explorer who discovers the ape man and Sir Ralph Richardson as Tarzan's grandfather back in England — who provide the picture with its sizable heart. This earned three Oscar nominations: Best Supporting Actor for Richardson (who passed away before the film was released), Best Adapted Screenplay for Michael Austin and Chinatown scribe Robert Towne (billed as P.H. Vazak, his dog's name!), and Best Makeup for Paul Engelen and the ubiquitous Rick Baker.
Blu-ray extras consist of audio commentary by director Hugh Hudson and associate producer Garth Thomas and the theatrical trailer.
Movie: ***
Gerard Butler in Olympus Has Fallen (Photo: Sony)
OLYMPUS HAS FALLEN (2013). A better Die Hard movie than the godawful A Good Day to Die Hard, this still registers as a stale action flick whose primary worth is as a heartland alternative for red-meat renters wary of the sexy sinfulness of Spring Breakers or the highfalutin' idiosyncrasies of Stoker. It's basically two hours of "America, Fuck Yeah!" — the Team America: World Police anthem that has unofficially been the motto of everything from the 2012 Summer Olympics to the Iraq War. Perhaps in a calculated move not to alienate Tea Party types, the president in this movie is white: Benjamin Asher (Aaron Eckhart), a decent politician whose best friend, Mike Banning (Gerard Butler), also happens to be his best Secret Service shadow. But a personal tragedy forces the men to split up, and when the White House is attacked by North Korean terrorists and the Prez is nabbed along with some key staffers, Banning has to work his way back onto the Pennsylvania Avenue property so he can go all "yippee ki yay" on the assailants. Director Antoine Fuqua, known for gritty films like Training Day and Brooklyn's Finest, takes a page from the Roland Emmerich/Michael Bay handbook by opting for all the bombast money can buy, thereby uneasily squishing together ample money shots (The White House gets blown up! The Washington Monument crumbles! Gerard Butler flexes his muscles!) with casual brutality (civilians are mowed down like so much grass). It's all very busy but not especially exciting, and it does little to transcend what was doubtless its pitched tag as Die Hard Meets Air Force One. Debuting screenwriters Creighton Rothenberger and Katrin Benedikt keep the story moving at a rapid clip, though they occasionally do stumble into plotholes (one character is a traitor committed to his new cause until he suddenly isn't; a code is required from a certain person until it suddenly isn't). Morgan Freeman brings gravitas to his scenes as Speaker of the House Trumbull — placed in charge once the president and vice president (Phil Austin) are captured, he does everything in his power to make sure these White House occupants from the other party are safely released. Clearly, John Boehner will hate this character's MO.
Blu-ray extras include a making-of featurette; a piece on the visual effects; a breakdown of an action scene; and bloopers.
Movie: **