While this weekend's Charlotte Pride festival and parade will be a celebration of the entire LGBTQ+ community and its allies, and most folks will be in the crowd to see a specific musical performance or drag show, the Charlotte Pride board of directors will also be highlighting the community work of six individuals with the sixth annual presentation of the Champion of Pride Awards.
"The Champions of Pride Awards seek to recognize those whose work and dedication exemplify the spirit of Pride," said Matt Comer, spokesperson for Charlotte Pride. "Our Champions endeavor to empower and unite LGBTQ and allied people through their leadership, service and support. Champions understand the importance of celebrating our past, present and future while advancing LGBTQ rights and visibility."
The awards include the Harvey Milk Award, given to someone who exhibits exceptional leadership while championing LGBTQ causes that impact the Charlotte community; the Young Catalyst Award, given to an up-and-coming LGBTQ leader under 30 years old; the Outstanding Ally Award, given to someone who does not identify as LGBTQ but is a stalwart for causes that impact that community; and the Stonewall Award, a special award that's only given out some years to acknowledge longstanding and dedicated service to Charlotte Pride.
This year, Pride will give the awards to six people, five of whom Creative Loafing spoke to for this story. The sixth, Gerald Gurss, will be honored with a Harvey Milk Award, but recently moved to Minnesota and therefore won't be at Charlotte Pride to accept the award.
In this story, we'll tell of the local work being done by each of the remaining winners, as well as their thoughts on being honored at this year's Pride festival.
Harvey Milk Award: Donté Prayer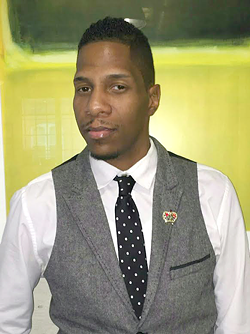 Donté Prayer has only lived in Charlotte for two years, and says he still needs a GPS to get to most places he needs to go. And yet still, the impact he's made on his new community is undeniable.
As a prevention coordinator with The Powerhouse Project, an educational prevention program from the Quality Comprehensive Health Center, Prayer does community outreach and advocacy while also working directly with people living with HIV. This includes linking them with healthcare providers and practicing high-impact interventions to lessen the risk of spreading infections.
Prayer, now 34, can remember wanting to help people since the age of 4, when he first volunteered at the Special Olympics. He went on to study special education and psychology at Elizabeth City State University, and began doing HIV prevention work shortly after graduating. He says that now, at a time when people can live a long, healthy life with HIV, or prevent it more effectively with pre-exposure prophylaxis, known as PrEP, the disease still carries the same stigmas it always has, and even some new ones.
"Even though people should view PrEP as an extra layer of protection when it comes to sexual health, people still give it a stigma of, 'This is like a pass to be promiscuous and not have condom sex,' and things of that nature," Prayer says. "So we have to dismantle all of that on top of the other stigmas that are associated with HIV."
While The Powerhouse Project serves everyone, it specifically aims to be a resource for the black and Latinx male communities, which are disproportionately affected by HIV. Prayer, who identifies as same-gender loving, says that's another reason why he's so passionate about his work.
"As many people know, black gay and bisexual males are impacted the most by HIV, so that's another one of my reasons why this platform and my work is so important, because it affects people that look like me," he says.
Prayer says he's thankful to Charlotte Pride for the recognition of his work during such a short time in Charlotte, and will use the moment as inspiration to work harder in the future.
"I know people that have been doing the work longer than me that haven't been recognized, so I'm very humbled and grateful," he says. "It just gives me motivation to continue to do the work and know that it's not being unnoticed or anything. So I'm very, very humbled that in the short-lived time of living in Charlotte I'm being recognized here."
Young Catalyst Award: Nikolai Mather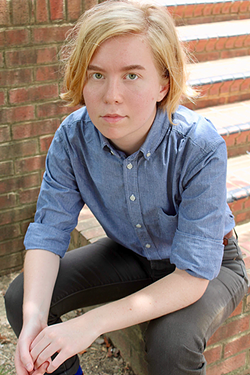 Chatham County was an "interesting" place for Nikolai Mather to come out as transgender when he was 16 years old, he says.
"We've got a lot of very progressive individuals from [nearby] Chapel Hill, and then in Chatham County there's a lot of good ol' boys and conservatives who aren't necessarily bad neighbors to have, but it did make coming out a little more complicated," Mather says.
He didn't face too much harassment or bullying from his classmates, as most simply accepted it when he showed up one day and began demanding folks call him by his new name. He has not stopped making demands since.
Now 19 years old, Nikolai Mather is sitting outside of the Student Union at UNC Charlotte, where over the last year he co-founded the UNC Charlotte LGBTQ+ Coalition and began pushing for an LGBTQ Center on campus. After gathering more than 1,600 signatures with the help of his fellow advocates, and a seemingly endless amount of other work, he's just confirmed the space where the center will be. He hopes to have it up and running by the end of the fall semester.
He recalls what led him to lead the fight for an LGBTQ Center at UNC Charlotte.
"When I came here I was both floored by the amount of enthusiasm and passion within social justice advocates here, and also frankly appalled by the lack of resources for LGBTQ students," Mather says.
A Levine Scholar, Mather must live in Levine Hall for the first two years at the university. He points out that with two trans students living in the dormitory, there were no gender-neutral bathrooms there, and not many on the entire campus.
Mather hooked up with Customer 49, a leftist organization on campus, as well as other supporters and advocates around the university to begin pushing for more gender-neutral bathrooms.
"Eventually that morphed into something greater as we started talking to student government and we started figuring out if it was possible to have a whole space for LGBTQ+ folks," he says.
Mather says he learned a lot about organizing and fighting through bureaucracy alongside his team, the members of which sat at tables for hours on end to collect signatures despite full schedules of classes. He says he'll be accepting the Pride award on behalf of the entire coalition.
"Many of the folks who were in the coalition are not able to fully express who they are," he says. "I would like to say thank you to those who helped out along the way, to those who committed their time and their energy and so much work, they know who they are."
And as far as what's next for Mather — a double major in political science and international studies with a minor in Holocaust, genocide and human rights studies who's considering adding French as a minor this semester?
"That's actually something that I'm trying to figure out before this school year begins because I've been so focused on the center," Mather says. "I think one of my main goals before graduation would be to establish the center in full, and also to get eight hours of sleep every night for a week."
Outstanding Ally Award: Liz Fitzgerald
The way Liz Fitzgerald explains it, she was "raised by feminists, many of whom were lesbian."
When I ask her what she means, she laughs, knowing her statement might sound confusing to a cisgender straight guy like myself. She clarifies that she cut her teeth doing social justice work in Iowa City, Iowa, and the spaces she moved in were made up of many LGBTQ folks, mostly women.
"The ways that they fought for women's rights, it was only right to give back and make sure that we were paying attention to LGBTQ rights," Fitzgerald says. "So really, over the last 20 to 25 years, that's been important to me."
Since moving to Charlotte in 2003, Fitzgerald has been a staunch ally of the LGBTQ community, helping initiate the Safe Zone Project at UNC Charlotte, where she worked as an academic advisor for 12 years. The project involved training faculty and staff to be knowledgeable and understanding of LGBTQ issues, and included stickers that they could put on their doors to let LGBTQ students know they could be open and not be judged in those spaces.
For all 15 years of her time in Charlotte, Fitzgerald has been a member of the One Voice Chorus, an LGBTQ and LGBTQ-affirming chorus that also does community work related to social justice.
She's also able to uplift LGBTQ creatives through her day job as program director for grants and services at the Arts & Science Council. Fitzgerald says it's a priority for her to make sure ASC is inclusive of marginalized communities that go underrepresented in the local arts scene.
As far as being recognized as an ally by Charlotte Pride, Fitzgerald says she was surprised to hear about the award, but points out that it's no lifetime achievement, as the work must continue.
"Being an ally is work that I do, it's not necessarily an identity that I have, and if you stop doing the work then you stop being an ally," she says. "So I'm personally really grateful, but it makes me really grateful for all of the people that have been a part of this with me and that I get to work alongside with and that have enriched my life for years."
Stonewall Awards: Craig Hopkins, Richard Grimstad
When Richard Grimstad and Craig Hopkins joined Charlotte Pride as board members in 2012, the group was a branch of the LGBT Community Center of Charlotte, an organization that was battling controversy at every turn.
The two began to see the writing on the wall long before the center finally closed at the end of 2014. By that time, they and others had already helped ensure that Charlotte Pride wouldn't take the fall with the center.
In 2013, Charlotte Pride became a separate, independent organization, thanks in large part to the help of Grimstad and Hopkins. Both men used their experience in corporate America — Grimstad in accounting and Hopkins in community relations — to help ensure that Charlotte Pride could stand on its own two feet. They also helped relaunch the Charlotte Pride parade in 2013, which had not been seen on the streets of Charlotte in nearly 20 years.
"One of the goals that I had for it was really trying to treat the organization as if it were a business, pulling in our experience professionally and the experience of others in the professional world, but also having those folks there that were more on the activist side, the volunteer side, things like that," says Grimstad.
The two helped save the Reel Out Charlotte film festival, which was originally held by the community center, as well as introduce new programming such as Latin Pride.
Both men left the board last fall and now say they are humbled to be recognized for the important work they did to keep the organization afloat during a tumultuous time. On Sunday, both men will serve as grand marshalls of the Pride parade.
"I'm proud of everything that we did. I never expected to really be recognized for it. I thought that we'd roll off the board and everyone would forget who we were," says Grimstad, laughing.
Hopkins agrees, and says he's just happy knowing the organization is healthy and stable enough to make sure the city never goes without Pride again.
"It's actually humbling, we really didn't do this for the recognition," he says. "As we got involved, we saw what the community needed to get this established and ready to move to the next generation that could take it over — to where it was secure enough that it wouldn't run through the same issues we'd seen in the past."