AMELIE (2001). After making his mark with the delightfully deranged films Delicatessen and The City of Lost Children, French director Jean-Pierre Jeunet made the ill-fated mistake of going Hollywood by overseeing the disappointing Alien: Resurrection. Amelie found Jeunet back in his element: as the creator of enchanting, quirky comedies that, like their central characters, march to their own (off)beat. An international sensation upon its release, Amelie is an absolutely disarming piece about an eccentric young woman (irresistible Audrey Tautou) who takes it upon herself to improve the lives of those around her. Her methods are unorthodox but effective, yet in the midst of her busybody schedule, she slowly realizes her own life could use some assistance when it comes to romance. On paper, Amelie doesn't sound much different than Emma, Hello, Dolly! or Chocolat (three other works about matchmakers unlocking their own passions), but Jeunet and co-writer Guillaume Laurant never run with the conventional, preferring instead to pack their movie with unexpected literalizations (when Amelie spots her intended, she actually dissolves in a puddle of water), wildly original comic set pieces (keep your eye on that garden gnome), and the sort of touching asides that will bring sighs of recognition from appreciative viewers. This nabbed five Oscar nominations, including Best Foreign Language Film; unfairly overlooked was Yann Tiersen for his wonderful score.
Blu-ray extras include audio commentary by Jeunet; a 13-minute behind-the-scenes featurette; a 25-minute Q&A with Jeunet; a 6-minute Q&A with Jeunet and his cast; Tautou's screen test; a 13-minute piece on the film's visuals; and a gallery of French poster concepts.
Movie: ***1/2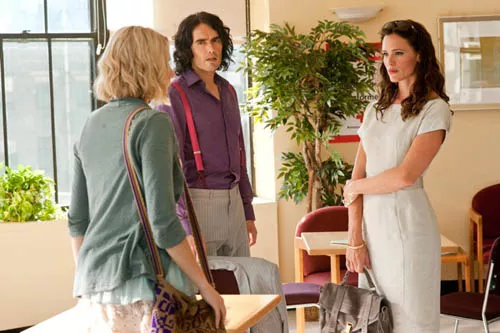 CLASS CONFLICT: Greta Gerwig (left), Russell Brand and Jennifer Garner in Arthur
ARTHUR (2011). Here's the dirty secret about 1981's Arthur: It's no classic. So the fact that Hollywood has dared to serve up a remake is hardly an earthshaking scandal; after all, it's not like somebody foolishly decided to remake Citizen Kane or The Godfather or Psycho (oops; scratch that last one). The result is that the new Arthur is a minor guilty pleasure, a freewheeling comedy that offers a fair number of laughs for those who haven't yet grown tired of Russell Brand (a rapidly shrinking demographic, admittedly). Brand is (dare I say it?) the equal of Dudley Moore, who enjoyed a career high mark (and an Oscar nomination) for the original but whose luster dimmed once it became apparent that he tackled every role as if he were portraying a drunk. For his part, Brand draws upon his own party-animal status to play the childlike millionaire, a perpetually inebriated ne'er-do-well who's blackmailed into agreeing to marry a strong-willed socialite (Jennifer Garner) but instead finds love with a sweet girl (Greta Gerwig) from the wrong side of the tracks. Certainly, the best component of the original was John Gielgud's hilarious, Oscar-winning turn as Arthur's droll butler, Hobson. Here, the character has been reconfigured as Arthur's long-suffering nanny, and while Helen Mirren conveys the role's requisite bite, she simply doesn't make the same impact as her predecessor. Also detrimental to the film is its lurch toward contemporary political correctness (the '81 model was cheerfully, unapologetically rude), most obvious in the dreary attempts to show Arthur learning about the dangers of alcoholism and the joys of a hard day's work. These sequences prove to be a real drag; like its protagonist, Arthur is at its best when making a spectacle of itself.
Blu-ray extras include an 11-minute making-of-piece; 10 minutes of deleted and alternate scenes; and a 2-minute gag reel.
Movie: **1/2
The Boy in the Striped Pajamas
THE BOY IN THE STRIPED PAJAMAS (2008). Movies about the Holocaust seem to automatically earn R ratings, yet perhaps because it's based on a novel (by John Boyne) that was originally targeted to teen readers, this one escaped with a PG-13. That's the appropriate rating, I think, since children who can handle (and learn from) the material shouldn't be denied the chance to see it. The film is told from the viewpoint of a young German lad who unwittingly has a front-row seat to the horrors instigated by the Nazi regime during World War II. Eight-year-old Bruno (Asa Butterfield, just perfect) is saddened when his father, a Nazi officer (David Thewlis), moves the family from Berlin to a remote country estate. Bored and lonely, Bruno defies his parents' orders and checks out what his mother (Vera Farmiga) has told him is a farm, a mysterious place where all the prisoners wear pajamas and billowing smoke from the chimneys constantly blackens the sky. There, he strikes up a friendship with Shmuel (Jack Scanlon), a Jewish boy residing on the other side of the barbed wire fence. Credibility takes a serious beating in this picture, which is acceptable since this is clearly intended as a fable about how hatred can destroy even the most innocent among us. Bruno's naiveté provides the picture with its initial childlike charm, yet the movie is complicated enough to explore the conflicting emotions among the adult characters. But even in its lighter moments, it never downplays the horror of the situation, and the devastating ending is potent enough to affect even those viewers who write it off as nothing more than a sensationalist stunt.
Blu-ray extras include audio commentary by Boyne and writer-director Mark Herman; a 20-minute behind-the-scenes featurette; and six minutes of deleted scenes.
Movie: ***
BRIDGET JONES'S DIARY (2001). Renee Zellweger gained 20 pounds and an English accent to land the screen incarnation of Helen Fielding's beloved literary character. While the casting of a Yank as a Brit caused plenty of wailing on the other side of the Atlantic (hey, it's only fair: We cast the British Vivien Leigh as Scarlett O'Hara), nobody complained after catching Zellweger's excellent performance in the role — even the voters behind the BAFTA Awards (the British Oscars) and the Empire Awards (given by the U.K. movie magazine) were impressed enough to honor her with Best Actress nominations to go along with the one from our own Academy. Superior to most of the drivel that gets passed off as romantic comedy these days, this focuses on an insecure single woman whose affections are torn between her rascally boss (a playful Hugh Grant) and an upright, uptight barrister (a smoldering Colin Firth). Certainly, Bridget goes through the romantic comedy paces every now and then, but while the script may occasionally indulge in conventional behavior, Zellweger never plays it as such; instead, she steadfastly refuses to turn her character into a standard, nose-crinkling, Cheeto-munching movie lonelyheart. Back in 2001, Zellweger's Bridget Jones felt like a complete original — reminiscent of Audrey Hepburn's Holly Golightly or Diane Keaton's Annie Hall — so it was depressing to see the character thrown into a terrible sequel, 2004's Bridget Jones: The Edge of Reason.
Blu-ray extras include audio commentary by director Sharon Maguire; a 10-minute behind-the-scenes piece; 12 minutes of deleted scenes; the 8-minute featurette The Bridget Phenomenon; and a 2-minute Guide to Bridget Britishisms.
Movie: ***1/2
CHOCOLAT (2000). From Babette's Feast to Eat Drink Man Woman, the past quarter-century has seen the film world produce so many movies about the rapturous splendor of food that viewers can't help but wonder if all studio heads also own catering companies on the side. Chocolat is definitely a minor piece when compared to other films of a gastronomical nature, although it's not without its own charms. Juliette Binoche is just right as Vianne Rocher, a single mom who, with young daughter (Victoire Thivisol) in tow, arrives in a small French village in the late 1950s and opens up a chocolate shop across the square from the church. While Vianne does make a few friends, including a stubborn elderly woman (Judi Dench) and an abused housewife (Lena Olin), she finds that the majority of this conservative burg's citizenry don't care to have an outsider disrupt their staid lifestyle — this is especially true of the mayor (Alfred Molina), who looks for a way to run her out of town. The episodic nature of this lackadaisical film, which finds characters coming in the shop one at a time to dump their problems on Vianne, doesn't provide for much of a cumulative wallop at the end, but the cast — including a relaxed Johnny Depp as a self-described "river rat" who woos Vianne — puts across this slender material. This earned five Academy Award nominations, including Best Picture, Actress (Binoche) and Supporting Actress (Dench).
Blu-ray extras include audio commentary by director Lasse Hallstrom and producers David Brown, Kit Golden and Leslie Holleran; a 28-minute making-of featurette; seven minutes of deleted scenes; and shorts on the film's costumes (four minutes) and sets (eight minutes).
Movie: **1/2
DAMNATION ALLEY (1977) / BATTLE BEYOND THE STARS (1980). This month, Shout! Factory is releasing two sci-fi titles that coincidentally have a couple of things in common: Both are tangentially related to Star Wars, and both feature George Peppard in between his stints on the popular TV shows Banacek and The A-Team.
The story involving Damnation Alley has been repeated ad nauseum over the past 34 years, but it's always worth another mention. 20th Century Fox had two science fiction films coming out in 1977, and they expected this expensive adaptation of Roger Zelazny's novel to be the blockbuster of the pair. Instead, Damnation Alley turned out to be a major flop, while the other film, set a long time ago in a galaxy far, far away, smashed existing box office records. A troubled production built around shoddy special effects and cardboard characters (Zelazny was disgusted with the end result), Damnation Alley was hardly worth all the fuss: Surprisingly dull, this post-apocalyptic yarn follows a group of survivalists (among them Peppard, Jan-Michael Vincent, and Watchmen's Jackie Earle Haley back in his teen years) across a dangerous terrain as they battle giant scorpions, carnivorous cockroaches and murderous rednecks.
Never too proud to steal an idea for one of his own low-budget efforts, the great Roger Corman took note of Star Wars' sizable gross and decided he needed to respond with his own sci-fi saga about a naive youth taking on an all-powerful tyrant with the help of some colorful allies. The result was Battle Beyond the Stars, which ended up being Corman's most expensive production but one that easily recouped its cost at the box office. Borrowing as much from The Magnificent Seven as from any space opera, this finds Shad (Richard Thomas) electing to prevent the evil Sador (John Saxon) from enslaving his planet by hiring a group of mercenaries to defend it with firepower. Peppard plays Cowboy, the Earthling among the heroes for hire, while Robert Vaughn, one of the original Seven from 1960, turns up here as well. Cheesy fun with the usual quotient of Corman cheesecake (busty Sybil Danning as the warrior woman Saint-Exmin), Battle Beyond the Stars, like numerous Corman productions, served as a training ground for future Oscar winners, including Titanic director James Cameron (here toiling as art director), Titanic composer James Horner, Jurassic Park sound mixer Ron Judkins, Aliens effects supervisor Robert Skotak, and The Abyss effects d.p. Dennis Skotak.
Blu-ray extras on Damnation Alley include audio commentary by producer Paul Maslansky; a 12-minute interview with co-screenwriter Alan Sharp; a 13-minute interview with producer Jerome Zeitman; and a 10-minute discussion with stunt coordinator and car designer Dean Jeffries about the Landmaster vehicle from the film. Blu-ray extras on Battle Beyond the Stars include audio commentary by Corman and co-writer John Sayles; separate audio commentary by Gale Ann Hurd (the film's assistant production manager who would go on to produce such works as The Terminator, Aliens and TV's The Walking Dead); a 15-minute interview with Thomas; a 33-minute featurette in which nine key crew members discuss the technical aspects of making the film; and poster and photograph galleries.
Damnation Alley: *1/2
Battle Beyond the Stars: **1/2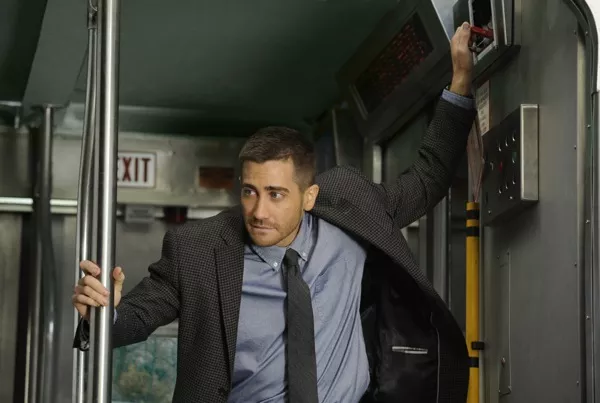 SOURCE CODE (2011). Has Duncan Jones already sold out? It's hard to say, but Source Code, his sophomore effort as director, can only be considered a disappointment given his knock-it-out-of-the-park debut. 2009's Moon, which missed my 10 Best list that year by one spot, was a dazzling achievement, the sort of heady sci-fi extravaganza one would expect from the son of David Bowie. Source Code is far more mainstream; that's not meant as a knock, but this highly entertaining movie concludes with what will doubtless remain one of the worst sell-out endings of the year. Jake Gyllenhaal stars as Colter Stevens, a soldier who's being used in an experiment that allows him to occupy the body of one Sean Fentress, who's about to be killed, along with all the other passengers, by a bomb planted on a Chicago commuter train. Colter's mission is to use those last eight minutes in Sean's body to ferret out the killer's identity and thereby prevent any future attacks. As explained by his military contact (Vera Farmiga) and the experiment's creator (Jeffrey Wright), he will keep being sent back to those eight minutes until he acquires the knowledge being sought. It's a Groundhog Day scenario mined for tension rather than laughs, and while it's not that difficult to ID the assassin, the fun comes in watching Colter repeatedly interact with the other commuters and use knowledge from previous "trips" to inform the decisions he makes on subsequent jumps. There's really only one way for all this to end, but scripter Ben Ripley jerry-rigs his own storyline by coming up with a conclusion that's illogical, infuriating and inconsistent. It provides Source Code with a sour coda that cripples an otherwise sweet ride.
DVD extras include audio commentary by Jones, Ripley and Gyllenhaal; a trivia track; 35-minutes of cast and crew interviews; and seven minutes of animated shorts on the scientific phenomena addressed in the film.
Movie: **1/2