(View From The Couch is a weekly column that reviews what's new on Blu-ray and DVD.)
COMA (1978) / ALTERED STATES (1980) / OUTLAND (1981) / BRAINSTORM (1983). Four far-out thrillers with meaty premises have been served up on Blu-ray courtesy of Warner Bros., but in some cases, the ambition outweighs the execution.
Coma (Photo: Warner Bros.)
Adapted from Robin Cook's smash bestseller by writer-director Michael Crichton (himself no stranger to smash bestsellers, thanks to the likes of Jurassic Park), Coma casts Genevieve Bujold as Dr. Susan Wheeler, who notices that many of the patients at Boston Memorial Hospital are meeting unpleasant ends after supposedly routine procedures. But no one, not even her boyfriend (Michael Douglas), believes her talk of a conspiracy, leaving her to single-handedly unravel the mystery. The boys'-club politics at the hospital provide the picture with interesting subtext right in line with the sexual dynamics of the period; Bujold proves to be a worthy champion for the feminist cause, delivering a committed performance as a woman who refuses to be patronized. Intelligent and occasionally chilling, this finds small, early roles for Tom Selleck as an unfortunate patient and Ed Harris as an obnoxious staffer.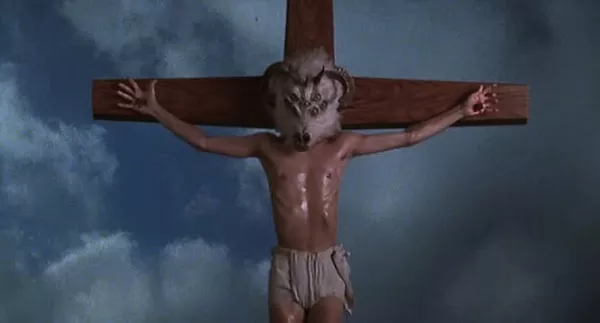 Altered States (Photo: Warner Bros.)
Three-time Oscar-winning writer Paddy Chayefsky (Network) adapted Altered States from his own novel, but you wouldn't know it from the screen credit, which states that someone named Sidney Aaron penned the screenplay. That's actually Chayefsky using his own birth names (first and middle) after he removed his more familiar handle, reportedly upset at the manner in which the performers were tackling his dialogue. In the case of Charles Haid, Chayefsky has a point — as the easily excitable Mason Parrish, he's terrible, shouting every line as if he were calling for help from the bottom of a deep well. But the rest of the film isn't too bad — at least for those who can handle the excesses of director Ken Russell. William Hurt, a leading man with this very first film role, stars as Eddie Jessup, a scientist who believes that sensory deprivation is the key to proving that humans can easily move between various levels of consciousness. This leads to a typically Russell-ian assault on the senses, as well as the sight of Hurt turning into some sort of missing link. The film's too aggressively enjoyable to be completely dismissed, though the ending is risible — I preferred it when this finale was later reconfigured and reused in a-ha's music video for "Take On Me."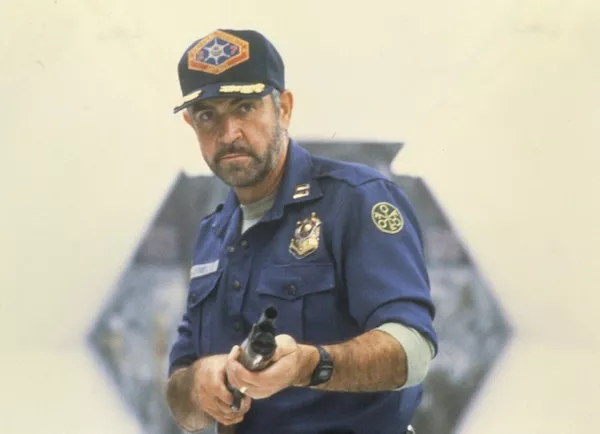 Sean Connery in Outland (Photo: Warner Bros.)
It's impossible to find any review that doesn't short-hand Outland as "High Noon in outer space" (including this one, it seems), but that designation actually only covers the second half of this picture. Initially, it concerns the efforts of William O'Niel (Sean Connery), the serving marshall on a mining colony on Jupiter's moon Io, to discover why numerous crew members are suddenly going insane and meeting gruesome ends. He meets a formidable opponent in the station's profit-driven head honcho (Peter Boyle) and a powerful ally in the facility's sarcastic doctor (a fantastic turn by Frances Sternhagen). The early-going intrigue maintains interest, but once the film starts shamelessly riffing on the Gary Cooper Western classic (seasoned killers are heading toward Io, and no one's willing to help the poor lawman), all the excitement fritters away.
Christopher Walken in Brainstorm (Photo: Warner Bros.)
Brainstorm bears some similarities to Altered States, but that film at least has a gonzo shooting style going for it. This doomed effort, which finds legendary effects wizard Douglas Trumbull (Blade Runner, Close Encounters of the Third Kind) in the director's chair, fails to generate much excitement either visually or conceptually. Christopher Walken and Louise Fletcher play a pair of scientists who create a machine that allows people to share each other's memories; they mean the device to be used for good, and they're outraged when the military wants to steal it for their own warmongering ways. No, we didn't see that plot development coming. This was Natalie Wood's final film, as her tragic accident(?) occurred while she was making this movie.
All four Blu-rays include the film's theatrical trailer. Outland also includes audio commentary by writer-director Peter Hyams.
Coma: ***
Altered States: **1/2
Outland: **1/2
Brainstorm: **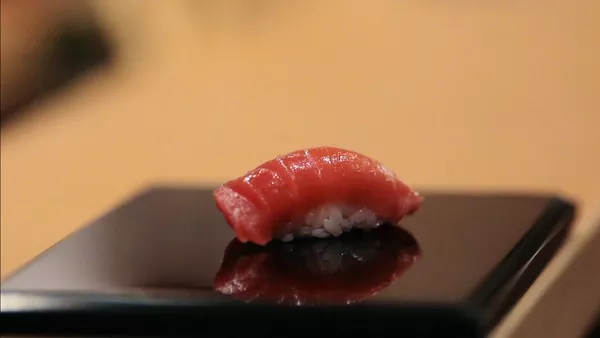 Jiro Dreams of Sushi (Photo: Magnolia)
JIRO DREAMS OF SUSHI (2012). Sukiyabashi Jiro, one of only 106 restaurants worldwide to earn the Michelin Guide's coveted three-star rating (in 2008, it was one of only 69), is located in an unassuming space in a Tokyo subway station. It seats only 10 customers, and reservations must be made far in advance. And the minimum cost per person to dine there? Try 300,000 yen — which, depending on the market, can be anywhere from $260 to $300. Wrap your mind around that as you clip out that "buy one entree, get one free" coupon for City Tavern. Since few (if any) of us will ever be able to actually taste sushi chef Jiro Ono's cuisine, we'll have to console ourselves with the visual bliss of Jiro Dreams of Sushi, an entertaining documentary about a man whose entire life is dedicated to his craft. Still active at the age of 85, Jiro, assisted by a small staff that's fronted by his 50-year-old son Yoshikazu, takes great pains to create and serve sushi that's in a class by itself. Director David Gelb's film takes us through the process, including the frequent trips to the fish market, the preparation of the food (an octopus, for example, needs to be massaged for at least a half-hour before it can be considered tender enough for consumption), and the serving of the delectable treats to clearly appreciative customers. Gelb only makes a misstep toward the end, when he follows Jiro and Yoshikazu as they head out of town to visit relatives they haven't seen in ages. This unexpected peek into the personal life of a workaholic invariably raises important questions that aren't answered, even though they're more central to Jiro's life than this voyage. For instance, where is his wife? Presumably, she passed away, but when? And since we learn that Jiro left home at the age of 9, how did he survive during all those years before adulthood? The proverb goes that all work and no play makes Jack a dull boy. In the case of Jiro Ono, all work and no play makes him a fascinating character, and Jiro Dreams of Sushi honors that career commitment.
Blu-ray extras include audio commentary by Gelb and editor Brandon Driscoll-Luttringer; deleted scenes; and a sushi gallery.
Movie: ***
Harvey Keitel, Robert De Niro and David Proval in Mean Streets (Photo: Warner Bros.)
MEAN STREETS (1973). Who's That Knocking at My Door was a respectable calling card in 1967, while 1972's Boxcar Bertha gave him the expected baptism on a Roger Corman production. But it was his third picture that allowed Martin Scorsese to position himself as one of the most notable of the exciting new directors making their mark on Hollywood during the explosive 70s. Mean Streets plays as autobiographical as just about any picture from any filmmaker, as it centers on an Italian-American man living in New York's Little Italy section. Charlie (Harvey Keitel) hangs around with hoods, loves going to the movies, and struggles daily with his Catholicism (and the attendant guilt). Add a terrific soundtrack (The Rolling Stones, The Ronettes, etc.) culled from Scorsese's own iPod — excuse me, record collection — and it's clear that this was one deeply personal project. Rough around the edges but boasting an electric visual style that would be developed even further in subsequent works, this loose-form and largely improvised picture features a number of bravura sequences (love that sloppy poolroom brawl!) and an attention-grabbing performance by Robert De Niro as Johnny Boy, an irresponsible punk who repeatedly ignores Charlie's sound advice and in the process infuriates just about everyone around him. De Niro nabbed Best Supporting Actor honors from the National Society of Film Critics for his hyperactive turn (he won the same category from the New York Film Critics Circle for his other 1973 release, the baseball weepie Bang the Drum Slowly), but I maintain that Keitel's excellent central performance has always been critically undervalued.
Blu-ray extras include audio commentary by Scorsese, co-scripter Mardik Martin and co-star Amy Robinson; a vintage making-of featurette; and the theatrical trailer.
Movie: ***1/2
Fay Wray and Joel McCrea in The Most Dangerous Game (Photo: Flicker Alley & RKO)
THE MOST DANGEROUS GAME (1932). Fans of the 1933 classic King Kong might feel a sense of déjà vu while watching The Most Dangerous Game. This adaptation of Richard Connell's excellent short story was made by the same duo responsible for Kong (Merian C. Cooper and Ernest B. Schoedsack), features several of the same actors (including "Scream Queen" Fay Wray), and even shares many of the same sets (that log over the ravine looks awfully familiar, yes?). Previously released on DVD at least a half-dozen times (lovingly by Criterion, poorly by companies taking advantage of its public-domain status), the movie has now been brought to Blu-ray by Flicker Alley, which earlier this summer introduced Georges Méliès' A Trip to the Moon to the format in a glorious edition. A stark gem whose pre-Code sensibilities limited its stateside re-release potential over the ensuing decades (over in England, where it was titled The Hounds of Zaroff, the censors snipped some offending footage), this stars the perpetually underrated Joel McCrea as Bob Rainsford, a celebrated big-game hunter who's the sole survivor of a shipwreck. Making it to a nearby island, he becomes the guest of Count Zaroff (Leslie Banks), who lives with his brutish manservants (Noble Johnson and Steve Clemento) in a castle that's presently housing two other stranded travelers: the lovely Eve (Wray) and her drunken brother Martin (Robert Armstrong, King Kong's Carl Denham). A hunter himself, Zaroff swaps stories with Bob before finally making it known that his boredom with traditional big game means that he now only hunts humans — and that the men are his next targets (Eve, of course, will be his "reward"). The film initially teases its viewers as much as Zaroff does his guests (we finally see what's in his basement, and it ain't pretty) before storming full-barrel into the hunt, a potent half-hour (the full film only runs 63 minutes) packed with all manner of close calls and great escapes.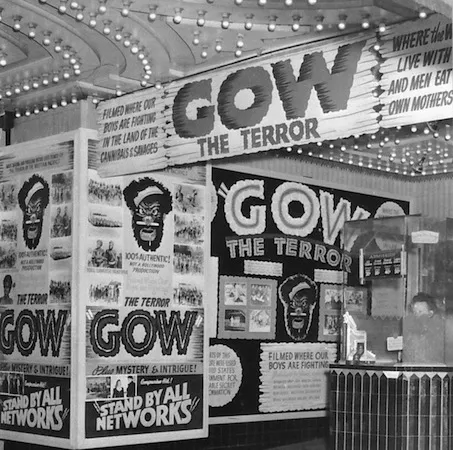 Theater showing Gow (Photo: Flicker Alley)
The Blu-ray also contains a second movie by the team of Cooper and Schoedsack: Gow the Headhunter, which began life in 1928 as a serious-minded, silent documentary about various tribes in the South Seas (including cannibalistic ones) but, with the addition of offensive narration once the sound era was in full swing, was re-released as an exploitation flick with the monikers Gow the Killer in 1931, Gow the Terror during World War II (with the queasy tagline "Filmed Where Our Soldiers Make Friends And Japs Make Good Dinners"), and Cannibal Island in 1956. (The version included here is the 1931 one.)
Blu-ray extras include audio commentary by a noted professor on each title; an archival interview with Cooper; and a nifty 12-page booklet.
Movie: ***1/2