(View From The Couch is a weekly column that reviews what's new on Blu-ray and DVD.)
Dustin Hoffman and Robert Redford in All the President's Men (Photo: Warner Bros.)
ALL THE PRESIDENT'S MEN (1976). All the President's Men depicts the American media during arguably its finest hour of glory, when two of its brash reporters, Washington Post journalists Bob Woodward (Robert Redford) and Carl Bernstein (Dustin Hoffman), stuck to their guns despite testy opposition and eventually blew open the Watergate scandal that toppled the presidency of Richard Nixon. This superb motion picture, expertly mounted by director Alan J. Pakula, has long been acknowledged as a classic political thriller, but watching it in today's climate, at a point when a timid and ineffectual media is par for the course, also reveals its increasingly significant value as a time capsule piece — as at least one participant in the extra features notes, there's no way the Watergate incident would have earned even a sideways glance by the mainstream media had it occurred in more modern times. Nominated for eight Academy Awards (including Best Picture), it captured four: Best Supporting Actor (Jason Robards as Post editor Ben Bradlee), Best Adapted Screenplay (William Goldman), Best Art Direction & Set Decoration and Best Sound. This would make for a great double feature with 1994's excellent, BBC-produced documentary Watergate; unfortunately, that one has never been available on DVD, let alone Blu-ray (in other words, it's never been upgraded from VHS).
Blu-ray extras include audio commentary by Redford; the new feature-length documentary All the President's Men Revisited, executive-produced by Redford for the Discovery Channel; a making-of featurette; a discussion of the influence of Woodward and Bernstein on journalism; a piece on the real Deep Throat; and Robards' appearance on a 1976 episode of Dinah Shore's TV show Dinah!
Movie: ****
Frank Doubleday in Assault on Precinct 13 (Photo: Shout! Factory)
ASSAULT ON PRECINCT 13 (1976). Film fans argue all day over whether certain remakes/sequels/updates/etc. are opportunistic rip-offs or sincere homages, but to my knowledge, no one has ever saddled John Carpenter's Assault on Precinct 13 with a derogatory copycat label. This film is pure tribute, a fond salute to Howard Hawks' masterpiece Rio Bravo with a healthy dose of George Romero's Night of the Living Dead thrown in for good measure. The setting is the mean streets of Los Angeles, and the members of the gang Street Thunder are on the prowl, killing citizens as they see fit. After one particular slaying — still to this day one of the most shocking murders ever put on film — the guilty party is himself gunned down, inciting the rest of the mob to exact their own revenge. This leads them to an L.A. police station that has officially closed down and is now populated by only a handful of people, including one cop (Austin Stoker), two secretaries (Laurie Zimmer and Nancy Loomis) and a pair of convicted killers (Darwin Joston and Tony Burton). Perhaps Carpenter's best film next to The Thing, this is a model of low-budget filmmaking, with a tight script, appropriately tight-lipped actors and atmospheric location shooting. In addition to writing and directing duties, Carpenter also composed the excellent score (one of his best, up there with Halloween and Escape from New York) and served as film editor under the pseudonym John T. Chance (John Wayne's character name in Rio Bravo). Ethan Hawke and Laurence Fishburne starred in a lame 2005 remake — and that version was clearly an attempted cash-grab.
Blu-ray extras include audio commentary by Carpenter; interviews with Stoker and Loomis; a joint Q&A session with Carpenter and Stoker; and the theatrical trailer.
Movie: ***1/2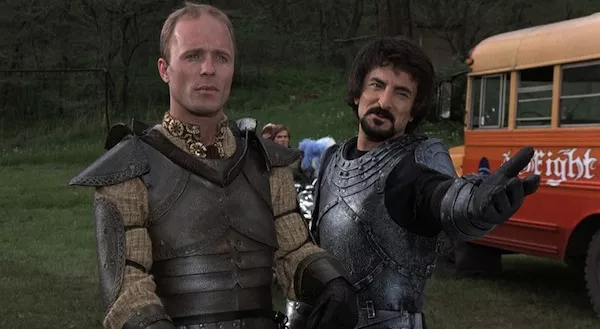 Ed Harris and Tom Savini in Knightriders (Photo: Shout! Factory)
KNIGHTRIDERS (1981). Arguably the oddest picture in the George Romero filmography, Knightriders finds the Night of the Living Dead writer-director taking a break from zombies and other terrors to create an often melodic, often melancholy picture that provided a green Ed Harris with his first leading film role. Harris stars as Billy, who serves as the king of a traveling medieval group (think Renaissance Festival) where the participants all ride motorcycles instead of horses. Billy stubbornly lives by an old-fashioned code, even when it goes against the best interests of the group he created; his tight grip has caused some griping in the ranks, particularly from Morgan (Tom Savini), who wouldn't mind wearing the crown himself. For support, Billy can count on his queen, Linet (Amy Ingersoll), and the Lancelot-like Alan (Gary Lahti); for advice, he turns to his mentor Merlin (the late Brother Blue, a renowned storyteller-pastor in his only film appearance). Already thin on story, a protracted 145-minute running time guarantees that the movie will overdose on cycle stunts, charged-up jousts and honorable speeches from Billy — a trim of a half-hour might have made all the difference. Still, the angle is unique enough to make this worth a viewing, and it's nice to see top makeup artist Savini given such a sizable role. That's Mr. and Mrs. Stephen King as the obnoxious patron and his wife during the early tournament scenes.
Blu-ray extras include audio commentary by Romero and Savini; interviews with Romero, Harris and Savini; raw behind-the-scenes footage of some of the stuntwork; and the theatrical trailer.
Movie: **1/2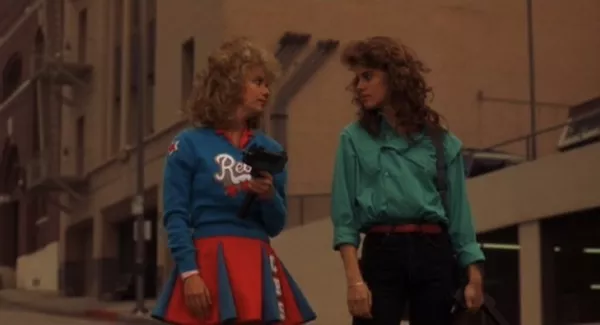 Kelli Maroney and Catherine Mary Stewart in Night of the Comet (Photo: Shout! Factory)
NIGHT OF THE COMET (1984). Big hair? Check. A Cyndi Lauper song (albeit recorded by someone else) on the soundtrack? Yup. A gum-smacking Valley Girl as one of the heroines? Affirmative. Yes, there's no question Night of the Comet was made in the 1980s, and that's a positive for people who have enjoyed similarly silly sci-fi flicks like Return of the Living Dead, Night of the Creeps and other delightfully airy efforts from that decade. In this one, people all over the planet are excited to witness the passing of a comet that last made its way near our orb around the same time that, uh oh, the dinosaurs went extinct. Sure enough, the morning after the big event finds nothing but dust and empty clothes where people previously stood, with the survivors few and far between. The unlucky humans, the ones only partly exposed to the comet, have been turned into zombies; the more fortunate ones, those who were completely sheltered (thanks to steel surroundings), have emerged completely normal. Teenage sisters Regina (Catherine Mary Stewart) and Samantha (Kelli Maroney) are two of those who made it through, and among their challenges are learning to trust a trucker named Hector (Robert Beltran), avoiding flesh eaters while shopping, and figuring out why a group of scientists is pursuing them so fervently. Despite a mall as one of its settings and the munching of human flesh, nobody will ever mistake this for George Romero's Dawn of the Dead, but it's nevertheless a likable lark, bolstered by winning performances from Stewart and especially Maroney.
Blu-ray extras include audio commentary by Stewart and Maroney; separate commentary by writer-director Thom Eberhardt; interviews with Stewart, Maroney, Beltran and special makeup effects creator David B. Miller; and the theatrical trailer.
Movie: ***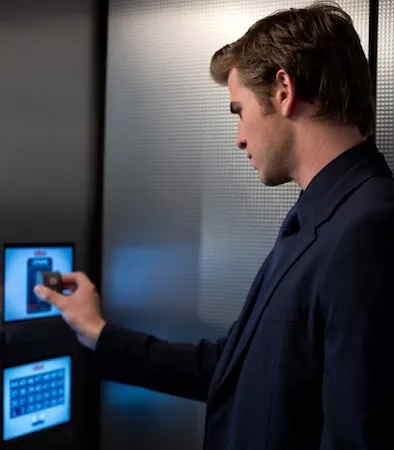 Liam Hemsworth in Paranoia (Photo: Fox & Relativity)
PARANOIA (2013). In 1997's Air Force One, Harrison Ford's U.S. president bellows at Gary Oldman's terrorist, "Get off my plane!" The circumstances surrounding that face-off are far more exciting than the ones in Paranoia, in which Ford's crusty CEO yells at Oldman's cranky CEO, "Get off my Facebook page!" OK, that snatch of dialogue isn't really uttered over the course of the film, but its inclusion might have at least broken the stupor caused by the rest of this grueling, 100-minute bomb. I've seen worse films in 2013 (albeit not many), but I doubt I'll see anything this year as soul-crushingly boring as this techno-turkey, a ridiculous and risible film that's about as thrilling as a telephone busy signal. A movie like The Social Network and a TV series like Alias proved that the world of gadgetry and computers can be just as exciting as any car chase or mano-a-mano skirmish, but Paranoia is so ineptly made that the ride home from the Redbox will be more thrilling than anything that took place on the screen. Yet the movie isn't just unabashedly dull but also stridently stupid, with Liam Hemworth's central character, a techie who gets caught in a corporate battle over cell phone designs, as dim-witted as the story surrounding him — it doesn't help that the actor's performance is so feeble that a raised eyebrow or a pursed lip is what passes for deep characterization. Hammy Oldman turns tend to fluctuate between amusing and annoying, and here it's the latter. As for Ford, whose bald noggin suggests he's been seeing Woody Harrelson's stylist, he's purely in paycheck mode — which, come to think of it, is a position he's pretty much held since tossing Oldman off that airplane back in 1997.
Blu-ray extras include deleted scenes; cast interviews; and the theatrical trailer.
Movie: *
Helen Mirren in Red 2 (Photo: Summit Entertainment)
RED 2 (2013). The 2010 box office hit Red was directed by Robert Schwentke, who spent this past summer enduring awful feedback for R.I.P.D. Instead, Red 2 was helmed by Dean Parisot — it proved to be a smooth changing of the guard, made easier by the fact that the same duo who wrote the first picture, Jon Hoeber and Erich Hoeber, returned for this follow-up. Although it might qualify as more of the same, this sequel isn't a lazy toss-off, though its underwhelming gross meant most moviegoers didn't care. Morgan Freeman doesn't return (fans of the first film know why), but everyone else is back on board: Bruce Willis as retired CIA agent Frank Moses, trying to settle into a life of domesticity; Mary-Louise Parker as his girlfriend Sarah, who wants more danger in her life; John Malkovich as Marvin, whose rampant paranoia is proven to be justified as often as not; Helen Mirren as Victoria, the cucumber-cool killer who treats her profession like a hobby; and Brian Cox as Ivan, Victoria's Russian roll in the hay. They're all reunited for a twisty tale that finds the gang globe-hopping in an effort to locate a nuclear device before anyone else does. New to the fold is Anthony Hopkins as the barmy, befuddled creator of the WMD, Catherine Zeta-Jones as a Soviet agent who used to share Frank's bed, and Byung-hun Lee as an assassin who has sworn to kill Frank. The film is occasionally too bloodthirsty for its own good, and some of the comedic banter is forced and lunges for laughs that don't materialize. Yet the good cheer of the performers is infectious, the script contains a few satisfying surprises, and the action scenes are crisply staged and cleanly shot. Like a favorite pair of slippers, Red 2 may not exactly be new, but it makes for a comfortable fit.
Blu-ray extras include a making-of featurette; deleted scenes; and a gag reel.
Movie: ***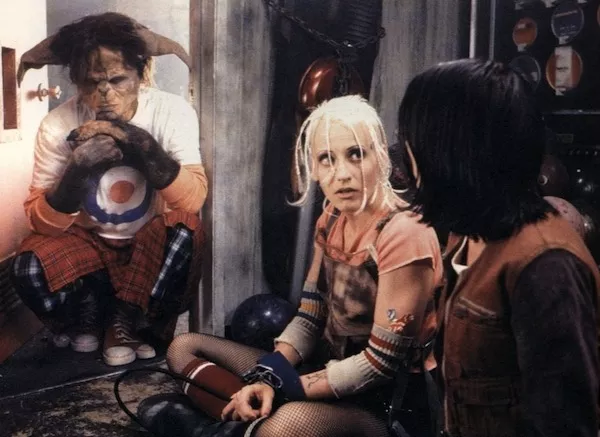 Tank Girl (Lori Petty) and one of her kangaroo-man buddies in Tank Girl (Photo: Shout! Factory)
TANK GIRL (1995). A loud, garish mess, this adaptation of the comic created by Alan Martin and Jamie Hewlett (who were both reportedly unhappy with the film) is set in 2033, 11 years after a meteor crashed into Earth and turned it into one big desert. Water is naturally the most precious commodity, and most of it is being controlled by Kesslee (Malcolm McDowell), the sneering head of the Department of Water and Power. The disruptive antics of spunky, punkish Tank Girl (Lori Petty) irritate Kesslee, but she's not the only one bucking the system: There's also the meek Jet Girl (Naomi Watts) and the Rippers, a group of genetically altered creatures who are half-man, half-kangaroo. Rachel Talalay's hyper direction and Petty's hyper performance result in migraines; you also get an unrecognizable Ice-T as the most antagonistic of the Rippers and Iggy Pop in a fleeting cameo as a pervert with a penchant for 10-year-old girls. Every so often, the film's live-action happenings are broken up by splashy animated panels (makes sense, given its origins): It's a welcome innovation, even if it ultimately makes one wish that the entire picture were an animated romp along the lines of, say, Heavy Metal. At any rate, these eye-popping panels, a rockin' soundtrack (Devo, Veruca Salt) partially overseen by executive music coordinator Courtney Love, and a peek at Watts early in her career are the only ingredients saving this from a bomb rating.
Blu-ray extras include audio commentary by Talalay and Petty; interviews with Petty and production designer Catherine Hardwicke (who would go on to direct Thirteen and the first Twilight picture); a vintage behind-the-scenes featurette; and the theatrical trailer.
Movie: *1/2