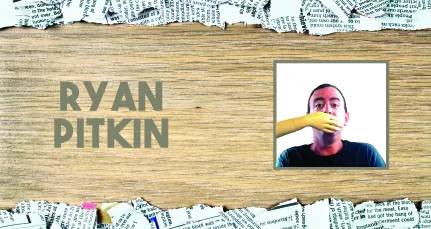 I'd say the worst assignment for any reporter would be to report on the death of a loved one.
This week I had to do the next worst thing: report on the death of a career.
OK, maybe that's a bit dramatic. After all, Creative Loafing in Charlotte is doing relatively well, and we're more relevant in the local arts, music and news scenes than we've been in years. But it's hard to ignore the damage being done to alt-weeklies around the country, as described in this week's news feature on page 8.
So here's how I found myself in this depressing predicament. Here at CL, very rarely do we use syndicated stories. We pride ourselves on our hyper-localized reporting and have no interest in things written in far off places, regardless of how relevant that national reporting might be to us here at home.
However, this week our editor experienced a family emergency that took him away from the paper for a several days, and that sent us into a bit of a scramble. We did a little bit of rotating among staff, and I was more than happy to take over in the arts section, reporting on burlesque and the fringe arts in Charlotte (check out our cover story on page 22), but that left us lacking in the news department — my department.
Luckily, the editor came across an available story that struck me as interesting for a couple reasons, not the least of which was that it affects me personally. However, it also affects society as a whole, and is more relevant than ever in Charlotte, specifically, where we've seen the face of media change drastically over the last five years.
The story starts with how Facebook keeps many news organizations on edge with its constant algorithm change, then dips into the reasons why advertisers no longer look at the printed page as valuable, even when a publisher can prove that it is, as Coury Turczyn did with the Knoxville Mercury before its closure.
After all that, though, Turczyn's most depressing quote in the story came when she described his search for a new gig, saying that despite his wealth of journalism experience, there were simply no jobs to be had.
"The single biggest job opening I see consistently is social media manager. Or 'digital brand manager,'" Turczyn said. "Those are the jobs on the marketplace right now."
Anyone in journalism knows that quality jobs are few and far between these days, but Turczyn's quote made me shudder at the thought of the profession's future.
More and more, I see brands creating their own content and pushing it on readers as "community journalism." When that happens, everyone loses. Not only are you allowing the ones who would profit to push their product's narrative without anyone pushing back, but you're convincing those same brands that advertising isn't needed if they can just hire a few more PR folks to write "community journalism" articles that say what they want them to say.
Such was my concern on February 1, when I first saw the launch of The Knaq, a Charlotte-based website that features experts in different fields writing about those fields. Many of the writers represent companies within said fields.
I called up John Turner, who founded The Knaq, to see what the deal was. I wasn't coming at John from a preaching angle, I just wanted to know what his goals were with the new site. When I asked if he was concerned about blurring the lines between PR and journalism, he said that he had thought about the issue, but was in no way trying to run a news site.
"That's a total consideration," he told me. "But my thing about it is, I don't want this to be about journalism. I hate the term community journalism, that's just kind of garbage, and that's not what this is."
Turner is a stand-up guy and understands the importance of transparency in media. I, in turn, understand what he's trying to accomplish with The Knaq: basically, he's launched a blog that collects expert advice from local people on anything from real estate to yoga.
"The goal is just to be like, 'Look, I love gardening and I live in Charlotte. Where can I get more resources about gardening in Charlotte?'" he said. "My goal is to make sure we don't fall into a place where someone would have to choose between going to Creative Loafing or The Knaq."
That's fair enough, and I wish Turner all the best, but my concern is with reader comprehension.
At what points do the lines blur beyond recognition, regardless of whether anyone is consciously trying to blur them? And once that inevitably happens, is there a spot in the bell curve where readers stop reading journalism altogether, albeit unknowingly?
I'll be honest, I'm scared of the answer.