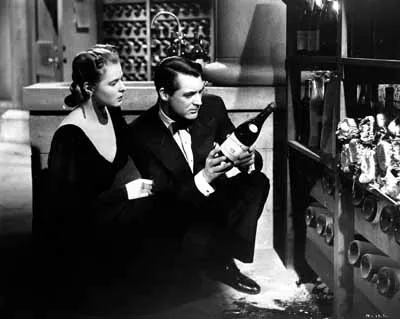 A FINE VINTAGE: Ingrid Bergman and Cary Grant star in Notorious, one of Alfred Hitchcock's greatest films.
ALFRED HITCHCOCK PREMIERE COLLECTION (1927-1947). The home entertainment arms of Warner Bros. and Universal Pictures released their own Hitchcock collections in 2004 and 2005, respectively, and now here's 20th Century Fox belatedly joining the party with their own resplendent box set.
Hitchcock had already directed a couple of films before helming The Lodger: A Story of the London Fog (1927), but this is the movie that was commonly called (even by the Master himself) "the first Alfred Hitchcock picture." Among other reasons, it's the director's first thriller (his previous flicks, The Pleasure Garden and The Mountain Eagle, were both melodramas); it incorporates one of his favorite themes, that of a potentially innocent man being hounded for a crime he may not have committed; it features some nifty techniques that would come to full flower in subsequent works; and, as the cherry on top, it features the first of his legendary cameo appearances. This silent feature centers on a serial killer known as The Avenger (though clearly based on Jack the Ripper) who prowls the London streets murdering nubile blondes. The detective (Malcolm Keen) on the case wonders if the killer might be the tenant (Ivor Novello) who's renting a room at the residence of his girlfriend (Miss June).
Based on Joseph Conrad's novel The Secret Agent, Sabotage (1936) gained notoriety at the time of its release for the unthinkable manner in which it kills off a sympathetic character. That sequence remains startling today, as much for the superb manner in which Hitchcock maintains a sense of dread as for the actual death itself. Sylvia Sidney stars as Winnie Verloc, who's married to a terrorist (Oskar Homolka) tasked to set off bombs around London. Neither Winnie nor her little brother (Desmond Tester) know his secret, but an undercover cop (John Loder) who's staking out the neighborhood turns out to be on the right trail. Sabotage should not be confused with Hitchcock's later (and even better) Saboteur, a 1942 American production starring Robert Cummings and Priscilla Lane.
Unjustly forgotten among Hitchcock's British-born-and-bred films, Young and Innocent (1937) is slathered with so much humor that it's impossible to feel anything's really at stake for a protagonist who's been wrongly accused of murder – even the cheerful chap (Derrick de Marney) himself seems more interested in flirting with a pretty lass (Erica Burgoyne) than in clearing his name. The fetching woman is none other than the police inspector's daughter, and, as the only person who believes that the young man is not guilty of strangling another woman, she aids in his escape and joins him as he combs the countryside in search of the real killer.
Made under the auspices of producer David O. Selznick (Gone With the Wind), Rebecca (1940) was Hitchcock's first Hollywood movie, and it proved to be a potent calling card. In this adaptation of Daphne du Maurier's novel, Laurence Olivier and particularly Joan Fontaine are effective as the brooding Maxim de Winter and his timid second wife, but the real show-stopper remains Judith Anderson's formidable turn as Mrs. Danvers. Slinking through the halls of the Manderlay estate like a giant black widow, this creepy housekeeper, still in love with the former, and now deceased, mistress of the house (the Rebecca of the title), does everything in her power to drive the new Mrs. de Winter mad. Nominated for 11 Academy Awards, this won for Best Picture (although Hitchcock himself lost Best Director) and Best Black-and-White Cinematography.
Lifeboat (1944) stars stage icon Tallulah Bankhead as a self-centered writer who finds herself stranded on the title vessel after the ship on which she's traveling get torpedoed by a German sub during World War II. The other passengers include seamen, civilians and, most troublesome of all, the duplicitous captain (Walter Slezak) of the U-Boat that shelled them in the first place. Working from an idea concocted by John Steinbeck and scripted by Jo Swerling, Hitchcock and his crew insure that the movie never feels constrictive even though it was all filmed on a single set (a feat he would repeat four years later with Rope). This earned Oscar nominations for Hitchcock, Steinbeck and cinematographer Glen MacWilliams.
A commercial and critical hit in its day, Spellbound (1945) has seen its standing slip in the ensuing decades, as it's never mentioned on any list of Hitchcock's best works. That's a shame, because this fascinating thriller about a psychiatrist (an excellent Ingrid Bergman) who falls in love with an amnesiac (Gregory Peck, emerging as a superstar in just his second year in film) who might be guilty of murder has plenty to recommend it, including a tremendous Miklos Rozsa score (featuring an early use of the theremin) and a superb dream sequence designed by Salvador Dali. Nominated for six Academy Awards (including Best Picture and Best Director), this won Best Original Score for Rozsa's haunting soundtrack.
Second only to Psycho as my favorite Hitchcock movie, Notorious (1946) is notable for featuring what are arguably Ingrid Bergman's best performance and Cary Grant's finest dramatic work (and in both cases, that's saying a helluva lot). Bergman is cast as a "tainted" woman who aids an American government agent (Grant) by infiltrating a Nazi spy ring and wooing its most vulnerable member (supporting actor extraordinaire Claude Rains). A brilliant motion picture that resonates on any number of levels, this gem not only expounds on the sadomasochistic sacrifices that individuals make in the name of love but also on the duplicitous nature that often occurs in matrimonial situations. This masterpiece deservedly earned Oscar nods for Best Supporting Actor (Rains) and Best Original Screenplay (Ben Hecht), but nothing for Hitchcock and his leads.
The first collaboration between Hitchcock and Selznick led to a Best Picture Oscar for Rebecca; The Paradine Case (1947), their final film together, led to a rare failure for Hitchcock and a draining of the studio coffers for Selznick. For the most part, the latter had no one to blame but himself, as his constant interference with the production – he even threw out all drafts of the script and penned the final screenplay himself – led to an extended shooting schedule that helped the budget balloon to gargantuan proportions. Gregory Peck stars as an English barrister who agrees to defend a woman (Valli) accused of murdering her blind, elderly husband; the hotshot lawyer ends up falling for his client, much to the dismay of his saintly wife (Ann Todd). Charles Laughton steals the show as a lecherous judge, although it was Ethel Barrymore, as his long-suffering wife, who earned the movie's sole Oscar nomination (for Best Supporting Actress).
Extras on the various DVDs include audio commentaries by film historians; audio interviews with Hitchcock by Francois Truffaut and Peter Bogdanovich; making-of featurettes; restoration comparisons; and theatrical trailers.
The Lodger: A Story of the London Fog: ***
Sabotage: ***
Young and Innocent: ***
Rebecca: ****
Lifeboat: ***1/2
Spellbound: ****
Notorious: ****
The Paradine Case: **1/2
HELLBOY II: THE GOLDEN ARMY (2008). While this sequel to the 2004 feature doesn't lack for visual wonders, it's utterly clumsy in the storytelling department, a genuine shock given writer-director Guillermo del Toro's usual ability to spin a tall tale. Here, Hellboy (Ron Perlman), the satanic emissary who fights on the side of right, must face off against an albinotic, ancient leader (Luke Goss) who hopes to revive an army of lumbering brutes to destroy humankind. Del Toro (Pan's Labyrinth) is clearly most content when he's frolicking with freaks, but his obsession comes at a high price. The original Hellboy wasn't anything special, either, but at least the predicament of its red-hued hero carried some dramatic heft, particularly in the way his feeble wisecracks masked the painful ache in his soul, a loneliness that could only be cured by the love of another mutant, the pyrokinetic Liz (Selma Blair). The misfit romance between Hellboy and Liz was the best part of the original flick, yet del Toro miscalculates this time around by moving the pair too quickly to the status of bickering, boring lovers. For all its cool critter content, this is surprisingly snooze-inducing when it comes to its storyline and even its central characters; there's an aloofness to the whole enterprise that's atypical for the director, suggesting that maybe his mind was already racing ahead to future projects. Then again, with The Hobbit possibly on his plate, that was probably to be expected.
Extras in the 3-Disc Special Edition include audio commentary by del Toro; separate audio commentary by actors Blair, Goss and Jeffrey Tambor (but no Perlman?); a 2-1/2-hour making-of feature; five minutes of deleted scenes; and a Troll Market Tour with del Toro.
Movie: **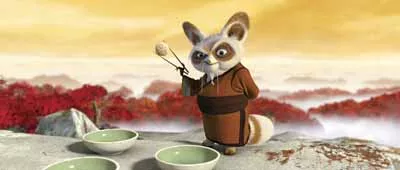 I'M GAWKING HERE!: Master Shifu (Dustin Hoffman) in Kung Fu Panda.
KUNG FU PANDA (2008). Kung Fu Panda isn't notable for what it is as much as it's notable for what it isn't. It isn't obnoxious. It isn't soulless. It isn't packed to the rafters with potty humor. And it isn't made solely for the ADD-afflicted. In short, it isn't like the majority of today's non-Pixar animated features. The narrative is strictly formulaic, but the delight is in how it wraps its familiar messages of acceptance and self-confidence in a provocative visual scheme that's always pleasant to absorb. In that respect, it has more in common with Dr. Seuss than the dubiously titled Dr. Seuss' Horton Hears a Who! Jack Black employs his patented shtick as an overweight panda who longs to become a martial arts expert, but it suits this story just fine. As the vicious snow leopard who seeks to claim the high-and-mighty title of Dragon Warrior, Deadwood's Ian McShane effectively provides guttural menace. And while the actors who provide the voices for the legendary martial arts outfit The Furious Five aren't given enough to do (Angelina Jolie, Seth Rogen, David Cross, Lucy Liu and especially poor Jackie Chan are the victims), all is forgiven whenever the character of Master Shifu appears on screen. It's a sizable part, meaning that we're constantly treated to Dustin Hoffman's quirky take on the role of a diminutive red panda who serves as mentor to the other animals. Hoffman has played a remarkable array of characters over his 41-year film career – Benjamin Braddock, Ratzo Rizzo, Dorothy Michaels, etc. – but I never thought he'd be tackling Mr. Miyagi. I was wrong.
Kung Fu Panda is available individually or in a two-pack with the new, 24-minute film The Secrets of the Furious Five (also starring Black and Hoffman). Extras on Kung Fu Panda include audio commentary by directors John Stevenson and Mark Osborne; interviews with cast members; a featurette on the proper way to use chopsticks; Cee-Lo's music video for "Kung Fu Fighting"; and an amusing PSA (hosted by Black) on panda preservation.
Movie: ***