ALEXANDER AND THE TERRIBLE, HORRIBLE, NO GOOD, VERY BAD DAY
***
DIRECTED BY Miguel Arteta
STARS Steve Carell, Jennifer Garner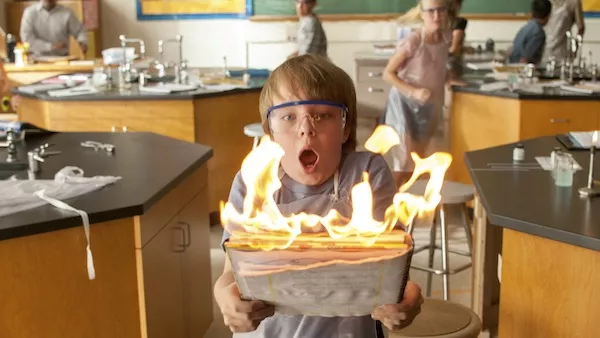 Ed Oxenbould in Alexander and the Terrible, Horrible, No Good, Very Bad Day (Photo: Disney)
Most screenwriters adapting literary properties face the daunting task of excising reams of text in order to produce a wieldy script rather than, say, a 10-hour adaptation that no theater owner in his right mind would even book. But when the source material runs a scant 32 pages and contains lots of illustrations, then trimming clearly isn't the concern.
In the case of Alexander and the Terrible, Horrible, No Good, Very Bad Day, the classic children's book by Judith Viorst finds its wafer-thin length amplified to stromboli size thanks to the efforts of scripter Rob Lieber. Whereas the book centers exclusively on Alexander having, indeed, a particularly rotten day, the film merely uses that as its starting point. Only the first portion of this 80-minute movie focuses on the woes of young Alexander Cooper (Ed Oxenbould); the rest of the time, the calamities are falling on the heads of Alexander's family members, all of whom have heretofore been enjoying seemingly perfect lives. Dad Ben (Steve Carell) has been unemployed for several months and is finally starting to crack under his veneer of endless optimism. Mom Kelly (Jennifer Garner) is up for a promotion at her publishing job, but a typo in a children's book that's just about to launch signals a p.r. disaster for all concerned (more so when Dick Van Dyke, playing himself, shows up to read the now-offensive book to a room full of young 'uns). Older brother Anthony (Dylan Minette) is dating the hottest girl (Bella Thorne) in school, but it turns out the newly formed pimple on his forehead the day of the prom will be the least of his problems. Older sister Emily (Kerris Dorsey) just landed the title role in her school's production of Peter Pan, but it's hard to perform with a severe head cold. As for baby Trevor ... well, there's a reason green marker pens aren't designed with toddlers in mind.
Many fans of the book will doubtless balk at the ample additions to the original template that's been delighting kids for over 40 years, but adding the family to the mix prevents the story from getting tedious, as might have been the case had Lieber elected to fill out his script with simply more variations on Alexander falling down, getting gum stuck in his hair, etc. To be sure, this is a slender movie, and with its short length, no-frills production values and lack of storytelling urgency on the part of director Miguel Arteta, filmgoers used to heavily hyped and massively budgeted extravaganzas might feel a sense of "Is that all?" at picture's close. But for those seeking a pleasant PG outing in a sea of pushy PG-13 efforts geared toward hyperactive kids, this one fills the bill with its unassuming nature. What's more, the treatment of the parents (nicely played by Carell and Garner) is unexpectedly sweet — whereas the mom or dad (or both) in most family films is presented as an inefficient imbecile, here they're both painted as smart, well-adjusted and loving. The Coopers might be immersed in very bad situations, but viewers should have it pretty good.