Godzilla was awoken from its underwater slumber by nuclear testing. The three-headed monster Gidorah was spawned in outer space. But The Green Giant of Zanzuki owes its existence to Hurricane Irma.
If Irma hadn't slammed into Savannah, Georgia, and delayed the start of the fall 2017 semester at the Savannah College of Art and Design, Charlotte filmmaker Alex Greenberg's monster movie might never have gotten made, and Japan might never have been attacked by a massive lizard-plant hybrid.
Alex Greenberg (Photo by Cody Moore)
Greenberg, a 23-year-old film editor for NBC Universal in Charlotte, was heading into his final year at SCAD at the time and developing his senior thesis film. The plan was for the film professors to ask each senior to submit a budget along with production details, Greenberg remembers. Then, instead of every single student making a film, the faculty would choose only a few projects that would actually get made. Irma tossed that carefully laid plan into chaos.
"They didn't have time to implement it," Greenberg recalls, "so they just let everyone do whatever they wanted."
Greenberg decided to make a kaiju — the Japanese giant monster movie genre, which literally translates as "strange beast" — after watching a theatrical screening of Mothra. In that 1961 film, a giant flying monster terrorizes Japan after an evil nightclub owner kidnaps two tiny princesses from their island paradise.
"I thought, 'How cool would it be if I copied the concept of this movie, but made my own version?,'" Greenberg remembers. It turns out that his love of popular Asian cinema isn't confined to gigantic flying, fire-breathing and building-stomping creatures. He's currently prepping a new film, a gory martial-arts movie called Fist, that pays homage to the output of Shaw Brothers Studios, a Hong Kong production company that defined and dominated the fist-flying, nunchucks-swinging genre of the 1960s through the '70s.
We had a little chat with Greenberg.
Creative Loafing: What is kaiju, and why did you decide to make one?
Greenberg: The kaiju film phenomenon started with Godzilla (Gojira) in 1954, produced by a company called Toho. From that, a bunch of imitations sprang up. There haven't been many American examples, so I decided to make one. Pacific Rim is the most popular modern-day take on kaiju. I've been a fan of the genre since I was 6 years old. I started watching Godzilla movies and they always stayed with me. Whenever I had a chance to see a kaiju movie in theaters I'd jump to it.
What happens in the The Green Giant of Zanzuki?
The movie is just over 6 minutes long and the plot is this: A Russian scientist and his team have gone to the island of Zanzuki to find a relic called the Eye of Zanzuki, which has given him control of the weather. So the scientist brought the relic back to Japan, and the movie starts with the creature looking for the Eye of Zanzuki in Japan, stomping everything and blowing up everything around him. The giant is a mix between a lizard and a mountain. He has trees and dirt all over him and his feet are made out of tree roots. He looks like a big plant-lizard guy. My two main characters were on the expedition with the Russian scientist, because they thought that he was going to use the Eye of Zanzuki for good. In reality the Russian scientist wants to use it to take over the world.
Julia Valdes (left) and Oliver Chen in 'The Green Giant of Zanzuki.'
How did you shoot a Japanese-set story in Savannah?
We shot the majority of the film on a soundstage with a green screen. We built a lot of buildings to destroy and a giant hand that holds the actors. The outdoor scenes were shot in an alleyway near one of my friend's house. It just looked decrepit and we made it look way worse with set design. Most of the film takes place during the destruction of Japan, while the creature is holding the human actors. The effects are all practical. They're done in camera with no CGI. The monster is a suit worn by two different actors. We shot the movie on 16mm film because we wanted to capture the grain and feel of Toho movies of the 1960s and '70s. We overdubbed the audio and transferred it to reel-to-reel so it would sound like those films. The movie is a spoof of Toho's films, but it's a loving spoof.
How did you make the monster suit?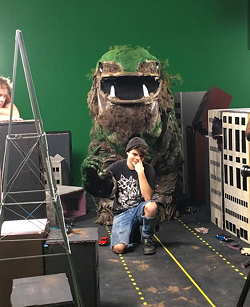 Greenberg and the Green Giant (Photo by Maryssa Pickett)
We had a GoFundMe, and I played a couple of punk-rock shows to help raise money for the movie. I designed the monster suit with my girlfriend Maryssa Pickett. She works at Resident Culture as an artist, and she did an amazing job. Then I gave a shit-ton of money to my friend Heidi Stein who built the suit.
After graduation, what brought you to Charlotte?
A lot of my friends moved to Atlanta, Los Angeles and New York. At one point I was planning on moving back to New York where I had interned my freshman year for a company there called Troma. Troma is probably the world's most successful low-budget movie company in modern times. They made Toxic Avenger. They're totally independent, so they make their own DVDs and Blu-rays in-house. They edit in-house at each other's houses. It's very DIY and it's been going on since the 1980s. I emailed [Troma co-founder] Lloyd Kaufman and he said he had work for me but he wouldn't pay me. I was editing trailers for their older films, which they were putting out on Blu-ray.
Anyway, a lot of my friends were telling me how hard it was in Atlanta and Los Angeles for a film student. I didn't want to be a production assistant for years. I'm an editor, so I'm willing to edit for people, but I knew that it would take me years to edit things that I wanted to if I went to Atlanta, L.A. or New York. My girlfriend used to live in Winston-Salem and we'd drive through the Carolinas and we found it super inspiring. There's so much open space in and near Charlotte, and it's really pretty. I feel more inspired to shoot my own stuff here and start my own independent film company.
You've done an homage to Asian cinema with a kaiju. Now you are working on yet another homage to Asian cinema with Fist, a martial arts movie. What is the draw of Asian popular cinema for you?
It's the rawness. One of my favorite comic books of all time is Lone Wolf and Cub. That got me into samurai cinema. When I was younger I watched Crouching Tiger, Hidden Dragon. I loved the people flying in the air and beating ass. When I went to college I started watching all the Shaw Brothers movies, a lot of the gorier Kung Fu cinema. I loved [the 1991 film] Riki-Oh, the Story of Ricki. It's just ridiculous with over-the-top gore. He's punching holes through people. It's really fun.
What is the plot of Fist?
It's a revenge story. There is an emperor of this small principality in China who has two sons. The emperor gets killed, and the killer frames the murder on one of the brothers. The story follows the other brother out to avenge his father's death. He thinks his brother murdered his dad, so he is out to kill him. Right now I'm still writing the script but I'm also scouting locations. In Charlotte there's a Buddhist temple on Sugar Creek Road I really want to use for a location. It would be awesome to shoot there.