The folks at Double Door Inn closed those namesake gateways for the last time Monday night after one more show from the Monday Night Allstars, who have been performing there on Mondays for decades.
Last night's farewell party was sold out, yet many long-time attendees braved the rain for a chance to gain entry as other fans left. Creative Loafing was standing outside the doors talking to folks about what they'll most remember about Double Door, as the jams from inside reverberated through the walls one last time.
Singer Shana Blake (above) met late Monday Night Allstars singer Charles Hairston 23 years ago, and has been attending Double Door Inn ever since. She stepped in to fill Hairtson's shoes following his death in 2009. We spoke before she hit the stage last night.
"It all still feels pretty much the same; the crowd that comes out here, the music, the feel and the vibe. It's just kind of the same thing. If I've had a really bad day I come out and I mourn it. If I've had a really bad day I come celebrate it. And it's always provided that for me.
[Losing The Double Door] goes in line with any friend I've lost. You go through a period of mourning it, and you know that life goes on and it will just be a matter of time before the hurt wears off a little bit. Nothing is sacred in Charlotte. You can't get too tied to any place."
James Brock, a local percussionist, has been attending Double Door Inn since he was a kid with his father, Jim Brock, a longtime percussionist with the Monday Night Allstars. James, like many in attendance Monday night, spoke about what Charles Hairston meant to the venue and the Charlotte music scene in general.
"Charles Hairston ... he was one of a kind. Nobody else like him. He could sing, he could dance. And one of the most amazing things I've probably ever seen was when Charles would... he'd sing 'People Get Ready' and step off the mic, and the volume of his voice – he'd walk around the bar – and the volume of his voice would keep up with the PA. Because he could project so loud. He 'd walk around to people and sing to them. It was like church in here. It really was."
"Tango" said he's been attending the Monday night jam sessions since 2001.
"Charles was my favorite. I had come to love listening to him sing on a Monday night.
It's bittersweet. Sometimes you've got nothing to do on a Monday night and you come listen to some blues. You can come out here and enjoy. We're going to miss this place, not just me, everybody."
Ryan Pitkin
Derrick Worthy
Derrick Worthy has been selling hot dogs to the Double Door crowd on Monday nights for two years with his company, A Worthy Dog.
"It's a place that I'm going to miss because you grow to know everybody. Everybody knows everybody and the great thing about this place is it's so diversified. You have attorneys, you have plumbers, you have wait staff, you have bartenders. It's a mixture of everybody that comes here and you get to know so many people. There's a bond that you just can't break. You're not going to be able to find it anywhere else in this city."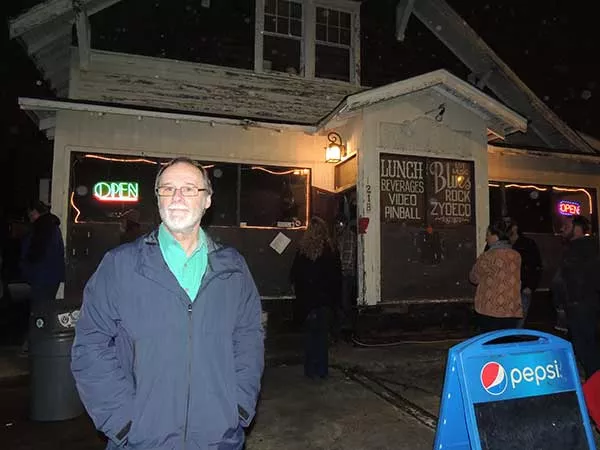 Ryan Pitkin
Roger Baldwin
Roger Baldwin, a regular Double Door attendee, spoke about some of his fondest memories at the venue.
"Chris Duarte, he came in here one night and played like 3 and a half hours without a break. When he finished one song it automatically led right into the other, there was no break. It was amazing. He came in here wearing a kilt the first time I saw him and played all night.
In the '70s I went to school over here and we would come here for lunch and then we started coming later. Lenny Federal [of The Lenny Federal Band, and the first act to play the Double Door] was one of the first we ever saw here, and he never quit. He's still coming."
Ryan Pitkin
Ali Bahmanyar
Ali Bahmanyar said he's been at Double Door Inn on almost every Monday night since 1988.
"The music has been what has been pulling us here. The people that have been coming here, they are totally unique type of people. You will not come across them unless you go to places like here. I'm going to have fond memories of the people that I've been coming here with.
They are cultured, they love music, and more than anything else they are just down-to-Earth good people. They enjoy each other. They leave all the differences out there. No religion, no color, nothing, they just come in there and they enjoy coming together and listening to the good music, that's what makes such a big difference."

Watch some longtime musicians and patrons wax nostalgic about their days at the Double Door: