As I sit down in Plaza Midwood's Common Market for a conversation with the Beard and Moustache Club of North Carolina's Charlotte chapter president, Brian Quein, I can't help but notice all the facial hair around us — he fits in well here. A man nearby rubs his five o'clock shadow as he admires the hair on Quein's face — a curled-up moustache and massive beard so well-maintained and thick that it makes my own goatee feel inadequate.
Facial hair has been around since the beginning of time, but it's only recently that a love for beards, moustaches, chops, goatees, whalers, chinstraps, garibaldis, or whatever your preference, started working its way back into mainstream culture.
Thanks to beard clubs, which are springing up around the United States (there are currently more than 100), friends of facial hair are not only getting to showcase their individual styles, but they're also helping out through charities as well. The Charlotte Chapter of BMCofNC has only been collecting membership dues for one year (the Greensboro Chapter started in 2007), but already has more than 60 members. The club will host the third annual Carolina Beard and Moustache Competition on March 22 at the Chop Shop.
"Last year, in Greensboro, there were more than 110 competitors from a dozen or so states. It's definitely a Carolinas-regional event, but we've had people travel from all over to compete," Quein says. "It's ridiculous. It's a giant man-pageant. Women compete, too, as whiskerinas [female fans of facial hair] with realistic or creative fake beards. The great thing is that all of the money goes to charity, which is Safe Alliance this year."
Mert Jones
Brian Quein at a recent BMCofNC meeting
While the competition is about having fun and supporting a good cause (Safe Alliance provides assistance to victims of domestic and sexual abuse), the group itself is also trying to break down stereotypes that sometimes come along with having a prodigious amount of facial hair.
Quein says people will assume if you sport a serious beard, you own a motorcycle or are in a band, homeless or worse. While the Charlotte Chapter does welcome bikers and musicians, it also has pastors, businessmen and everything in between among its membership.
The local nonprofit Beards BeCAUSE has also been doing something similar — working to tackle hairy stereotypes and raise money for Safe Alliance — since 2007 by encouraging people to grow beards to raise money for charity. It makes a partnership of sorts between the groups logical. Beards BeCAUSE co-founder/director Jared Yerg is a member of the BMCofNC and has plans to attend the competition on Saturday.
Quein says the club welcomes everyone. "Our slogan is 'Women & Less Fortunate Men Always Welcome.' We welcome men with or without facial hair and women. You don't have to have facial hair to be a part of this group. Of course, if you have a beard and you shave it, we're going to rib you some, but all in fun. There's a lot of camaraderie within the clubs, but it's about individuality, too."
From trim, corporate whiskers to bushy, natural beards that hang down to the waist, the styles of facial hair are almost as colorful as its history.
Take a look at past presidents: George Washington had sideburns; John Quincy Adams had mutton chops. Between Abe Lincoln's chin curtain in 1861 to William Howard Taft's handlebar moustache in 1913, all but two presidents had facial hair. Since then, none have had a trace of stubble, unless you count Harry Truman's brief vacation-grown goatee in 1948.
As movies started to portray clean-shaven heroes in the 1930s, facial hair actually became part of the counterculture — consider beatniks and hippies in the 1950s and the bearded Beatles at the end of the '60s.
In the '80s, Miami Vice's Don Johnson inspired the popularity of five o'clock shadows. Goatees with incorporated moustaches became trendy in the 1990s and have remained common to this day. Even I grew one a few years ago.
With such a variety of styles and shapes, it's only natural that people want to show off their furry faces. So, it's surprising that today's World Beard and Moustache Championships is only traceable to Germany in 1990, and the first world competition held in the U.S. wasn't until 2003. Everything from natural to creatively shaped follicles take the stage in an effort to win international bragging rights.
"I guess it's a double-edged sword," Meghan Baker, a Charlotte whiskerina, says of the popularity of facial hair these days. "You get different people coming in, you get exposure and you have more people to volunteer in the community. Then you have people getting facial implants. I'm not happy about that new trend, but I don't worry about it."
Quein notes that while some people have facial hair because it's fashionable, the competition's, uh, roots are more serious and prestigious. "It's not, 'Wow, look at my beard!' It's more like a work of art on someone's face," Quein says.
Joel Tracey, the 35-year-old vice president of the Charlotte chapter, prefers to keep his own beard, which he has been growing for nearly three years, natural. It measures 17 inches from the bottom of his lower lip to its end.
"I quit shaving because it sucks, so the idea of spending hours in order to be creative with my facial hair has never had any appeal," he says. "I also have quite the baby face, so I've been growing facial hair for as long as I was able. When I first started, I definitely stood out, but now I see beards that are quite significant and they are more welcomed and usual. Women are also coming to grips with what a man should look like in his natural state."
Those men, and the women who love them, will all gather at the Chop Shop to celebrate, applaud and award some of the finest facial hair in the country — especially in the Southeast.
Other clubs that say they're coming are RVA Beard League out of Richmond, Va.; Holy City Beard and Moustache Society of Charleston, S.C.; Cape Beard Follicles of Freedom out of Fayetteville; Hillbilly Beardsmen out of Hickory; Metropolitan Pogonotrophy Society out of Nashville, Tenn.; the Alliance of Grizzly Greenvillians out of Greenville, S.C.; and the Midlands Whisker Society of Columbia, S.C., which is just forming, according to Quein. "You win a trophy and bragging rights. Imagine bringing that medal along to a job interview — 'Not only am I a great candidate for this position, but I also have the best moustache in the Southeast,'" Quein says.
The four people you'll read about below — featured for their varying roles in the group — and other club members are out to change the stereotypes associated with those who sport facial hair. But Quein is most disappointed about the beards no one will ever see. "The best beard in the world gets shaved every day and the world will never see it," he says, twisting the ends of his moustache. "I think every man should grow a beard for one year to see what it feels like, how people react to it and how your family treats you. Some people can't get past the itching phase, or hate that they get food stuck in it. People who have beards aren't lazy. It's about commitment."
With that, he turns to the stubbled man at a table nearby. "Why don't you grow a beard? It looks like you've got ripe soil for the crop."
---
Hair Club President: Brian Quein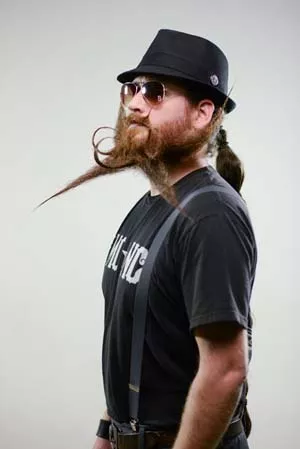 Brian Quein remembers the girl in high school who told him his beard was gross. He hasn't shaved since. What started as a way to annoy a classmate has grown into a bit of an obsession. The hair on his head, which hangs below his waist, hasn't been cut in nine years, so he can "see where it goes and what it looks like." He keeps it tied back — one band for each year it's been growing. And while he hasn't cut the chest-length beard since October 2000, it stopped getting longer years ago.
"Everyone has a terminal length, just like the hair on your arms or legs only grows a certain length," Quein, 33, says. "Some people can grow a beard super fast, but then it just plateaus. If I could grow my beard to my waist, I would. I only grow what I've got."
Quein, a videographer whose father was a professional Santa Claus for nearly two decades, first became interested in the idea of competitions in 2006 after a friend showed him a documentary on the World Beard and Moustache Championships. He flew to England to compete in it the next year.
While events like that call for good-spirited competition, facial hair can also inspire instant camaraderie. At the opening of REI near Northlake Mall in 2008, Quein met a fellow big-bearded man, Andrew Dudek. The two of them shook hands and hugged before exchanging a word — a quick sign of respect for and commendation on each other's facial hair commitment. When Quein mentioned the world championships, Dudek said he was the founder of the Beard and Moustache Club of North Carolina. A few years later, Quein and Joel Tracey would take the reins of the Queen City branch of the group. Quein is currently the president of the Charlotte chapter.
These days, knowing he can't measure up to contestants with waist-length beards, Quein, whose bushy, auburn-tinged beard is 8 to 9 inches long, stopped competing in the natural category and started to get creative for the freestyle category instead. He placed 12th in a world competition in England in 2007. He's won second place twice in U.S. competitions. Last year, he was first in the Carolina competition and was fourth at nationals in 2011.
Quein says he won't repeat the same design at the same competition from year to year, but he has done what he calls the "electric starfish" four or five times. That creation consists of a handful of points in different directions and a curled moustache. While he's gotten that one down to just under an hour to style, it can take much longer for more intricate creations.
"It depends on judges and how good your beard is and how much time you put into it," he says. "You can spend hours curling and putting in hair spray. Sometimes it takes two to four hours to style your beard because you have to create something that lasts through the day."
During a competition, Quein not only must battle against humidity or wind, but people who want to take pictures or to touch his beard. Competitors can't use pins or wires to hold their creation in form. That challenge is part of what makes it so appealing to Quein.
While his beard has become a hobby of sorts for the time it takes to maintain and style, it also remains a repellent for some people, like that girl in high school, which suits Quein just fine.
"This is a filter," he says, pointing to his beard. "It's a deciding factor for some women who do or don't like beards. It filters out the bad ones."
---
Getting A Handle On It: Patrick Tobin
Jim McGuire
Patrick Tobin and his girlfriend, Rebecca Jackson
People have referred to Patrick Tobin as the Monopoly man, Wyatt Earp and an old-time bare-knuckled boxer. Rightfully so, considering what he calls his "large, obnoxious handlebar moustache."
Sometimes curled up at the ends, sometimes left au naturel, Tobin's 2-year-old moustache has become a defining characteristic. The 27-year-old's former co-workers at UNC Charlotte used to encourage its growth through flattery, saying it enhanced his appearance. A friend saw a Facebook post about the BMCofNC and passed it along to Tobin, who joined at his first meeting in April 2013 and is now in charge of merchandise for the group.
"There's no ego in the group," he says of the club's appeal. "With a group of guys, there's usually someone vying for power or there's an elitist mentality, but everyone here's on the same level and wants to be there for the right reasons. Then there's the focus on charity work and what you can do to serve the community on a larger basis through the group."
Tobin, working currently as a property manager, is often one of the few members with a naked chin in group photos. He's looking forward to participating in this year's Carolina BAM competition — his first ever, though he isn't quite sure if he'll go in the styled or natural category yet.
"It needs more maintenance than I give it," he says. "I usually put some pomade or wax in it; otherwise, you get a mouthful of hair while you're eating. It's disgusting."
In the past, women have asked Tobin about moustache rides, but he's not sure if they're joking or if it's the best pick-up line they can come up with. He says his girlfriend doesn't like his moustache and has been begging him to trim or shave it. "She loved it — or at least didn't have any objections — when we first started dating," Tobin says. "I think maybe it's worn out its welcome. It's been here longer than her though, so it's not going anywhere."
While he's trimmed his upper lip hair for job interviews in the past, he says it will take a big paycheck for him to do so again.
"At this point, it's become a part of me," Tobin says. "Before, it was about gingerly sticking a toe into the ice-cold pool of facial hair to see if it was something I could pull off. Now, if I get rid of it, I won't know what to do with myself."
---
The Ombre Hombre: Anthony "Smitty" Smith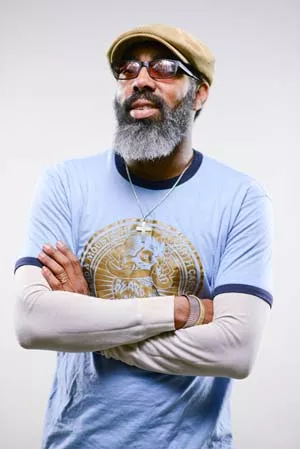 Jim McGuire
Anthony 'Smitty' Smith
When Anthony "Smitty" Smith got out of the military in 1994, he grew a beard to rebel against the years he had to be clean-shaven. Now, 20 years later, it seems like the rest of the world is catching up as beards are finding a pop-culture stronghold.
"I'm not sure if Zach Galifianakis contributed to it or what," Smitty says with a laugh. "I guess everyone else is finally catching up to what I've been doing."
At age 45, Smitty's longer-at-the-chin beard is graying quite a bit, but that's actually helped it acquire a bit more attention for it's dark-to-light striations. "I've had a couple of hairdresser friends tell me that because of the way it's turning gray, it looks ombre, which is something girls pay a lot to have done to their hair," Smitty says. "My beard's rocking that naturally."
Smitty, a DJ, producer and musician, joined BMCofNC about a year ago after he was approached by club members at the Common Market. He had heard about the organization, but it was learning about its charitable efforts that got him on board.
These days, he helps plan events as the entertainment coordinator for the group and hasn't yet decided if he'll participate in the March 22 competition. Smitty knows there are some intense competitors, and he simply keeps his beard trimmed and manageable.
"Some of the guys are really hard-core," Smitty says. "Everyone thinks it's about big, long beards, but I've seen guys with quarter-inch stubble that looks like it has been cut by a laser. The edges are so crisp it can't be done with traditional razors or clippers."
Smitty says his beard is the "equivalent of a neck tattoo — take it or leave it." Luckily, his wife takes it well. He's had facial hair since the couple first met, noting that he once had a goatee, so she's seen the sides of his face. In the past, he has trimmed down his beard so she also knows his chin does exist.
After 20 years, it's become a defining characteristic for him and he's often recognized from a distance. Then again, he adds with a laugh, "there's not a lot of 6-foot-3 black guys roaming around Plaza Midwood with ombre beards."
---
Trim And A Shave? Not On Her Watch: Meghan Baker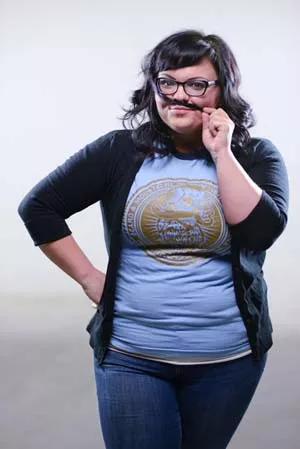 Meghan Baker will break up with her boyfriend Tim Theyson if he shaves his beard. She's told him that. She's told the BMCofNC's Charlotte chapter that. "It's kind of a deal-breaker," Baker says. "The beard is part of the package."
Baker isn't just some casual fan of beards; she regularly attends monthly meetings of the BMCofNC with Theyson and considers herself to be a whiskerina, or female fan of facial hair. After a friend told them about the club, the couple was so impressed by the charity work it does, Theyson signed up at the next meeting, roughly six months ago, and Baker continues to go with him.
"There aren't a ton of women who go to the meetings, but we're definitely there," Baker says. "I'm one of the few, the brave and lucky."
As a survivor of domestic violence, Baker, a 28-year-old behavioral specialist, was immediately interested in the club's work with Safe Alliance. "I thought it was a really big deal and huge positive note of having these big, burly, bearded dudes put themselves out there [to do charity work]," she says. "Not everyone that looks that way or is perceived in a bad way by society actually behaves that way. They're not all horrible people."
She and her boyfriend went with the club to cook and do meal prep at Safe Alliance last year, and they plan to do more in the future.
Baker also volunteers in another way — she helps Theyson keep his beard clean. If they're out to eat and she notices some food entangled within his curly brown whiskers, her maternal instinct kicks in.
"One time he walked around for an hour with a popcorn kernel stuck in his beard before he noticed it," Baker says. "Sometimes, I'll leave it in there and let him walk around, to be mean, but I'll eventually clean it out."
As for the contest, Baker isn't quite sure she's ready to compete as a whiskerina. The women's competitions are often more creative, outlandish and bizarre than the men's. Women will spend weeks and months fashioning beards out of just about anything for the creative or natural categories. One woman at a 2011 whiskerinas competition in Pennsylvania had a beard resembling spaghetti and meatballs, while other competitors have used human hair to create something more realistic.
"It's intimidating," she says. "This will be the first competition I've ever attended. I just want to watch and see how it happens and goes down. I don't want to whip something up and not be award-winning because I'm competitive. If I'm going to do it, I'm going to do it right."
---
Beard and Moustache Club of North Carolina, Charlotte Chapter meets on the third Tuesday of each month at the Chop Shop. Annual dues are $40, which includes a T-shirt and entrance fee to a national competition. For more information, go to www.bmcofnc.com.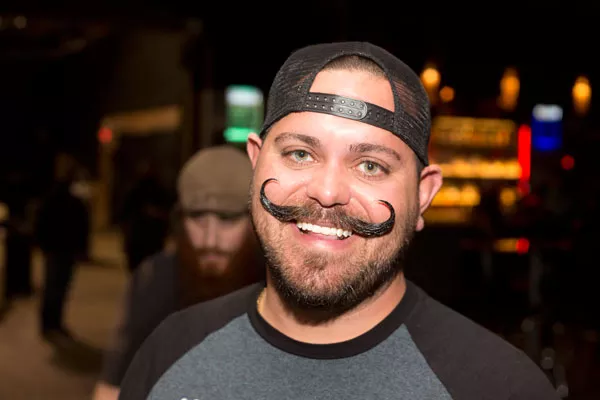 Mert Jones
Joey 'Handlebars' Delgrosso at a recent BMCofNC meeting
Mert Jones
Patrick Tobin, right, shows off merchandise to new members Andrew Arquette, left, and Bobby Demmery, center.