Istanbul Passage by Joseph Kanon
$26, Atria Books, 404 pages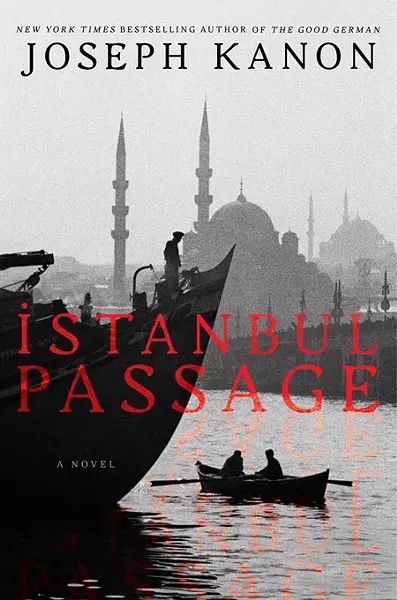 Welcome to Istanbul, circa 1945, a place where nothing is as it seems. Just after World War II and just before the Cold War, the erstwhile capital of the former Ottoman Empire has become a neutral gathering place for spies and diplomats alike.
There, on the Bosphorus, Europe and Asia commingle, along with the remnants of the Allied and Axis powers. Everyone, it appears, has more than one agenda, dabbling in rumor and innuendo as well as side jobs ranging from low-level courier runs to more intricate maneuvers aimed at frustrating or aiding various governments on the world stage.
Meeting the main character, Leon Bauer, brings the baffling terrain into focus. Bauer is an expatriate American businessman who has added income and intrigue to his workaday life by taking on assorted discrete jobs for a consulate hustler named Tommy King.
With that budding relationship in place, "suddenly [Bauer] was in the war after all, the peculiar one that played out over dinner at Abdullah's or those consulate receptions where the sides lined up on either end of the room, cocktail wars," writes Joseph Kanon. "What surprised him later, when he knew more, was how many others were in it, too. Tracking shipping through the straits. Collecting gossip ..."
Kanon picked a fine era and setting for his latest espionage thriller, and, more importantly, brings it to life with superb, moody atmospherics. Istanbul itself looms as the main character, providing a heady mix of beauty, violence, intrigue and exotic, dreamlike ambience.
The author, best known for his novel The Good German (later adapted into a George Clooney movie), steers his tale through various parts of Istanbul, hopscotching past landmarks and neighborhoods both familiar and otherwise without resorting to guidebook fact-dumping. From the brooding shipyards to the eavesdropping consulates, ancient aqueducts to the sacred mosques, the author renders the city with vivid verisimilitude.
This last makes quite a gift for writer and reader alike. It is clear Kanon knows whereof he writes, but he avoids the mind-numbing digressions that so often prove the downfall of historical novels. Instead, he peppers conversations with tidbits such as an observation that sultans once set turtles roaming through garden parties with candles strapped to their shells, creating a moving light show. All of it feels natural, not forced.
Leon Bauer is part of an espionage story but bears little resemblance to, say, Jack Bauer. Instead, he hews more to the baffled Everyman left to swim in a sea of dreadful choices. Think George Smiley or, more recently, the characters populating books by Alan Furst and Charles Cumming. Violence, when it comes, is jarring and disturbing, not glamorous and cartoonish.
Look no further than the botched transfer of a mysterious Romanian, a man Tommy has asked Leon to escort to a safe house before putting him on a plane to the U.S. for interrogation about the Russian military. The late-night transaction falls apart and Leon shoots a would-be assailant, "killing a man ... a line he'd never expected to cross."
What looked like a routine farewell to Leon's undercover hobby morphs into a mind-bending maze of double-speak. Or, as one of Leon's world-weary acquaintances puts it, "A knot, not so easy to pull apart."
Leon's problems mushroom from there. He stumbles into an affair, wracked with guilt as his bedridden wife, felled by a nervous breakdown, takes up glassy-eyed residence in a nearby clinic.
All around him, characters etched in gray plant the seeds of doubt. The small gestures, the verbal feints and the toll of so much deception freight each conversation with drama.
When Leon escapes such misery, his conscience ups the ante. He imagines the voice of his debilitated wife, dismissing Leon for his craven acts.
"Not even time's going to help it," he thinks as circumstances devolve. "Anna's voice. Laughing as she said it. Life turned in a second — the drop of a newspaper, a hand slipping from yours in the water. Neither one coming back."
Leon may be in hell, but for Kanon's readers, Istanbul Passage is pure Turkish delight.