Rape, murder and racism. That's what's on the docket in a small-town Mississippi courtroom in the early 1980s, the setting for A Time to Kill. The stage adaptation of the debut novel from best-selling author John Grisham, which goes up at Theatre Charlotte March 23, draws on the traditional courtroom drama trappings of a Perry Mason or Matlock episode, but it also embraces harrowing — and timeless — subject matter. Director Dave Blamy wouldn't have it any other way.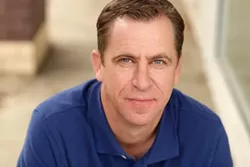 "The play asks the question, 'What would you do?'" Blamy says. "How far would you go for something you believe in?"
That line of questioning is set in motion in the play when an African-American man, Carl Lee Hailey, enters the courthouse where two white men charged with raping and beating his 10-year old daughter are being arraigned. Hailey opens fire with his M-16, a military-grade weapon, and kills the assailants. The bereaved father is arrested and charged with murder.
Recent events turned the show's opening act of violence into more than just a plot point that sets the legal drama in motion. It posed a moral dilemma that called for soul searching on the part of Blamy and his cast and crew. The director, actors and technicians assembled for rehearsal just a few days after the horrific shooting at Marjory Stoneman Douglas High School in Parkland, Florida.
"We discussed how we felt about the tragedy," Blamy remembers. The creative team wondered if their fictional story, which begins with gunfire and bloodshed, would touch a nerve too raw for audiences and performers alike. In the end, Tim Hager, who plays Jake Brigance, the idealistic white attorney who defends Hailey, urged Blamy and his team to press on with the production as planned.
Hager argued that A Time to Kill is about much more than a murder case — it's about equality, the role race plays in the justice system, and the importance of standing up for what you believe is right. It's a tale that begs to be told in our current troubled times.
"The play explores themes that were relevant in the 1980s, that are relevant now and that are going to be relevant in 20 years," Blamy says.
Blamy has been a fixture on the Charlotte theater scene since 2005, when he moved here with his wife after earning a PhD in playwriting at Texas Tech University. After acting for companies that are no longer around — Bare Bone Theater and CAST — Blamy played Otto Frank in Theatre Charlotte's staging of The Diary of Anne Frank. Blamy hit it off with Theatre Charlotte's executive director Ron Law, and Law approached Blamy to direct his first show for the company, Neil Simon's Biloxi Blues.
"Frankly that was a great piece to jump in directing," Blamy says. "Neil Simon is inherently funny. Just stay out of his way and the jokes will come."
These days Blamy is an in-demand television and film actor, known for his roles in the series House of Cards, Under the Dome, and Army Wives. He's reduced his Charlotte stage commitments to approximately one show a year.
"It's difficult to commit to the six or eight weeks of rehearsal and performance when there is more and more camera work coming to the region," he says. "You have to be really passionate about a project in order for it to take you out of the running for more lucrative jobs."
When Law offered Blamy A Time to Kill, he couldn't say no. The show's message resonated with him. Among the numerous roles Blamy has portrayed on Charlotte stages, the upright attorney Atticus Finch in Theatre Charlotte's 2015 production of To Kill a Mockingbird is one of the actor's favorites. Blamy sees a parallel between that classic, racially charged courtroom drama and this production of the Grisham novel. A major theme running through both is embracing and understanding the humanity in other people, Blamy maintains.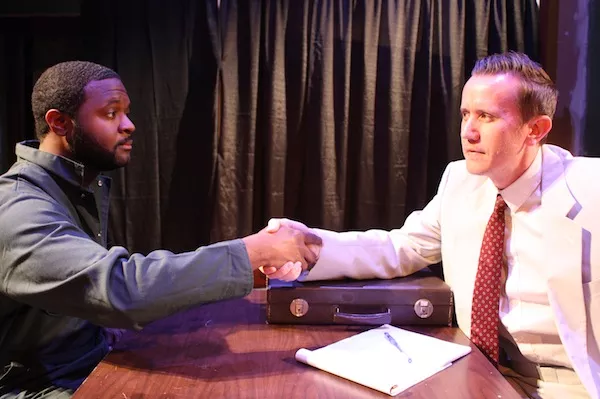 [Left to right] Jonathan Caldwell and Tim Hager.
"In A Time to Kill, Jake talks to the jury about empathy," Blamy says. "It echoes Atticus' line in To Kill a Mockingbird: 'You never really understand a person until you consider things from his point of view...until you climb in his skin and walk around in it.'"
"I think A Time to Kill is timely," Ron Law says. "It offers good roles, with a couple of really strong parts for African Americans." Law says he approached Blamy because he feels the actor has sensitivity to issues of equality and inclusion. "Dave is also a funny guy," Law says, "but he handles tough, intense situations quite well."
Not all of the show's intensity stems from its controversial themes and contentious questions. The production also posed tough technical issues for Blamy and his crew. The play has a large cast — 14 actors portraying over 20 roles — and multiple scene changes with two acts divided into 17 short segments. The challenge for Blamy and his scenic and lighting designer, Theatre Charlotte's associate artistic director Chris Timmons, was how to move people, props and scenery seamlessly from scene to scene.
"Long scene changes can drag a show down," Blamy says, so he and Timmons decided to anchor the show to one central set — the courtroom — and only suggest other locations by lighting cues and shifting a few set pieces.
"We both felt strongly that the courtroom is the crux of the play," Blamy says. "I think we get in and out of scenes well, and in a clever and imaginative way."
With its short scenes, the show is cinematic in structure, but Blamy did not want to copy the 1996 film version of A Time to Kill, which stars Samuel Jackson as Hailey, Matthew McConaughey as Brigance, and Kevin Spacey as ambitious District Attorney Rufus Buckley.
"I've encouraged the cast and production team not to watch the movie or look at any clips," Blamy says. "If [an audience member] has already read the book or seen the film it won't matter, because this show is its own unique experience. "
The director praises his cast for bringing this experience alive onstage. He cites Jonathan Caldwell, who plays Hailey, as particularly captivating.
"Jonathan is an honest actor," Blamy says. In the actor's audition, the dialog in which the character talked about his daughter rang particularly true. "It turns out that Jonathan has a 9-year old daughter," Blamy says. "When he read the lines, you could see that he was talking about a real person."
Blamy directed Tim Hager, who plays Brigance, in Theatre Charlotte's 2015 production of Dracula. "Brigance is cut from the same cloth as Atticus Finch in Mockingbird," Blamy says. "He's a gentle guy who can find ways to command the room. Tim captures that attractive Everyman quality."
If the play has a villain, it's District Attorney Buckley, who sees Hailey's murder trial as a ticket to a political career. "After Conrad Harvey read for the role, I knew he was Buckley," Blamy says. Completely bald and well over 6 feet tall, Harvey cuts an imposing figure. "Then Conrad opened his mouth and it turns out that he's a voice actor who can do marvelous things with his voice," Blamy says.
[From left to right] Jonathan Caldwell, Jim Greenwood and Conrad Harvey.
Perhaps most surprising about the imposing Harvey is that he's never acted on stage before this production.
That mix of seasoned performers and talented first-timers is the tool Blamy uses to engage the audience in a legal labyrinth, which is also a moral quandary. In the show, Hailey admits to the killings, so there is never any doubt he's the murderer. Brigance enters a not-guilty plea on the grounds of insanity, so the onstage trial ostensibly revolves around determining the accused's state of mind when the crime was committed.
But no one really doubts Hailey's sanity, Blamy contends. The community shares the extra-legal societal norm that in the case of a horrific rape and beating of a young girl, the girl's father is justified in killing the rapists. What the case really revolves around is whether homicide, in this case, is justifiable if the father and daughter happen to be African American. It's a pertinent question — especially in the era of a real-life Attorney General like Jeff Sessions.
In the end, Brigance's case boils down to one question for the jury: If they were in Hailey's shoes, what would they do? The query raises a raft of other questions. When is procedural justice unequal to actual justice? When, if ever, is vigilantism justified?
Despite its previous iterations as novel and movie, A Time to Kill's moral challenge is uniquely suited for the stage, Blamy says.
"You can pause the movie. You can close the book and pick it up later. But with theater there is nowhere to escape," the director says. "When the audience has those actors right in front of them, it's a visceral exchange that just can't be replicated in any other way."
In effect, Brigance is not just talking to the jury; he's confronting the audience when he asks, "What would you do?"
"It's a tough question," Blamy says, "and I want it to hang with the audience."