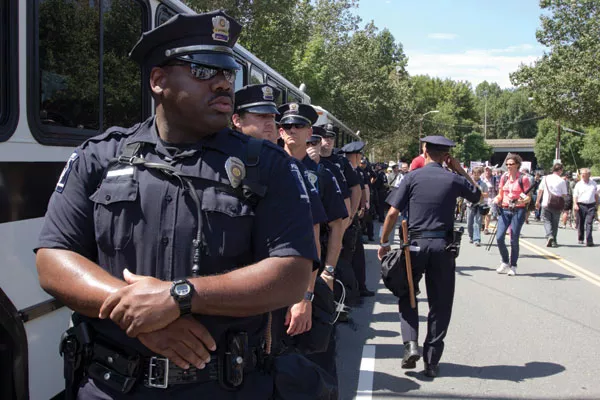 Police at the March on Wall Street South.
I knew Democratic National Convention week would be difficult. Not only would I be covering protests for CL, I would be doing it alone. Never mind that my birthday was on Monday, which was also Labor Day, or that I had to move into my new house on Tuesday, the first official day of the much-anticipated convention.
It wasn't until mid-week, after I had been covering protest activity for four days, that my convention reporting would come to a head. Wednesday night would prove to be one of the most bizarre and frustrating experiences of my life to date.
It started at 10 p.m. I had just returned home after writing stories about a long day of walking miles with protesters, under a sun that dodged high-rises to find my face. I decided to give myself some free time to assemble my bed in my new home. About 30 minutes into the endeavor — and shortly after realizing I had misplaced crucial screws in the move, leaving my bed frame dismantled and my mattress on the floor — I received a text from my mother. A social-media and news junkie, she often hears about things before I do and instantly wants to know if I'm participating. She told me some protesters had been seen crossing Church and Fifth streets.
Cursing and wondering why my usual protester sources hadn't texted, I left my project at home, jumped in my car, zoomed to the Uptown area and parked in a lot.
Somewhere between the walk from my car to the security perimeter surrounding the arena, I realized I had left my press pass on my dresser. Without it, I couldn't cross the barriers set up around the convention, and according to tweets from other journalists covering the march, I needed to be on the opposite side of the iron gates.
I'd have to walk around a circle Uptown instead of straight through the area.
That's when things got weird. As I walked along McDowell Street near Fourth Street, I heard some guys yelling. It sounded like chanting, so I got excited. Maybe the march was coming right at me, I thought. Then I realized where I was: right outside Mecklenburg County Jail. The yelling was probably coming from inmates fighting over a juicebox or a basketball.
My trek continued. And continued. I had walked around the center city barricade all week, but hadn't realized the enormity of its circumference until that night. Fifteen minutes later, I was only halfway to my destination. I also noticed what felt like a sharp pebble stabbing my right foot. No time to stop. I had to find the protesters.
About 20 minutes later, I arrived at the spot where the last tweet from WCNC's Glenn Counts indicated the protesters were. There were plenty of cops, but no protesters. I approached one officer, then another, and then another, asking each if he had seen any protesters. All three pointed me in different directions. I started calling the handful of protesters I had relied on throughout week for information, but none of them answered. (How could they hear their phones over each others' yells?) My iPhone app that functions as a police scanner was silent. It seemed as though I were looking for Osama bin Laden.
The clock approached midnight as I zigzagged city blocks in awful humidity. I checked the "stone" in my shoe and saw blood. Non-stop marches all week had left my right foot as mangled as a ballet dancer's after performing in a gravel parking lot. Then the shin splints kicked in.
Finally, as I hobbled near Fourth Ward, I heard the unmistakable sound of marching. It wasn't the chants and yells of protesters I had become so attuned to but something else, something even better: the military-like sounds of a marching police force. I turned a corner to see long lines of uniformed men on each side of the road; it was their usual set-up for a protest. But still, no protesters.
I ran up and asked different officers where they were going. They just kept saying "sir," which I interpreted as either "repeat the question" or "get the hell out of the way." I decided to follow along. As the officers turned the corner behind the French Quarter-like strip of bars on Graham and Fifth streets, my heart dropped.
The police lines broke. Officers began shaking hands and congratulating each other on another successful night. Their vehicles were parked in the lot. Their shift was over. There was no protest at all.
Disappointment washed over me as I realized my journey was all for naught. I wasn't covering anything that night. I tried to get my bearings and prayed I was near my car. I wasn't anywhere close. I limped the long way around the barricade and finally made my way home. I'd never been happier to see a disassembled bed and mattress on the floor of an empty room.