The 13-year-old singer had heard all the mythic tales. Of Mahalia Jackson. Of Michael Jackson. And now it was his turn — Dexter Jordan's — to hit the storied stage of the Apollo Theater, the legendary music hall at 125th Street between Adam Clayton Powell Jr. Boulevard and Frederick Douglass Boulevard in New York's Harlem.
"I was so nervous, because people were saying things like, 'Yeah, Michael Jackson auditioned here,'" Jordan remembers. "I was like, 'Oh my god' — it was just too much." He pauses, a look of exasperation on his bright, animated face. "You know how it is when you find yourself in a situation, and you don't really understand what it's going to be like until you're there, and then there you are — you're in the moment. It was like, 'This is really happening!'"
It was happening, all right. And as always, Jordan's mom LaFondra was right there, standing in the wings, proudly watching her young son as he put his whole body and soul into the gospel song "For Your Glory."
Jordan, now 24, sits at a table outside Smelly Cat Coffee in NoDa on a brisk fall afternoon, wearing a grey cardigan over a green turtleneck. He's describing the first time he remembers knowing, for sure, that he wanted to be a singer. He'd sung plenty of times before in the choir at Mount Zion Baptist Church in Greensboro, and he was already well aware that his tenor voice had the power to heal, the power to turn sadness into light. But it was onstage at the Apollo in upper Manhattan that Jordan realized that, yes, he really did want to be a singer. He wanted it badly. This was his calling.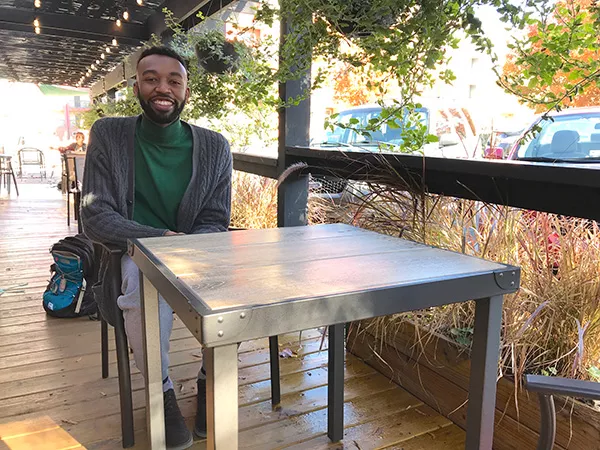 Jordan lounges outside the Smelly Cat in NoDa (Photo by Mark Kemp)
"And my mom," the singer begins, then pauses, his eyes welling up. Jordan's mother died last year of breast cancer, and he hasn't even begun to completely process the loss. He begins again: "I'll never, ever forget that moment. And when I won, like, first place, my mom was jumping up and down at the side of the stage. No one could see her from the audience, but I could see her there on the side, jumping up and down, and I wanted to laugh but I didn't. I couldn't." He wipes away the tears. "It was just such a great moment," he continues. "I will remember that day for the rest of my life."
Jordan is one of a growing pool of talented young R&B and hip-hop artists that's popped up in Charlotte over the past couple of years — a pool that seems to be expanding by the day. Earlier this month, he released his debut video, for his song "Hello, New Me," which he dedicated to his mother. (Watch it at the bottom of this story.)
The lyrics are empowering. Over a mesh of shuffling guitar, bubbling bass, an electronic horn line and a sweetly syncopated rhythm track, Jordan sings, "Chocolate skin I'm in, from the crown of my head to the soles of my feet/ Writing my heart with a pen, a spirit led to lay it on a beat."
In the video, he stands amid red and sky-blue backdrops, the blonde highlights in his hair making it look as though he's been dipped headfirst into a bowl of sweet cream. Throughout the clip, Jordan changes into different outfits, leaving him shirtless at times, free to explore his body, which drives home the song's refrain: "Took a long time just to get it right, but I finally love me."
Dexter Jordan (Photo by Frank Bauknight)
On Saturday, November 25, Jordan will perform "Hello, New Me" and several other songs at Snug Harbor when he opens for Charlotte experimental Italo disco revivalists Miami Dice. The singer landed the spot after meeting Miami Dice mastermind Shaun Olson and talking with him before an earlier gig at the Plaza Midwood venue. "We had talked and I told him I was opening up," Jordan says. "And then after he heard me, he said he wanted me to do this upcoming show. It was just because of him hearing me that night that I got this, so I was very happy and thankful about that. Hopefully, we may collaborate on a song later on."
The Miami Dice frontman says he was pleasantly surprised by Jordan's performance that night. "I didn't know what to expect when he showed up with a band," Olson says. "The vibes were tight; reminded me of Erykah Badu's first record. [Jordan's band] also did a rad cover of my favorite OutKast song, 'Prototype.' I was sold after that. As far as asking him to play the show and collaborating, I knew right then and there when I saw him perform — it had to happen."
This past July, Creative Loafing's editors were equally impressed when we heard the songs on Jordan's SoundCloud page, which range from well-produced tracks such as his lush rendition of Nirvana's "Dumb" to raw demos including a piano-based take on Badu's "20 Feet Tall." In our annual music issue that month, we named the singer one of 10 up-and-coming Charlotte artists to follow in the coming year. For his Snug performance, Jordan says he plans to mix a few of those covers into a set of originals.
"I'll be performing about six or seven songs, some originals and maybe one or two covers," he says.
Jordan couldn't have imagined doing any of this a year ago. It took months for him to even think about performing again, let alone write new material, after his mother died on March 18, 2016. He fell into a deep depression that completely sapped him of all of his creative energy.
"The idea of creating something new that my mom won't hear has just been really hard for me to comprehend," Jordan says.
To say that Jordan and his mom were close would be more than an understatement. From the moment Dexter was born in Meridian, Mississippi, on October 29, 1993, LaFondra Jordan played a huge role in everything her son did that involved music. Everything, that is, except his penchant for staying up late, at 5 years old, to watch Showtime at the Apollo on TV. She wasn't aware he was doing that back when the family was still living in the tiny Alabama town of Millry, just a few minutes east of the Mississippi border.
Jordan, at 5, with his biggest fan, his late mother LaFondra, on Easter Sunday 1998
But LaFondra Jordan did know that Dexter loved the gospel music she would listen to on Sundays. And after the family moved to Greensboro when he was 8, his mother supported him as he joined the church choir and eventually enrolled into Greensboro's high school for the arts, Weaver Academy. And of course, she was right there beside him the day he belted out "For Your Glory" onstage at the Apollo.
"My mother loved gospel," Jordan says. "I mean, she liked some of the old jams, like Encore or Rick James, but what she really loved was anything gospel. She would listen to the Clark Sisters or Israel Houghton, and I'm grateful for that, because it helped me understand harmonies and things like that."
By November of 2016, Jordan was still paralyzed by the pain of his loss when Charlotte producer Yung Citizen approached him about a project he was doing, Alive Sessions, which would feature several area rappers and singers performing together on a collaborative EP. Jordan wasn't sure he could do it.
"Yung Citizen had reached out to me when my mom passed, and he still checks on me to this day," Jordan says. "He's like a brother to me, so it just felt natural for me to collaborate on this." He remembers finally feeling inspired when he arrived at the first meeting. "I went to the studio with all the others — Mori Bea, Modest Jon and everybody else that was on the record. Yung's vision for doing this was just so beautiful."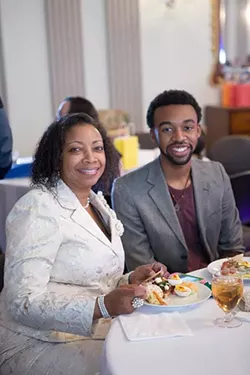 Jordan, at 19, with his mom.
That vision was to forge a true collaboration among a diverse group of Charlotte artists. When it came time for Jordan to write a verse for a track called "Heaven's Door," the singer knew what he needed to do. "Every artist talked about what was important to them at the time of the recording and writing session for 'Heaven's Door,'" Jordan says. Naturally, his mother was on his mind, and so Jordan's verse deals head-on with his feelings about her death. "It was my first time being up front about my mother's passing in a song," he says.
As was often the case when Yung Citizen heard Jordan sing, the producer was blown away. "His voice is so strong, but yet warm at the same time," Yung says. "You could have a terrible day and then listen to Dexter and there's always a message somewhere hidden for you to hear, and it makes you smile and forget about the bad day you originally had."
Jordan began to slowly dip his toes back into music, performing some local gigs. And then in August of this year, he hooked up with a few artists he'd collaborated with when he first moved to Charlotte in 2012 to attend Queens University and UNC Charlotte. Back then Jordan had been involved in a music collective called Stereo Academym, and when he reunited with a few of them to record "Hello, New Me," he knew it was time for him to begin thinking about a full album.
"For a while, I just felt really weird about creating new music," he says. "Every song and everything I've ever done was with my mom. She's heard all of my stuff, so I had to come to terms with the fact that my mom won't be hearing this. There's a void now." Jordan's pensive face suddenly brightens, and his 6-foot-4 frame straightens up. He's thinking about how his mother would react if she heard him feeling sorry for himself.
Dexter Jordan T-shirt (designed by Quincy Woodard)
"My mom would slap me if she thought I had stopped singing," he says, and giggles. Then he gets serious again. "It's just all so new to do this without her," he says. "But I have to understand that this is the new normal, and I feel like now I'm finally ready to create an album for myself. That's why I decided to do ['Hello, New Me"], and then do the video — to just throw it out there and see what happens."
It's impossible to know what will happen when Jordan tries out his new music for Miami Dice's audience this week, but with members of Blame the Youth and other local acts serving as his band, and a line of locally designed T-shirts with his image on the front on the merch table, we can guess the response will be one of healing.
After all, it wasn't just his mother who loved the young Dexter Jordan when he sang onstage at the Apollo. It was also the Apollo audience, known for being notoriously harsh. If Jordan could win them over, he can win over any crowd on the planet.
Watch the video for "Hello, New Me":