(View From The Couch is a weekly column that reviews what's new on Blu-ray and DVD. Ratings are on a four-star scale.)
Theo James, Miles Teller and Shailene Woodley in The Divergent Series: Insurgent (Photo: Lionsgate)
THE DIVERGENT SERIES: INSURGENT (2015). The second in the Divergent series begins with the courageous Tris (Shailene Woodley), her equally stalwart boyfriend Four (Theo James), her weak-willed brother Caleb (Ansel Elgort) and the duplicitous Peter (Miles Teller) branded as fugitives in the future world overseen by the unfeeling bureaucrat Jeanine (Kate Winslet). Clearly, it's time for a people's revolution, and with Katniss Everdeen nowhere to be found, it's up to Tris to lead the way. For a good while, Insurgent is fairly engaging, even if the shifts in loyalty among its central players are obvious straight down the line. But the second half of the picture proves to be a chore to endure. A string of fantasy sequences allows the picture to get swallowed up by expensive and uninvolving effects, Tris' improbable pity parties overwhelm the storyline, and the ceaseless series of last-minute rescues ultimately rises to risible levels. Worse, Tris and Four never grow as characters, while Winslet's Jeanine continues to register less as a formidable movie villain and more like that strict teacher you had in 10th grade who always assigned too much homework. Ah, well. At least the casting of the kids provides some inadvertent amusement. The opening scenes find Tris in plenty of tight shots with Four, Caleb and Peter, and it's amusing to note that while James plays Woodley's boyfriend in this series, Elgort had that honor in The Fault in Our Stars and Teller assumed that position in The Spectacular Now. Shailene and her three beaus? Sounds like there's a sitcom in there somewhere.
Blu-ray extras include making-of featurettes and a marketing gallery.
Movie: **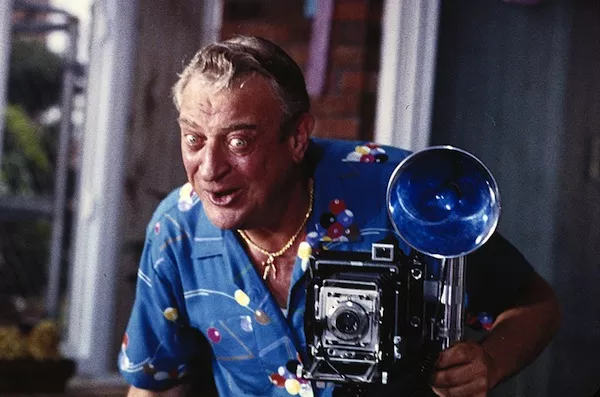 Rodney Dangerfield in Easy Money (Photo: Shout! Factory)
EASY MONEY (1983) / MEN AT WORK (1990). Here's one of those unfortunate Blu-ray double features wherein a decent movie gets paired with a lousy one, thus forcing buyers to keep a turkey on their shelves. What's more, the two movies have nothing in common, despite the label's insistence that they're united since they both feature working men. By that token, Schindler's List and the Pauly Shore vehicle In the Army Now would make a swell double feature since they both feature men in uniform.
Easy Money marked Rodney Dangerfield's first starring role after his scene-stealing turn in 1980's Caddyshack, and while it's ultimately a hit-and-miss affair, it boasts enough clever bits (particularly during the first half) to make it worthwhile, and it served as the stepping stone to the comedian's next venture, 1986's hysterical Back to School. Rodney plays a children's photographer who stands to collect a fortune if he can give up all his vices for an entire year. Joe Pesci amuses as his best friend (and already displays some of the quicksilver temperament that would win him an Oscar for 1990's GoodFellas), Jeffrey Jones serves as the foil, and Jennifer Jason Leigh appears as Rodney's chaste daughter. Incidentally, one of the screenwriters is former National Lampoon editor and current libertarian schmuck P.J. O'Rourke.
Charlie Sheen and Emilio Estevez in Men at Work (Photo: Shout! Factory)
Men at Work marked Emilio Estevez's second effort as writer-director-star, coming after the 1986 critical and commercial bomb Wisdom (in which he co-starred with then-fiancée Demi Moore). He and real-life brother Charlie Sheen play James and Carl, two rowdy garbage collectors who get inadvertently mixed up with corporate intrigue when they find the corpse of a politician on their route. Estevez tries hard (as usual, Sheen just shows up), but the laughs simply aren't there, and even the talented Keith David finds himself defeated by his stock character of an unhinged Vietnam vet who accompanies the boys on their misadventures.
The only Blu-ray extras are the films' theatrical trailers.
Easy Money: **1/2
Men at Work: *1/2
Robert Stack (seated left), Robert Ryan (center), Robert Quarry (seated right) and DeForest Kelley (standing right) in House of Bamboo (Photo: Twilight Time)
HOUSE OF BAMBOO (1955). With tough-guy director Samuel Fuller crouched behind the camera and tough-guy actor Robert Ryan looming large in front of it, House of Bamboo feels like the sort of quintessential film noir generally shot in grainy black-and-white and smoke-choked from all those Surgeon General-unfriendly cigarettes fingered by practically every cast member. Instead, the picture is often as rainbow-hued as any splashy MGM musical from the era, thanks to the inspired use of CinemaScope and its celluloid soulmate, DeLuxe Color. Set in post-WWII Japan, this stars Robert Stack as an American military cop who poses as a thug named Eddie Spanier in order to infiltrate a gang of Yanks engaged in criminal activities in and around Tokyo. The outfit is led by the urbane Sandy Dawson (Ryan), who finds himself drawn to the rough-and-tumble Eddie — much to the annoyance of Dawson's second-in-command, the volatile Griff (Cameron Mitchell). To help maintain his cover, Eddie receives invaluable assistance from Mariko (Shirley Yamaguchi), who must endure all manner of humiliation (including being ostracized by her neighbors) while posing as Eddie's kept woman. The main storyline isn't nearly as interesting as the multiple themes resting beneath the surface (homoeroticism, mixed-race relationships, U.S. appropriation of foreign interests, etc.), yet even those take a back seat to the dazzling shots staged by Fuller and captured by cinematographer Joe MacDonald. Look for DeForest Kelley (Star Trek's Dr. McCoy) and Robert Quarry (Count Yorga, Vampire) as two of Dawson's thugs; both are uncredited, though Kelley's role is rather substantial.
Blu-ray extras include audio commentary by film historians Julie Kirgo and Nick Redman; separate audio commentary by film historians Alain Silver and James Ursini; a pair of Fox Movietone News snippets (minus sound) regarding the film; and the theatrical trailer.
Movie: ***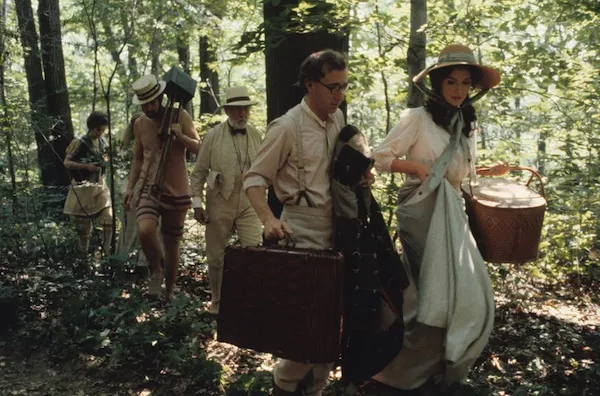 Julie Hagerty, Mia Farrow (mostly hidden), Tony Roberts, Jose Ferrer, Woody Allen and Mary Steenburgen in A Midsummer Night's Sex Comedy (Photo: Twilight Time)
A MIDSUMMER NIGHT'S SEX COMEDY (1982). This is where it began, the 13-film collaboration between Woody Allen and Mia Farrow, who stepped in when Allen's preferred leading lady Diane Keaton had to step out due to other commitments. It couldn't have been easy replacing the magnificent Keaton: Farrow reportedly wasn't happy with her work on this picture, and Razzie voters, smelling blood in the water, absurdly nominated her for Worst Actress, the only time in history the outfit even looked in the direction of a Woody Allen picture (for the record, she was, uh, bested by Pia Zadora for Butterfly). Farrow's just fine in this film, even if she's overshadowed by her co-stars, all participating in a variation on Ingmar Bergman's 1955 gem Smiles of a Summer Night. Allen and Mary Steenburgen play the unhappily married couple greeting visitors to their country home; Jose Ferrer plays the stuffy professor who arrives with his much younger fiancée (Farrow) in tow; and Allen regular Tony Roberts snags perhaps his largest role as a womanizing doctor who brings along his nurse (Airplane!'s Julie Hagerty). Naturally, all three men are attracted to Farrow's free spirit, although other couplings do ensue. It's all very pleasant but also all very slight, with the humor and the romance both kept at too low a simmer. Allen's employment of Mendelssohn on the soundtrack seems logical given the titular nod to the Shakespeare play and its 1935 screen version, and the late, great Gordon Willis, the legendary cinematographer behind The Godfather, The Parallax View and other gritty classics, must have relished the rare opportunity to shoot in the great outdoors.
Blu-ray extras consist of the theatrical trailer and an isolated track of the score.
Movie: **1/2
Robert Downey Jr. and Mel Gibson in The Singing Detective (Photo: Olive Films)
THE SINGING DETECTIVE (2003). Dennis Potter's same-named BBC miniseries from 1986 has long been considered by many TV scholars to be one of the greatest works ever created for television, and by reconstructing the material into feature-length form before his death in 1994, the British writer obviously hoped that a big-screen version would be greeted with similar acclaim. Fat chance. Finally seeing the light of day after a decade-long gestation period, Potter's script found itself at the center of a calamity that's misguided right from the opening frames. Robert Downey Jr. stars as Dan Dark, a pulp fiction writer who suffers from a debilitating skin condition that fuels not only his deeply entrenched cynicism but also feverish daydreams in which he imagines himself as a musically inclined shamus. Making a movie that's both bizarre and boring would normally seem unlikely, but The Singing Detective manages this unenviable feat, as director Keith Gordon attempts to goose the material with poorly choreographed musical numbers and ham-fisted technical tricks — both of which only point out the bankruptcy of the gumshoe angle and the increasingly tedious behavior of its central character. Former Air America co-stars Downey and Mel Gibson (in a radical departure as a balding, fidgety psychiatrist) both perform well under the circumstances, but the rest of this wayward production sustains one long, flat note.
There are no extras on the Blu-ray.
Movie: *1/2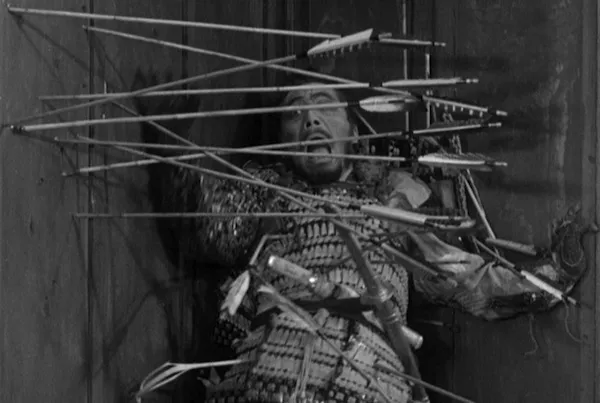 Toshiro Mifune in Throne of Blood (Photo: Criterion)
THRONE OF BLOOD (1957). Based on Macbeth, Throne of Blood remains one of the best Shakespearean adaptations ever made, and that director Akira Kurosawa topped himself by helming the King Lear-inspired masterpiece Ran 28 years later only cements the fact that he will always be heralded as one of the greats. In 16th-century Japan, the mighty warrior Washizu (Toshiro Mifune, compelling as always) and his friend and fellow soldier Miki (Minoru Chiaki) encounter a forest spirit who informs them that Washizu will soon become the warlord of Spider's Web Castle (thus suggesting he will murder the current ruler), but his reign will be interrupted when Miki's son (Akira Kubo) takes over. Washizu tries to ignore the prophecy, but his shaky good intentions are no match for the insidiousness of his wife Asaji (Isuzu Yamada), who pushes him to perform treacherous acts at every turn. Throne of Blood is a marvelous melting pot of a movie, mixing the written word of Shakespeare (in plot mechanics if not actual dialogue), the theatricality of Noh (the film is stagy for a reason) and the imagery of cinema (the thick fog is a character unto itself).
Blu-ray extras consist of audio commentary by Japanese-film expert Michael Jeck; a making-of documentary; two alternate subtitle translations, by Japanese-film translator Linda Hoaglund and Kurosawa expert Donald Richie; and the theatrical trailer.
Movie: ****
Marion Cotillard (right) in Two Days, One Night (Photo: Criterion)
TWO DAYS, ONE NIGHT (2014). Perhaps the best work yet from those sibling purveyors of common folk, Jean-Pierre and Luc Dardenne, this harrowing drama derives most of its power from a knockout performance by Marion Cotillard. She plays Sandra, a working-class woman who learns that her job has been terminated following her absence due to illness and her co-workers will all receive a bonus for their extra efforts. Following her last-minute plea to keep her job, she's then given a task: Over the weekend, she must convince a majority of her co-workers to give up their bonuses so the money can be used to retain her position. Backed by her husband (Fabrizio Rongione), she approaches each person individually, pleading her case and hoping for the best. Each encounter provides the film with a steadily building charge, as some people agree to forego the bonus, others refuse because they need the money to survive, and yet others refuse because they have no sympathy for their fellow sufferers. Cotillard earned her Best Actress Oscar nomination, as her Sandra has to contend not only with the reactions (some quite hostile) of her co-workers but also with her own crippling self-doubt. I won't reveal whether she wins over a majority or not, but that's almost beside the point. What remains with us most is the outrage that ordinary, hard-working people are placed in such an unfair situation in the first place.
Blu-ray extras include interviews with the Dardennes, Cotillard and Rongione; a video essay by film critic Kent Jones; and the Dardennes' short 1979 documentary When Leon M.'s Boat Went Down the Meuse for the First Time.
Movie: ***1/2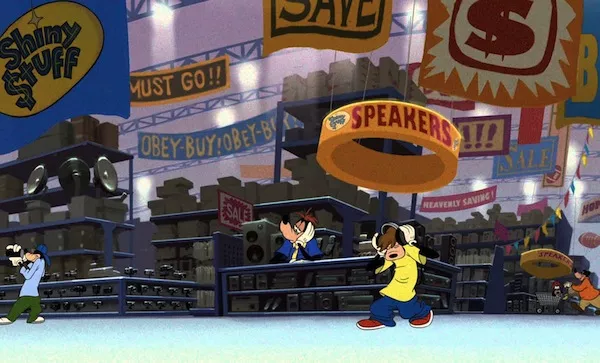 How to Hook Up Your Home Theater, included in Walt Disney Short Films Collection (Photo: Disney)
WALT DISNEY SHORT FILMS COLLECTION (2015). Following the releases of Pixar Short Films Collection Vol. 1 and Vol. 2 to great acclaim, Disney has now raided its vault to offer a dozen animated shorts all made in this century, starting with 2000's John Henry through this past spring's Frozen Fever. Most of the selections are worthwhile, although there are a few misses: Particularly tiresome are 2010's Prep & Landing: Operation Secret Santa, an offshoot of the TV hit and the only film in this set that feels like filler, and 2013's Get a Horse!, a Mickey Mouse piece that's marginally fun but backhandedly pushes the notion that color and CGI are automatically superior to black-and-white and hand-drawn animation. The most unusual offering is 2006's The Little Matchgirl, since its focus on poverty, despair and death make it one of the most depressing cartoons ever. The crown jewels in the collection are the pair that won Oscars for Best Animated Short: 2012's lovely Paperman and 2014's lively (and unexpectedly poignant) Feast. Also noteworthy are 2007's How to Hook Up Your Home Theater, starring the inimitable Goofy, and 2011's sweet-natured The Ballad of Nessie. Rounding out the set are 2004's Lorenzo, 2010's Tick Tock Tale, and 2012's Tangled Ever After.
Blu-ray extras consist of a featurette on creating an animated short and introductions to all 12 shorts by involved filmmakers.
Collection: ***