In the Charlotte of the current millennium, authentic Mexican restaurants are as prevalent as locally owned Southern barbecue joints. But it wasn't always like that. When Pedro Santillan arrived here in 1994, he was a pioneer.
Santillan, a native of Guadalajara, in the southern Mexican state of Jalisco, opened Azteca Mexican Restaurant on Woodlawn Road at a time when Mexican was still exotic. Santillan had done time waiting and busing tables, then cooking at his cousin's Mexican restaurant in Washington state before moving to North Carolina. Out West, he would do anything to get folks to sit down and eat a meal, and Santillan soon became known as el mago, "the magician," for his trademark ploy of using coin tricks to entice people to stay.
But in Charlotte, people still looked upon Spanish-speaking Mexicans as aliens from another planet. It was tough getting gringos into Azteca. Even grocery shopping for Spanish speakers was a challenge.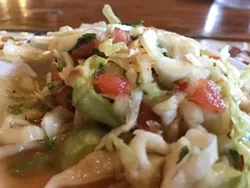 Pico de gallo from Azteca.
What's more, another group of enterprising foodies from the Mexican coastal state of Guerrero, to the south of Jalisco, had already set up shop in Charlotte with the Cancunes chain, 15 strong.
But soon enough, word got out. Now, 22 years later, Azteca is not just one of the more popular authentic Mexican hotspots, it's expanded to three other locations — one in Gastonia, another on Independence Boulevard in Matthews and a third on Smith Corners in north Charlotte.
I sat down with Maria Garcia Perez, who's managed Azteca since 1999. With good-natured tolerance for my weak Spanish (I'm second-generation), Perez talked with me about the history of Azteca.
Santillan's commitment to food quality, Perez told me, eventually began to win him a clientele among the relatively few Latinos already living in Charlotte in the mid-'90s, as well as with a growing group of native Carolinians. When Cancunes eventually closed, Azteca's star began to rise.
The chain remains largely a family-run operation. Santillan's sister, Luz Maria, runs the Matthews location; Santillan's nephew, Eliud Michell, manages the Gastonia location (my next stop), and cousin Jose Arceo is a partner in the chain.
Perez told me she followed Santillan from Seattle and quickly became his right-hand woman at the Woodlawn location, where she remains.
"I separated from my husband, but I'm still married to Azteca." Perez quipped.
In the years she's worked for Santillan, Perez has seen big growth in Azteca's business.
"The weekends are always great," she said, pointing to the restaurant's Friday Mariachi nights and Saturday karaoke nights. On Saturdays, she said, the kitchens stay open until 2 a.m.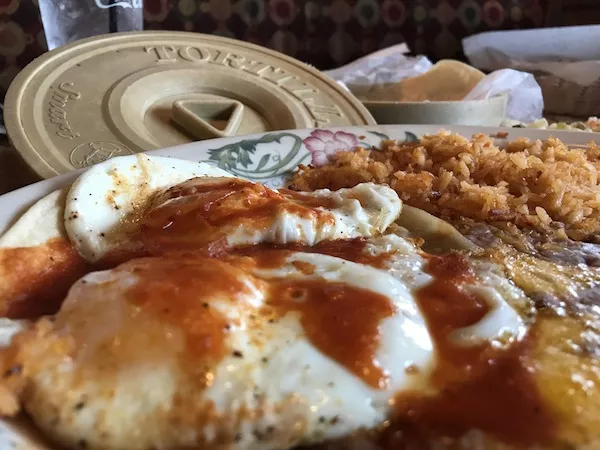 "We have to keep serving food if everyone's going to be drinking that late," Perez said, with an arched smile.
I asked Perez if corporate Mexican chains such as Chipotle and Moe's make a dent in business.
"Not at all," she said. "It's totally different what we do. We serve real food."
When I first arrived at Azeteca's Woodlawn location, which is tucked into the parking lot of a two-star hotel and surrounded by an International House of Pancakes and some auto repair shops, I was struck by how similar it felt to the Mexican restaurants in towns like Baldwin Park, California, near where I grew up. I could hear the music from the parking lot — loud, traditional mariachi. I could recognize Mexican singing star Vincente Fernandez' vocal histrionics like the sound of my dad's voice.
Immediately upon entering Azteca, the vibe was hacienda, with dark woods, amber lighting, paintings of folklorico dancers and stern-looking mariachis.
But what would the food taste like?
I'm a Mexican food snob. It's my birthright. I've never regretted moving east, but if I did have one recurring pang when I first arrived in New York City in the 1990s, it was that, for years, the quality of the Mexican cuisine on this side of the country was dismal.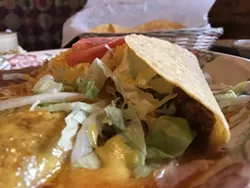 Yeah I know: The Californian should stay in California if he wants his guacamole fresh and his pico de gallo with the requisite kick. This is the East Coast, not the Wild West.
By the time I moved to Charlotte a few years later, I had made peace with only enjoying authentic Mexican food on my trips back home to Los Angeles. Growing up in a house with two distinct Latino cultures — Mexican and Cuban — I got a special pass to enjoy some of the most amazing Latino cuisines, and my grandmother on my dad's side, from Sonora, Mexico, was a legendary cook.
Mexican cuisine is varied and diverse, with the coastal areas and the south bringing different flavors to the table than their northern desert cousins (from whom I'm descended). Azteca serves the authentic southern cuisine found in Jalisco, the state from which Mexico's image to world originates. As its motto reads, ¡Jalisco es Mexico! (Jalisco is Mexico.)
If that's the case, then Azteca is Jalisco.
My guacamole was served fresh, created right at the table. And my entree came blindingly fast, which is amazing, because everything in the restaurant is made to order with the freshest of ingredients.
I thought I'd go for something easy, since I know a lot of you gringos in the Queen City aren't going to a Mexican restaurant to have grasshopper quesadillas or cow tongue. So I ordered basic tacos and enchiladas, foundation of Mexican cuisine.
It was impeccable. The bed of rice and beans was perfect. And the food was the freshest I've had in a Mexican restaurant on the East Coast. The rice was delightful, and the lettuce and tomatoes served with the tacos was crisp and cool, contrasting the kick of the ground beef like cold water on a Guadalajara sidewalk in summertime.
Oh, and the pico de gallo? It's made with crunchy cabbage, and tastes like no other pico in Charlotte.
If there's one thing I love as much as music, it's food. So I was excited when Creative Loafing assigned me my first restaurant story, and even more excited that it would be a Mexican restaurant. I'd have to travel back in time, to a family birthday or Christmas celebration, to get food as good as what I got at Azteca.
As a former California governor once said, I'll be back.