Every year has its ups and downs, and for some of Charlotte's more captivating stories from 2015, that can be taken quite literally.
Take Bree Newsome, for example. The Charlotte activist risked her freedom to climb a flagpole on state property in Columbia, South Carolina, in June to bring down a flag that has been used to intimidate black people in America for more than 150 years.
Or look at Joe Borruso, a local artist nearly killed as he walked down Parkwood Avenue just a day after Newsome climbed that pole in South Carolina. Borruso lost his leg in the accident and has gone through multiple, extensive surgeries, but his hard-fought battles have resulted in him walking again with the help of a prosthetic leg and cane.
Then there's the other Joe, who, for a month or so back in September, became the hero Charlotte didn't know they needed. Joe Gillespie is the one, as you might remember, who woke up in the abandoned halls of BB&T Ballpark after going too hard at a beer festival there. He then calmly let himself out — but not before donning the home team's Homer the Dragon mascot costume — and enjoyed a night on the town.
His extreme highs that night, as told in a Creative Loafing story that would become an international viral sensation, were capped by the experience of waking up hungover to a group of police officers banging on his door in plain view of Homer's head resting on the couch. He still faces two felony charges in connection to his exploits as the dragon.
In order to wrap this year up once and for all, we at Creative Loafing needed to find closure. I caught up with some of the folks involved in the above-mentioned events to see how things have changed for them since their stories made headlines and inspired people near and far.
MORE THAN A FLAG
When I last saw Bree Newsome and James Tyson (he helped Newsome during the Confederate flag action and was arrested alongside her), it was during separate meetings just a day after they returned from a whirlwind media tour they hadn't expected when they planned to take the flag down.
Bree Newsome at a rally in Ferguson, Missouri. (Photo by Wiley Price)
They had just flown to New York City and participated in nine interviews with national media outlets in two days, including appearances on Good Morning America and The Nightly Show with Larry Wilmore. Despite their exhaustion, both sat down with me for in-depth interviews (which can be found at clclt.com) about their legal case, their motivations and the broader movement for racial justice in the United States.
In the six months since, the media attention has tapered off and Tyson has taken a step back from activism, saying the stress of not knowing whether he'd be going to prison for his involvement in the flag action or whether he was in danger from the people — mostly media — arriving on his property unannounced wore on him.
Newsome, on the other hand, has remained active, using her enlarged platform to encourage others to get engaged. She struggled in those first weeks with her icon status, and didn't want it to take away from the fight that's happening on the ground on a local level.
"This is for our lives," Newsome says. "Honestly, sometimes that gets forgotten. The Confederate flag action in particular fell in this nexus of the movement and the celebrity culture that exists now. It propelled my image into this icon status for that particular moment, but I got into this movement because this is about our lives. People forget that people are in the streets because this is about their lives and it's about surviving and living under a system that's literally killing us. I don't see a choice. I'm fighting for my life and fighting for the lives of the people in my community and where I live."
She's been on trips to meet with students, organizers and others in communities throughout the country, including a trip to Ferguson, Missouri, that especially stuck with her. She said she's been encouraged to hear from organizers who simply want some advice or to share their own experiences, as opposed to invitations for her to lead them in organizing events.
Newsome said her experience since the flag action, on a state and national level, has convinced her all the more of a deep disconnect between communities and the power establishment. It's also strengthened her long-held belief that the most important work is done on a local, grassroots level, such as the work she's been doing around gentrification and systemic displacement in Charlotte.
"The power establishment — which includes media, which includes both Democratic and Republican parties, the people who are in positions of power —there's a lot that they just genuinely do not get," Newsome says. "I recognize that this whole machine is just revolving around an election cycle, but that's not how people actually live. People don't live their lives around election cycles, they live around questions like, 'Can I pay rent? Can I pay for health care?' They live around basic things. A lot of times, the way that I feel the political establishment even views the issues, there's a disconnect. They're trying to figure out how do we get these people to show up to vote and the people are just trying to figure out the price of milk."
James Tyson on his farm in Southwest Charlotte. (Photo by Ryan Pitkin)
For Tyson, the issues on his farm in southwest Charlotte have taken priority for the time being over the broader environmental and racial justice issues he's spent years fighting actively for in Charlotte and the surrounding areas. When asked what his future holds, he mentions the two pregnant mares on his farm and how happy he is to be building a barn for the foals with wood from his own property. He said he's unsure of when, if ever, he will return to activism.
"I can't seem to get away from it. Even if I said no, I would be lying to myself," Tyson says. "I showed up pretty heavy for this particular action and it had a personal ramification so I am getting to take a step back and think for myself about what's more important in my life in the immediate present. The thing about it is, whether it's environmental degradation or racial justice, those are the issues of the times and it's ultimately not about me, it's about what we're doing as a culture."
He said his legal issues stemming from the flag action were only put behind him in December, and even that's not guaranteed. He said that he and Newsome pleaded not guilty to the felony charges they faced with the understanding that no court date would be scheduled.
"In the last month or two I was at home trying to enjoy myself, trying to get things accomplished, and I'd be looking over at my girlfriend wondering whether or not I'd be seeing her for two to three years and that was a huge stress for both of us on our relationship," Tyson says.
He doesn't have any regrets, however, and said the flag action was a learning experience for him as someone known more around the activist community for environmental work.
"The whole conversation about oppression and privilege and poverty and race, these are huge issues obviously within our nation, which is why it became such a phenomenon when we did the action to begin with," Tyson says. "Then all of a sudden I found myself in the spotlight and having a microphone and really needing to be on message with that. I spent four months reading non-stop, so I'm walking away with that. I feel more grounded in the world and am coming from a more informed position. I feel like that type of work is an ongoing process for white folks when it comes to race and racism in particular, and I'm glad I'm in that position where maybe I can help other white folks get to that place."
For Newsome, she plans to continue her work with Tribe, a grassroots collective working to get residents most affected by gentrification involved in what happens to their neighborhoods. She uses the Carolina Panthers' recent success as an example of the domino effect that leads to gentrification and then displacement.
"I'm a big Panthers fan and I love how the success that the Panthers are having is really bringing people together, but then someone also pointed out to me that if the Panthers win, the caveat is that it will probably speed up gentrification of the city," she said.
"What we're trying to say is that OK it's beautiful that there are these wonderful things going on in the city but it has to be inclusive. What are we doing to make sure that everybody gets to benefit from an economic boom, especially these communities that have been neglected for decades, these poor black communities that are only being invested in now that they're being viewed as prime real estate? People have been living there for generations and they are never a part of the conversation of what happens with their neighborhoods," she says.
ONE STEP AT A TIME
In July, Creative Loafing covered the story of Joe Borruso, who lost part of his left leg after being struck by a drunk driver on June 28.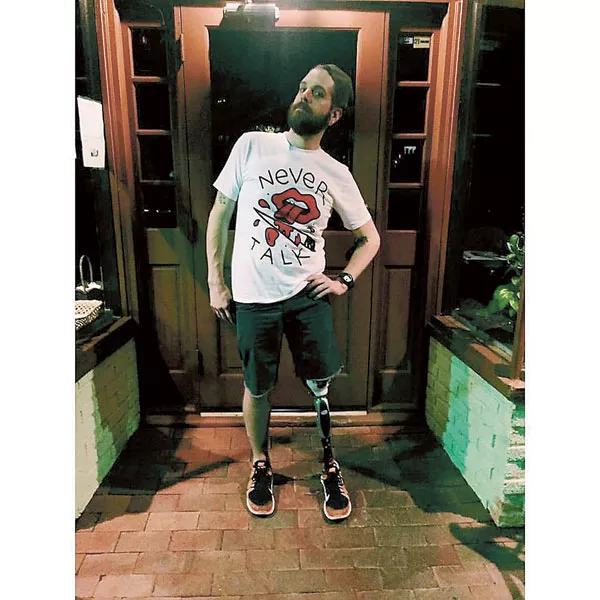 Joe Borruso (Courtesy of Joe Borruso)
The article focused on a benefit concert being held for Borruso at the Neighborhood Theatre, and the experience of Luke Hill, who helped organize the concert and had also been struck by a car in NoDa in 2014.
Borruso hasn't talked much to the media about the incident since leaving the hospital, but in the week leading up to Christmas, he spoke with us about his struggle since that day in June and what it meant to him to see such an outpouring of support from friends and strangers alike.
"You can imagine when something like this happens to you it humbles you in ways that you would have never imagined," Borruso says. "I've had to take everything in stride and know that it will come to me. I've had to think it through when people ask me questions — and its not every day I want to answer everyone's fucking questions — but when someone really asks me how it is and they want to tell other people how I feel, I've felt defeated, I've felt inspired, I've felt utterly depressed, I've been happy. It's been everything. Every time I get out of bed, I have to put my leg on to go take a piss. For some people, that just doesn't register."
Borruso only recently became comfortable with talking to strangers about the accident when he decided to take a stand to let people know that the person who hit him that summer day was not facing the consequences of his actions.
In October, a grand jury indicted Evan Lyn Hager on charges of driving while intoxicated and felony serious injury by vehicle.
When Borruso found out that Hager was not only free but posting selfies on Facebook from a Panthers game, he broke his silence and started a Facebook group called Finding Evan Hager.
"It would've been like a no-pictures, no-name, private account. I don't want to talk to anyone, but now it's just like [social media] is my tool. This is the only sword I have to swing and I'm going to swing it as hard as I can. So, let's see if this one swing makes a difference. I'm not going to stop at just that and I don't think anyone else would either," Borruso says.
The swing made a difference, and the pressure eventually got to Hager. On December 27, he turned himself in and quickly posted bond. His first court appearance was on Tuesday, December 29, just after Creative Loafing's press deadline.
Borruso says he had mixed feelings about Hager turning himself in.
"If he accepted it right off the bat that says so much more about your character," Borruso says. "I don't think you or anyone else would know what to do in that situation but be scared. I see it as someone coming to terms with what's happening and hopefully saving my financial life. There's no other way he could help me. He can't give me my leg back."
Hager did not have insurance when the accident happened, and Borruso has struggled to support his own recovery. He hasn't been able to participate in physical therapy or other services because there's no funding. He would not comment on whether he plans to file a lawsuit against Hager but would only say that he has hired a lawyer.
"I'm being denied physical therapy, denied Medicaid, denied disability," Borruso says. "There's days where it hurts to walk. It's not every day that my prosthesis fits on. You have to learn that you can't eat certain things now. Everything is different. The one thing I fear is that I will be old and fucking broke and handicapped because somebody took me out. But I will never let myself be like that. I'm going to try hard for everything I am. I don't have this type of attitude where I'm just going to be loafing. I was a creative and I will always be a creative," Borruso adds with perhaps the most nonchalant usage of our actual publication's name said in an interview.
In 2016, he is looking forward to making art at a level he was making it pre-accident while continuing to recover.
"I hope, by my birthday next year, to not have a cane. The cane is kind of cool, but I don't really want to have to have the cane. I hope to not need it at all," he says. "I hope that maybe every little network that I have, in the creative community that I'm involved in, I'll be bringing awareness to the fact that this is not just me. That's the one thing I want everyone to know, that this is not just me. This is that homeless guy that got hit that no one came to see in the hospital. This is that woman who was on her last Medicaid check and she can't afford health coverage anymore because that's just how it goes for her. People need to be aware that this happens on a daily basis and there's seemingly no justice. 2016 for me is being more aware, being patient and being progressive."
When Borruso talks about all the people who supported him, both directly following the accident and in his efforts to hold Evan Hager accountable, he admits over the phone that he is nearly brought to tears.
"I never would've thought that a cynical asshole that draws and paints and listens to angry music would have such an outpouring of love," Borruso says. "I was in the hospital hearing about this guy and that guy and these people and they're doing a thing for you and it like shatters your hard exterior. You're a fucking puddle of feelings. I have never felt like that."
Along with other incidents, such as the death of Al Gorman, who was struck and killed while riding his bike on Parkwood Avenue in September just yards from where Borruso was hit, this accident has brought attention to the danger of the Parkwood corridor.
Shameika Marshall, who witnessed Borruso get hit in June and said he was tossed in the air "like a baby doll," said the incident still sticks with her.
"It just took everything from me," Marshall says. "Every time I go over there I feel like it's going to happen again. When I'm on that side of town it sticks with me and I think I'm going to see another accident every time I'm on that road."
In November, residents delivered a petition with 600 online signatures and 200 in print to city council asking the city to create a road diet on Parkwood Avenue — shrinking the four-lane road to two lanes and creating pedestrian and bicycle lanes — and to lower the speed limit.
Sustain Charlotte, which helped put the petition drive together, has met with Charlotte Department of Transportation officials and is hoping to get a recommendation from city council asking that their plans be officially considered by the city's planning committee.
Jordan Moore, Sustain Charlotte's bicycle program director, said he's optimistic about the petition, despite admissions from CDOT that the volume of traffic on Parkwood Avenue puts it above a road where the agency would be comfortable creating a road diet.
"It's going to take a ton of political will and Charlotte's leaders taking a new view on where these types of things can go," Moore says.
For Borruso, he's now aware that if you want something done, you have to do it yourself and he's appreciative of everyone on social media who helped in his effort to hold Hager accountable.
"You have to know that no matter what you are to your mom and friends and family, to the justice system you are a brick in the wall and that wall is as long as the one in China," he says. "There is nothing that they will do until you make yourself heard."
A JOLLY GREEN MASCOT
Looking back on 2015, I will probably always remember it as the year one of my stories went viral.
As soon as I saw on the local news that someone had snuck inside of BB&T Ballpark (an allegation I later learned was false) and was later arrested for making off with Homer the Dragon's costume I thought aloud, "I'd really like to hear that guy's story."
Joe Gillespie's mugshot from his arrest.
Then I saw the man (and mullet) in the mugshot and it hit me. If I could find this Joe Gillespie character and do a quick interview, the story would write itself.
So, one quick Facebook search and a drive down to Union County is all it took, and Gillespie told me the story of how he awoke from a blackout at a beer festival at the ballpark and looked up to see an unlocked mascot dressing room.
The rest is history.
The morning the story came out, I knew I had struck gold. The story was picked up by everyone from The Washington Post to the UK Daily Mail. I was called a genius by Fusion, not for the in-depth reporting I've done on Charlotte's homeless community or an infamous gang's effect on the neighborhood it calls home, but for interviewing the Homer thief.
Before I knew it, I was scheduling interviews for radio shows in San Diego and Canada. A girl I hadn't seen since we grew up together as small children contacted me to tell me the story was all the rage in her office... in Dallas, Texas.
Gillespie got a lot of attention, too. At Creative Loafing's Best of Charlotte party, held on the same week as the story was released, all eyes were on Joe and his freshly tamed ombré mullet.
Despite a brush with 15 minutes of Charlotte fame, he's still facing two felony charges from his exploits as Homer. In November, he waived a probable cause hearing and will appear in Superior Court in the near future. He also has a January court date for a misdemeanor marijuana charge from the Union County Sheriff's Office after deputies who arrived to make the arrest spotted a pipe on his coffee table when they came to get him.
Unfortunately, but probably rightfully so, Gillespie has been warned by his lawyers to stay out of the media until his legal woes are sorted out, so he wouldn't speak with me for an update on his life in the spotlight.
The city, for one, definitely has Joe's back. I've never gotten so many emails in support of a subject for any story I've written. Anthony Kearey, owner of Tilt on Trade, the bar where Gillespie famously asked the bouncer, "You're not going to let Homer the fuckin' mascot into your bar right now?" tried to throw a fundraiser for Gillespie. He even reached out to officials with the Charlotte Knights to suggest a kiss-and-make-up party featuring the real Homer and Gillespie to go along with an announcement that Knights management would be dropping the charges, but never got an answer.
As of the time this story went to print, Gillespie is still facing two felony charges that he will need to deal with during 2016. Here's to hoping you beat the case, Joe, and for giving us the most popular story we've ever published by a long shot, the next round's on us.