In July, more than 10,000 black women came to Charlotte for Alpha Kappa Alpha sorority's week-long biennial international conference. Two weeks later, Jack and Jill of America, "an organization of mothers dedicated to nurturing future African-American leaders," held its national convention here. And tens of thousands of African Americans from around the country visit Charlotte during the annual CIAA Tournament, which has taken place here for the last nine years, during the last week in February/first weekend in March.
Venues roll out the red carpets for these out-of-towners (and locals) who come out to spend millions of dollars. For those few days, it's like a black utopia. Many of the African Americans who come to Charlotte for these national events, particularly the CIAA Tournament, rave about the city. Some later say those experiences are what propelled them to move here. But once the spotlights go down and Charlotte becomes home, nightlife and culture options for many in this demographic shrink dramatically.
A third of this city's population is black. This includes the owner of the NBA franchise, the quarterback of the NFL team, several members of the City Council and County Commission, the police chief, and the head of public transit. Before the Feds came calling in late March, so was the mayor (and the mayor before him). Many of the executives working in the corporations headquartered from Uptown to Ballantyne are black, and so are the majority of the folks living below the poverty line from West Boulevard to Eastway Drive.
Several of these attributes make Charlotte reflective of a major, urban American city, and all of them combined make it somewhat unique. But for all that can be checked off in the boxes describing the African-American demographic here, it's still difficult to assess the group's cultural influence on the city as a whole. From the opinions of experts and leaders to natives and newcomers, the challenge seems to come down primarily to two issues: social segregation and lack of ownership.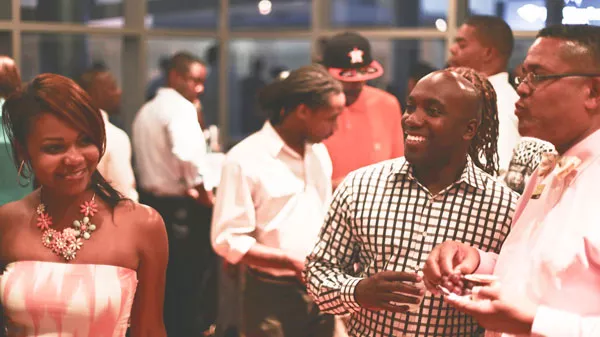 Enid Valu
Patrons at the August edition of Charlotte's Favorite Happy Hour at the Gantt Center.
SOCIALLY, CONSCIOUS
The phrase "young professionals" gets used frequently in the marketing of programs and events in Charlotte's African-American community. It's not simply a metric in the way it's used in corporate lingo, to denote a person, generally between the ages of 21 and 40, who is college-educated and has a salaried position. When blacks use the term, that's a part of it, but its intention is to further distinguish those young men and women who have "made it." And that de facto badge of honor also implies that this group behaves a certain way.
Typically, a black professional wants it to be known that he or she defies whatever negative stereotypes other groups may have of African Americans. So within the social scene, you'll find that they dress well, prefer upscale venues and have a taste for the finer things.
But the black professional social scene in Charlotte is often a source of angst for many within it, who lament the dearth of good or welcoming places to go to, or that the so-called hot spots never last. Newcomers quickly tire of not being able to identify where black professionals socialize after work or party after dark on a consistent basis.
Events that do get traction, for example, are Cufflinks & Cocktails, put on by the Charlotte alumni chapter of Kappa Alpha Psi fraternity, and Charlotte's Favorite Happy Hour, organized by prominent local couple Herb and Felicia Gray. Each takes place at posh venues and is well-attended by black professionals, drawing anywhere from 200 to 400 people, but what those events also have in common is that they only take place once a month (usually at rotating venues). In similar fashion, the Signature Saturdays event takes place twice a month at Vapiano, a trendy Italian restaurant and bar, where local party promoter Eddie Towner puts on an entertaining night featuring a live jazz band followed by a hip-hop DJ.
Enid Valu
Felicia and Herb Gray
And what those events also have in common is that each essentially represents "black night" at the venues where they're held. For that particular evening, night or the occasional day party, the African-American promoter has rented the facility and nearly all of the patrons who come out are black. But if one were to return to that same venue the following night or on the equivalent night a week later, they'd likely find few blacks in attendance. It's a combination of the result of lack of ownership of these venues by African Americans, and the segregation that's common in Charlotte regardless of who owns the place.
When Delta's Restaurant opened in spring 2012, Charlotte's black, social elite breathed a collective sigh of contentment. Here was an African-American-owned, upscale restaurant and bar that many of them were excited to embrace. And they were drawn there several nights a week for the soul food, cocktails and live jazz bands. The sight of well-heeled black folks at a prominent Uptown venue on a regular basis was unparalleled.
But Delta's lasted only 18 months, abruptly closing in late November due to financial woes. At 9,000 square feet, Delta's was one of the largest restaurant/bars in Charlotte (two or three times the size of most), and with that size, especially in the desirable Uptown market, comes tremendous costs, the bulk of which is an expensive lease. The owners, who are from New Jersey, weren't able to sustain the overhead here, but continue to run their Delta's location in New Brunswick.
The troubling fact with such places is that while the venues are black-owned and/or managed, if you ask most of the people in charge, they would say their goal is to draw diverse clientele. But what ends up happening, for the most part, is that white people tend to stay away.
Take for example, Sydney's Martini and Wine Bar, which opened in Uptown at the end of March. It's in the space last occupied by Therapy Café, a martini hot spot for several years before closing in 2010 (oddly enough, Therapy closed two weeks after an African-American party promoter accused the owner and staff of racism). Sydney's is practically the same concept as Therapy, with its large martini list and select menu of small plates, and the layout hasn't changed much since Therapy made a major renovation before eventually closing. But Sydney's is black-owned, and on Wednesday through Saturday nights when it usually features live jazz and R&B bands, the audience is typically about 90-percent black. Therapy used to attract a much more mixed crowd, if not majority white.
Jazz is the genre that tends to bring together a variety of demographics. You'll find a diverse array of patrons attending the Bechtler Museum of Modern Art's monthly jazz event, including a large white audience. But that melting pot is far from the case up the street at Sydney's, nor was it at Delta's and the many similar places that have come and gone before them. This is where social segregation negatively impacts Charlotte as a whole, and the livelihood of black-owned businesses in particular. Simply put, if a business doesn't have a realistic chance of attracting half of the city's population, it will be difficult for that business to succeed.
In Washington, D.C., blacks and whites intermingle at Bayou, a Creole-style restaurant and live music lounge; the acclaimed Blues Alley jazz and supper club; and the historic Bohemian Caverns, to name a few. In Atlanta, it's the long-running Café 290, Sweet Georgia's Juke Joint, Two Urban Licks, and many others that are popular. At each of those aforementioned places, locals and out-of-towners come for the good food, eclectic ambiance and in many cases the live music — in other words, the culture. Some are black-owned, some aren't, but they attract a truly diverse clientele all the same. You'd be hard-pressed to find many similar examples in Charlotte.
Perhaps the only comparable success story here is Mert's Heart and Soul, located on College Street in Uptown since 1998. You'll witness everyone from bankers to construction workers eating lunch here, couples sitting down for dinner before taking in a show at a nearby theater on a weeknight, or singles grabbing a hearty meal before bar-hopping on the weekend. Regardless, they love the mac-and-cheese, cornbread, collard greens, chicken, and shrimp and grits.
The newest spot to potentially impact the African-American social scene in Charlotte is Sports One Bar and Lounge in Uptown, opened in August by Atlanta businessman Peter Thomas. Thomas is best known to many for his role on The Real Housewives of Atlanta (with his wife and co-star Cynthia Bailey), and he also owns Atlanta hot spot Bar One, a tapas restaurant and lounge. Thomas' partners in Sports One, billed as an upscale sports bar, are retired Pittsburgh Steelers quarterback Kordell Stewart and Atlanta businessman Carlo Wilkes. With its celebrity appeal and luxe décor, it got immediate buzz, but in common Charlotte fashion, there's little diversity.
Another Atlantan is also making inroads in the Queen City, and the success of her business relies largely on leveraging social trends and lifestyles. Nicole Garner is CEO of The Garner Circle, a public relations, lifestyle marketing and event execution agency based in Atlanta. After doing an increasing amount of work with clients in Charlotte over the last couple of years, including during the CIAA Tournament, she opened an office here this spring. Her firm put on the Charlotte Fab 50 event in April at Bubble lounge, drawing a multicultural crowd of movers and shakers, many of whom were being honored at the event as one of the city's fabulous 50 people.
Justin Driscoll
Nicole Garner of The Garner Circle
"I just feel like Charlotte has a lot of good, untapped energy, and a lot of potential that's probably been [overlooked]," says Garner. "But I think the energy there and timing for everything is just really great there now."
Charlotte is often compared to heavily black populated cities like Atlanta, New Orleans and Washington, D.C. And with those comparisons comes assertions about social life.
But Patrick Graham, president and CEO of Urban League of Central Carolinas, doesn't think the fledgling social scene should be as big of a concern.
"We, in our quest as African Americans in Charlotte to compete with an Atlanta or with a Washington, D.C., feel as if we have to create this socialite atmosphere that feeds almost into a Housewives of Charlotte mentality," he says. "And we have to break away from that, and stop trying to imitate these other social scenes ... Focus on developing our scenes within the arts, in economics, which then lead to better social scenes."
ART IS THE NEW BLACK
Because Charlotte does have history as the birthplace of legendary artist Romare Bearden — whom the year-old Uptown park is named for — and is home to one of the country's premier African-American arts institutions, one would think the current arts and culture scene would be more reflective of those strengths. Like a painting that's being commissioned, it's a work in progress.
"We're working hard to figure out better ways to engage with our local artists and support our local artists to make sure that they're growing as we're growing," says David Taylor, president and CEO of the Harvey B. Gantt Center for African-American Arts + Culture.
This fall marks five years since the Gantt Center opened in the sleek, 46,000-square-foot building with the award-winning architectural design. Prior to that, it operated for decades as the Afro-American Cultural Center in a former church building in First Ward. The institution as a whole is currently celebrating its 40th anniversary, and its ascension in the last few years after the new facility opened is palpable. The center has had about 300,000 visitors during that time.
"I think the role that we play is one of those vital and unique experiences where people can come in and really explore African-American art and culture on an extremely high level," Taylor says. "When I hear people who are coming from other towns, other communities, the major cities — New York, Atlanta, L.A., and places — they're in awe of what we have here. Because in those communities, they don't have these kinds of facility opportunities. And some of the work we're doing here, artists on a national, and now an international, level want to show their work here."
The Gantt Center has also begun using its facility and programming to address socioeconomic issues. In June, it concluded its eight-month run of Question Bridge: Black Males, an exhibition that explores challenging issues regarding black males across the geographic, economic, generational, educational and social divisions of American society. The success of, and feedback from, the exhibit propelled the Gantt Center to partner with UNC Charlotte's Center for the Study of the New South to kick off a series of free discussions under the header, "The Black American Male and Why He Still Matters in the 21st Century." The next one, titled "Color, Culture and Cash: Realities and Fallacies of Employment and Economic Equity," takes place Oct. 30 at UNC Charlotte Center City.
"We didn't just want to bring the exhibit in, and then when it leaves there's no more discussion about it," Taylor says. "Hopefully through those conversations we'll be able to find some solutions, because the problem hasn't gone away."
Earlier this year, The Equality of Opportunity Project, led by a research team of professors from Harvard University and University of California, Berkeley, released two studies on intergenerational mobility, including an analysis of upward mobility in the 50 biggest metro areas in the U.S. The study found that cities with greater mobility, which is the capacity to rise to a higher social or economic position, tend to have five characteristics: less residential segregation, less income inequality, better primary schools, greater social capital, and greater family stability.
The city that ranks highest in upward mobility: San Jose. The city that ranks lowest: Charlotte. While many throughout Charlotte's corporate and civic circles were seemingly surprised by this study's findings, the Urban League's Graham was not. He deals with the real-world effects of this data firsthand.
"Statistically, our numbers show that we have a Charlotte that is divided economically and socially by race," Graham says. "And it becomes very convenient to ignore that."
'WE CULTURE'
Kanye West is certainly known to have as many admirers for his music as he has despisers because of his rants and off-the-cuff statements. During an interview last September with BBC One, West stated, "We [are] culture," declaring that rap is the new rock 'n' roll, and essentially that blacks have tremendous influence on American culture, but that they don't own anything.
In several of Charlotte's thriving, urban neighborhoods (the word urban is used here to mean characteristic of cities, not as a euphemism for black), growth and development bodes well for the metropolis many believe the Queen City is destined to become. Uptown, South End, Dilworth, Plaza Midwood, NoDa and so on, with their shiny new condos and apartment buildings, hip restaurants and bars, chic boutiques and shops — each is increasingly becoming desirable places to live and play. Many newcomers, in particular, are settling into these neighborhoods, including African Americans.
But among these neighborhoods, a tangible African-American influence seems to only exist in NoDa, Charlotte's historic arts district.
Davita Galloway and Dion Galloway
Dupp & Swat is an eclectic space, "a creative studio and agency where we do a little bit of everything," says owners Dion and Davita Galloway, a brother-and-sister duo in their early 30s originally from Winston-Salem. Located in the NoDa At 28th Street development that houses Amélie's French Bakery and the former Carolina Actors Studio Theatre, the Galloways' retail space plays host to spoken word and poetry events, modeling casting calls and photo shoots, brunches and parties, book signings and panel discussions.
A few steps away, inside the same complex, is [email protected], which is described as Charlotte's first multicultural literary lounge, and whose tagline is "It's Not the Color. It's the Experience." Red is also an eclectic space, with a bookstore, bar and hookah lounge, and home to weekly events. Darren Vincent opened the business in 2011, after closing the RealEyes Bookstore he operated up the street, also in NoDa. Earlier this year, he opened a second [email protected] location, taking his concept to the north side in University City.
Both venues are examples of places where African-American culture thrives. And each epitomizes the effect of ownership.
"Charlotte is still a young city in many ways," says Taylor, from the Gantt Center. "Certainly, you go to Atlanta, you go to D.C., New York, Chicago, those places — they are older cities that have more entrenched African-American culture....
"There's an element that's important for a community to be healthy, and, for African Americans [in particular], that is entrepreneurship — individual entrepreneurship where we own the businesses that we're running. In my opinion, there are simply not enough of those examples of successful, African-American-owned businesses. And I think that's really the next phase in making Charlotte that kind of city."
Sheri Borges did her part to try to help make Charlotte that kind of city.
Borges and her husband, Bryan, opened Poor Richard's Book Shoppe, "a used and new bookstore and multicultural establishment," at Brevard Court in 2012. The cobblestone-lined business corridor in Uptown, facing Church Street, is home to several quaint and diverse bars (Courtyard Hooligans and Istanbul Hookah Lounge) and eateries (French Quarter Restaurant and Metropolitan Café, which serves Turkish cuisine), so the Borges family, who'd moved to Charlotte from New York a decade ago, decided to relocate Poor Richard's from downtown Gastonia, where it operated for a couple of years.
"Once we reopened [in Uptown], our events took off tremendously, our fan base and customer base increased by about 250 to 300 percent," Sheri Borges says.
Poor Richard's hosted several event series, such as author meet-and-greets, spoken word events, open mic nights, jazz jam sessions, and community roundtable discussions. And while those events often highlighted what is traditionally thought of as elements of African-American culture, they drew crowds representative of the city's overall population.
"I don't have the formula for what we did that created such a diverse environment," Borges says. "Someone once told us that they loved our place, not just because of the atmosphere, but because we're so relatable ... I think it was because we made people feel welcomed.
"People would go to our Facebook page, and in the event photos they'd see diversity, a great mix of colors. And that's just the way Poor Richard's is."
Unfortunately, Poor Richard's, as a brick-and-mortar shop, closed in May 2013 because of what Borges described as "a poorly negotiated lease agreement."
FORWARD, PROGRESS
Donell Stines-Jones is well-known throughout Charlotte's cultural arts community. She's organized or helped produce several great events in dance, music and visual arts. A native of New York City, she was in for a culture shock when she and her multicultural family moved here about 15 years ago.
"[Back then] there was nothing; I mean literally nothing," Stines-Jones says of Charlotte's cultural scene, circa 2000. "We've gotten the opportunity to watch Charlotte grow — it's been an absolute pleasure to watch the city develop." She points out Romare Bearden Park as being a gem that could go a long way to continue to cultivate Charlotte's arts and culture, and the rich and diverse history represented in the park's name.
But she moved here before there was a Bearden Park, or a lot of other things, for that matter. After a couple of years of complaining, she decided, "It's not here, so we'll create it." She began organizing events like block parties and what became one of her signature events, the annual Battle Slam Jam at Grayson Skate Park in southeast Charlotte, which brought together the skate community, local artists and hip-hop culture.
"I knew an event like this would start to unite the community, and that was my opportunity to bring a huge variety of people together," Stines-Jones says. She also taught a hip-hop theater course at UNC Charlotte, highlighting the four elements of hip-hop: rap music, DJing, breakdancing and graffiti art. The course became popular with students from all backgrounds.
While hip-hop's origins can be traced back to the Northeast, particularly New York City, much of what comprises black culture traditionally has come from the South.
"One of the most influential cultures in the world is Southern black culture," says Graham, from the Urban League. "Everything from jazz, R&B, rock'n'roll, many of the arts; we dance; we have been instrumental in the globe's development of those art forms. And that has come from a Southern black existence. So for me, I believe Charlotte just has to find what is purely its African-American experience and how are they going to display it for the world to see."
But until that experience becomes more of a reality on an everyday basis in Charlotte, and not just at special events and festivals, it's akin to going to a movie after seeing the trailer, only to realize all the good scenes were in the short clip.
Fade to black.