Danyell, 18, has not known a world in which she wasn't HIV positive. Her biological mother, whom she has never met, had the AIDS virus and passed it to her child at birth.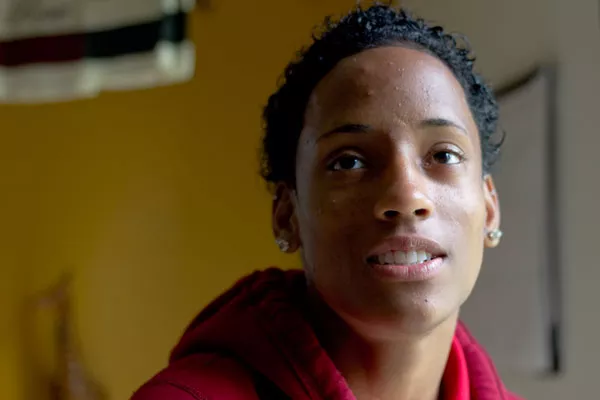 Danyell contracted HIV at birth from her biological mother. The teenager uses her experience to counsel others. (Photo by Grant Baldwin)
When Danyell's adoptive mother revealed the truth to her then-8-year-old daughter, after years of secretly sneaking anti-viral medicine into her drinks and meals, the young girl barely gave a second thought to her fate.
"I just brushed it off," she said.
Regional AIDS Interfaith Network, an advocacy group celebrating its 20th year in Charlotte, has provided more than 150,000 hours of services, counseling and care for people living with HIV and AIDS in the metropolitan area. On May 5, the organization will raise money and awareness via the 16th Annual AIDS Walk Charlotte, where about 2,200 people will walk two miles from Gateway Village Atrium through historic Fourth Ward. This year, the focus is on increasing youth advocacy — the kind of work Danyell signed on for when she joined RAIN at 16.
In 2011, 6,510 people lived with HIV in Mecklenburg County, which has the highest number of cases in the state. The county saw 34 new cases of HIV and 60 new AIDS infections between January and March 2012, according to the North Carolina Department of Health and Human Services statistics. While that's down from a reported 99 HIV cases in the same period of 2011, there were 22 more cases of AIDS.
Five percent of HIV cases reported in North Carolina were among 13- to 19-year-olds. This increases to 16 percent when the age range expands to 24. Among young males ages 13 to 24, 91 percent of cases resulted from male-to-male sexual contact.
The numbers may look scary, but medical breakthroughs have improved life expectancy and quality for those who have the virus. Nathan B. Smith, director of development and marketing at RAIN, said the face of HIV and AIDS has changed from a gaunt, lesion-bodied patient to someone who appears healthy and is able to maintain their weight if medications are taken correctly. But the stigma still exists.
"Thirty years later, the discussion isn't really happening as it used to be, especially in the gay community," Smith said.
The Bible Belt's ultra-conservative values don't help. "No one wants to talk about sex; [it's] as if no one's doing it," Smith said. Sunday sermons may include misinformation or, at worst, fear-based cries bashing HIV, AIDS and the gay community, even though the disease has started to severely affect straight women as well.
In 1992, Rev. Deborah Warren, an ordained Baptist minister, decided it was time to bring the HIV/AIDS community together with faith-based organizations. As RAIN's founder, president and CEO, Warren works to banish stereotypes in the Carolinas by connecting about 70 congregations and supporting one of the organization's newest causes, The Trinity Project. Funded by the U.S. Department of Health and Human Service's Office on Women's Health, the project involves female clergy and congregation leaders who are trained to give a five-session HIV prevention program to their communities. In February, the Human Rights Campaign awarded Warren its Legacy Award during the 2012 HRC Gala for her more than 20 years of service to the cause.
"It's the role of faith communities to ask the deeper questions," she said.
A visit to RAIN's headquarters can be an unintentionally religious experience. The office is located in First United Methodist Church at 501 N. Tryon St., so people can opt to seek counseling discretely.
The organization's spiritual connection also brings unlikely people together. Smith, whose father, the Rev. Murdock Smith, is an Episcopal priest at St. Martin's Episcopal, and whose mom, Linda Smith, is a social worker, is proud of how the AIDS Walk unites the community. "It's a day when you can have a priest and a drag queen stand right next to each other," he said. "They're not there to judge. They're there to raise awareness."
The organization also offers the Empowering Positive Youth program, where teens participate in awareness and prevention education, medical-care management services and leadership training. HIV-positive teens can join the program's support group to connect with others like them. Danyell educates her peers through her experience, which, she said, doesn't hold her back.
"Sometimes you just forget that you have it," she said.
LOCAL TESTING SITES
Carolinas Medical Center
1350 S. Kings Drive
704-446-4490
Mecklenburg County Health Department
249 Billingsley Road and 2845 Beatties Ford Road
704-336-6400
Community Health Services
601 E. 5th St., Suite 140
704-372-0172
Quality Homecare Services
3552 Beatties Ford Rd.
704-394-8968
Lesbian & Gay Community Center
820 Hamilton St., Suite B11
704-333-0144
Urban Ministry Center
945 N. College St.
704-347-0278