(View From The Couch is a weekly column that reviews what's new on Blu-ray and DVD.)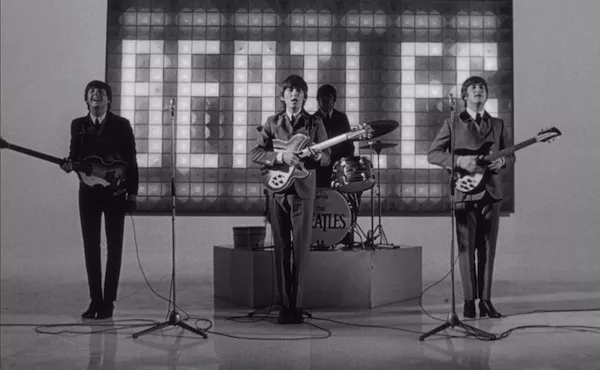 The Beatles in A Hard Day's Night (Photo: Criterion)
A HARD DAY'S NIGHT (1964). Released stateside in August 1964, six months after The Beatles' legendary appearance on The Ed Sullivan Show, director Richard Lester's landmark film looks like a documentary, sounds like a musical and feels like a comedy — small wonder that it was famously described by critic Andrew Sarris as "the Citizen Kane of jukebox musicals." Their musical genius would continue to evolve throughout the years, but at this freeze-frame moment in time, the four personable band members — cheeky John, charming Paul, quiet George and worrisome Ringo — come across as nothing so much as complete innocents ready to share their joyous sound with a world that's hungry for their brand of non-threatening rebellion. The classic bits come pouring from the screen in a mad rush: the frenzied fans, going out of their minds with adoration; John's bathtub disappearance; Ringo's barroom blunders; George's run-in with the marketing director trying to stay on top of what's "hip"; the mischievous pranks perpetrated by Paul's "clean" grandfather (Wilfrid Brambell); and the splendid, climactic concert. Alun Owen's original screenplay and George Martin's music scoring both earned Oscar nominations. Oh, yes, the movie also topped Creative Loafing's list of The 20 Greatest Rock Films Ever Made.
Blu-ray extras include audio commentary by various crew members and supporting players; the 1994 documentary "You Can't Do That": The Making of A Hard Day's Night; the 2002 making-of piece Things They Said Today; a new piece featuring 1964 interviews with The Beatles as well as behind-the-scenes film footage; Lester's Oscar-nominated 1960 short, The Running Jumping & Standing Still Film (co-starring Peter Sellers and Spike Milligan); and an interview with author and Beatles authority Mark Lewisohn (The Beatles: All These Years, Volume I — Tune In).
Movie: ****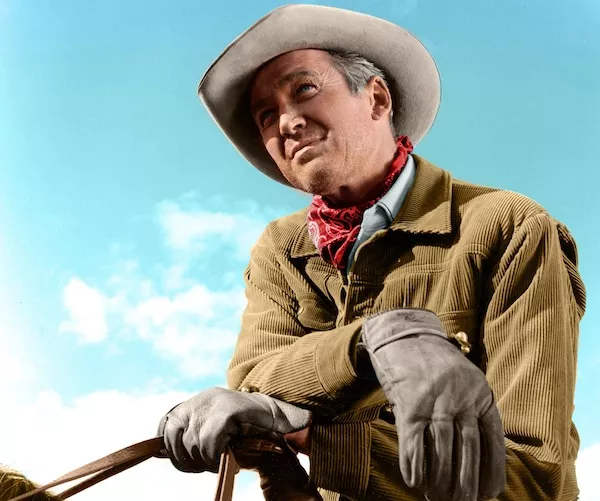 James Stewart in The Man from Laramie (Photo: Twilight Time)
THE MAN FROM LARAMIE (1955). The 1950s were a fine time for psychologically hefty Westerns, and much of the credit goes to director Anthony Mann, who teamed up with star James Stewart to craft a series of oaters in this vein. The Man from Laramie was the fifth and final of these collaborations, and while it may not be as widely acclaimed and admired as the pair's Winchester '73 or The Naked Spur, it's nevertheless an excellent picture in its own right. Stewart is typically commanding as Will Lockhart, seeking to avenge the death of his younger brother by finding the man who sold the Apaches the guns that killed him and his fellow calvarymen in an ambush. His travels take him to the town of Coronado, New Mexico, an area largely ruled by cattle baron Alec Waggoman (Donald Crisp). Alec's son Dave (Alex Nicol) is a worthless and weak-willed bully; far more dependable is ranch foreman Vic Hansbro (the great Arthur Kennedy), who loves Alec like a father but doesn't always get the respect he deserves. Lockhart's mere presence disrupts the entire community, with his only allies appearing in the form of Alec's niece (and Vic's girlfriend) Barbara (Cathy O'Donnell) and a rival rancher by the name of Kate Canady (Aline MacMahon). The Man from Laramie packs plenty of incident into its 100-minute running time, stuffing (but not overstuffing) the piece with memorable characters (look for Western vet Jack Elam as a duplicitous drunk), exciting set-pieces and divergent storylines that eventually end up at the same spot. Don't miss this one.
Blu-ray extras consist of theatrical trailers and an isolated track of George Duning's score.
Movie: ***1/2
Jan-Michael Vincent and Charles Bronson in The Mechanic (Photo: Twilight Time)
THE MECHANIC (1972). One of the best supporting players of the 1960s — you can catch him in such classics as The Magnificent Seven, The Great Escape and The Dirty Dozen — Charles Bronson became an unlikely superstar during the 1970s, landing on Quigley's annual Top 10 Money-Making Stars Poll for four consecutive years (1973-1976) and ruling the box office with the likes of Death Wish, Breakout and Breakheart Pass. The Mechanic was one of his signature pieces from the era, a tough and chilly drama about a seasoned assassin who treats each of his hits as its own work of art. Refusing to simply wing any of his assignments, Arthur Bishop instead studies photos, stakes out targets and all but storyboards his modes of murder (generally made to look like accidents). After he's tasked with exterminating an old acquaintance (Keenan Wynn), he ends up taking the man's brash son (Jan-Michael Vincent) under his wing, teaching him everything there is to know about the killing game. The script by the accomplished Lewis John Carlino (The Great Santini, Seconds) isn't quite deep enough to allow this to qualify as either a penetrating character study or an existential morality tale, although director Michael Winner provides it with an appropriate air of sobriety. The stuntwork is impressive, the vehicular chases deliver the goods, and that twist ending is a beauty. This is far preferable to the feeble 2011 remake starring Jason Statham and Ben Foster in the Bronson and Vincent roles.
Blu-ray extras include audio commentary by cinematographer Richard H. Kline and film historian Nick Redman; the theatrical trailer; and an isolated track of Jerry Fielding's score.
Movie: ***
THE RODGERS & HAMMERSTEIN COLLECTION (1945-1965). There's simply no way to overstate the contributions of Richard Rodgers and Oscar Hammerstein II to the American musical. Winners of the Oscar, the Tony, the Grammy and the Pulitzer, the songwriting team revolutionized the theater and also contributed heavily to the silver screen.
Interestingly enough, State Fair (1945) is the only film in this collection that was not a Broadway adaptation but was instead created directly for the screen. Philip Stong's novel had already been filmed as a straight (read: non-musical) production in 1933, but the decision was made to feature songs in this version, and Rodgers and Hammerstein got the nod to create a handful for the film (Hammerstein also wrote the screenplay). It's wholesome Americana, with the Frake family among those heading to the Iowa state fair. Ma (Fay Bainter) and Pa (Charles Winninger) hope to win prizes — she for her mincemeat pie and her pickles, he with his impressively hefty pig. Meanwhile, their children unexpectedly find romance: Margy (Jeanne Crain) falls for a slick reporter (Dana Andrews) while Wayne (Dick Haymes) is smitten with a big-city singer (Vivian Blaine). Rodgers and Hammerstein earned the Best Original Song Oscar for "It Might As Well Be Spring."
The best film in the collection, Oklahoma! (1955) was originally filmed in both CinemaScope and Todd-AO, and both versions are included here. Gordon MacRae and Shirley Jones are a delightful duo as lovebirds Curly and Laurey, wooing among the corn that's "as high as an elephant's eye" and doing their best to steer clear of surly farmhand Jud (Rod Steiger). The soundtrack, packed with such classics as "Oh, What a Beautiful Mornin'," "The Surrey with the Fringe on Top" and the title tune, is exceptional, and Gloria Grahame swipes a few scenes as Ado Annie, the girl who just "cain't say no." This copped a pair of Oscars for Best Scoring of a Musical and Best Sound.
Carousel (1956) was a box office dud upon its original release, and for good reason: It's one of the weakest of all Rodgers and Hammerstein films, adapted from a play by Molnar (Liliom) but frequently playing like a dour version of It's a Wonderful Life. Oklahoma! stars Gordon MacRae and Shirley Jones are reunited for this shallow tale about a deceased lout (MacRae) who wants to return to Earth for one day in order to aid the abused wife (Jones) and lonely daughter (Susan Luckey) he left behind. The score includes the gorgeous "You'll Never Walk Alone" (recorded over the years by the likes of Frank Sinatra, Elvis Presley and, best of all, Judy Garland), but the film itself is a lumbering misfire.
Deborah Kerr and Yul Brynner in The King and I (Photo: Fox)
The King and I (1956) is based on the true story of Anna Leonowens, a 19th century British governess who journeyed to Siam to teach the king's many children and found herself frequently butting heads with the temperamental ruler. Deborah Kerr is sturdy as Anna, but this is Yul Brynner's movie all the way: While his flamboyant turn as the king borders on hammy, his exuberance and sheer delight in tackling the role is impossible to resist. Nominated for nine Academy Awards (including Best Picture and Best Actress), this won five, including Best Actor and Best Scoring of a Musical.
The stage version of South Pacific (1958) won the Pulitzer Prize, but no comparable honors were forthcoming for this so-so screen adaptation of one of the team's most enduring works. It's love WWII-style, as a nurse (Mitzi Gaynor) falls for a French landowner (Rossano Brazzi) while a lieutenant (John Kerr) woos an island girl (France Nuyen) — yet all romance is put on hold once the two men are tapped for a dangerous mission. None of the performers are especially memorable — and Brazzi is downright dull — but the score does include such catchy tunes as "I'm Gonna Wash That Man Right Outta My Hair" and "Happy Talk." This nabbed an Oscar for Best Sound.
A box office behemoth and still one of the most beloved movies of all time, The Sound of Music (1965) may be schmaltz, but it's irresistible schmaltz. Julie Andrews, who had won the Best Actress Oscar the previous year for her one-note performance in Mary Poppins, should have instead copped it for her excellent turn here, as her Maria won't allow anything to get her down — well, except maybe Nazis — as she serves as governess to the brood of the widowed Captain Von Trapp (Christopher Plummer). Odds are that you know at least two of the many classics songs ("Do-Re-Mi," "My Favorite Things," "Sixteen Going on Seventeen," "Climb Ev'ry Mountain," etc., etc.) by heart. Nominated for 10 Academy Awards, this won five, including Best Picture and Best Music Score Adaptation.
South Pacific and The Sound of Music have already been released on Blu-ray, while the other four titles are making their debuts in the format. Extras are plentiful, including audio commentaries; making-of featurettes; excerpts from the original stage productions; pieces on the differences between the widescreen formats CinemaScope, Cinemascope 55 and Todd-AO; vintage newsreels; photo galleries; and theatrical trailers.
State Fair: ***
Oklahoma!: ***1/2
Carousel: **
The King and I: ***
South Pacific: **1/2
The Sound of Music: ***1/2