Until three years ago, the hallmark of my Thanksgiving dinner was that big Butterball turkey, in its iconic packaging — you know, the ones that mysteriously appear in grocery stores each year, signifying the arrival of the holidays.
On the table, you'd find cranberry sauce, still bearing the imprint of an aluminum can. The green bean casserole, more muddy brown than green, would be doused in cream of mushroom soup (from a can, of course) and topped with crispy fried onions. Delicious yeast rolls would magically transform from frozen blocks to pillowy bites of gluten-filled heaven within minutes in the oven, with never a thought about the hands that made them. A classic Thanksgiving meal from the grocery store — just like everybody else's
This traditional feast, indelibly etched into my holiday consciousness by years of sameness, changed when I moved to the Queen City.
Charlotte is surrounded by an abundance of local foods, harvested or produced by hardworking individuals with names and faces, some of whom you can see each week at the wealth of farmers markets in this area. These farmers and producers, all based within 100 miles of Charlotte, make it easy to dress your Thanksgiving table from top to bottom with regionally grown food and drink.
One of the many benefits of using regionally sourced foods is the freedom to get more imaginative with your menu. Kendall Kendrick, a mother of four and the team leader for the Charlotte-Mecklenburg Food Policy Council, encourages bucking the traditional: "You can go local and change the flavors, introduce your guests to something new."
When seasonal ingredients are at play, you can inject creativity into your meals. For example, if there are no cranberries at the market, add a pop of color with beets from Poplin Farms in Stanly County, or make a dish of spiced and baked apples from the various nearby "u-pick-em" orchards. The possibilities are limitless.
"I'll definitely be getting all of our vegetables from our favorite farmers," Kendrick says, pointing out how shopping locally strengthens our ties to the community.
Lynn Caldwell, manager at Atherton Mill Market, says buying local foods not only supports the local economy, but also reduces the large carbon footprint that comes from shopping for shipped-in foods at conventional grocery stores.
"We're supporting something tangible when we shop local," Caldwell says. "We can see its effects — and taste them, too."
Whether you're looking to go uber-local or just want to take baby steps toward a farm-fresh approach, we're offering some sources for all the fixin's you'll need for a Thanksgiving dinner made completely from the Charlotte area's own backyard.
Turkey
Just a short trip up I-77, you'll find yourself at the poultry farm of Jon and Jan Bostic, who raise heritage turkeys at their East of Eden farm on McIlwaine Road in Huntersville. The Bostics acquired 100 young turkeys six months ago for the Thanksgiving season, which they've raised in an open pasture on soy-free and GMO-free organic feed. Rest assured, these turkeys are coming straight from the farm to your table.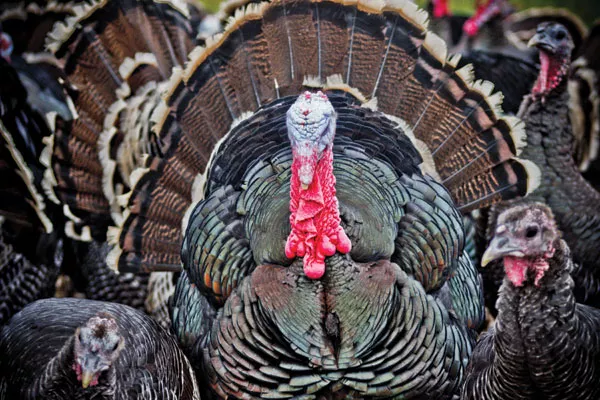 GOBBLE GOBBLE: Turkeys at East of Eden Farms
Stuffing
Right in the downtown area, King's Bakery makes artisanal breads baked fresh daily from scratch with locally milled, organic flour. Pick up a loaf on site or inside the Atherton Mill Market in South End. The bread makes kick-ass stuffing and 100 percent of the profits go to feeding Charlotte's poor.
Collards
It ain't Thanksgiving in the South without a batch of collard greens. Grab a bunch of the leafy, organic beauties from Eric Williamson and Brad Hinckley of Coldwater Creek Farms, and season with locally sourced bacon from Charles and Dana Burrage of Windy Hill Farms.
Mashed Potatoes
Potatoes are easy to find and a great purchase for first-time locavores. Jill Poplin of Poplin Farms is a friendly face at the Saturday Yorkmont Farmers Market; she can walk you through the many unusual varieties of potatoes at her table. Who knows? You may walk away with something totally different for the holiday. Purple mashed potatoes, anyone?
Green Bean Casserole
Elma C. Lomax Incubator Farms in Concord is growing green beans on the vine and selling them at the Atherton Mill and Davidson farmers markets. These fresh, crunchy beans will have you changing your old notions of casserole slop before you can say cream of mushroom soup.
Sweet Potato Casserole
Way of Life Farms brings its fresh organic produce from the town of Sunshine, about 70 miles west of Charlotte, including several varieties of sweet potatoes, which range from the traditional to the smaller, white-fleshed versions that can substitute for those sweet, jet-puffed marshmallows. No kidding — there are sweet potato varieties that are naturally sweeter than candy.
Adult Beverages
The Charlotte area has libations for every preference. Birdsong Brewing in NoDa serves up a variety of brews, from the citrus-y notes of the Free Will Pale Ale to the filling, dark rye beer called Raise a Ruckus. For wine, Little River Vineyards is bringing reds and whites from nearby Mount Gilead, only 57 miles away.