It was less than a year ago that Joe Gillespie emerged from the Creative Loafing News section as the hero Charlotte didn't know it needed.
Gillespie was featured in our 2015 Best of Charlotte issue to represent "The Best of" our bizarre crime column, The Blotter. Within hours of the issue hitting racks, the story took off. By the end of the day, Deadspin, Washington Post, Sports Illustrated and the UK Daily News, among other international outlets, had picked up the interview. It had become the most viewed story of all time on Creative Loafing's website by the time I left the office that day with radio interviews scheduled from Canada to California.
Gillespie originally faced two felony charges.
The viral success of the story was in no way due to my great writing skills. I had seen Gillespie's photo flash across a 15-second story on a local television newscast and decided if I could find the mulleted man in the mugshot, the story would write itself. That's exactly what happened.
I met Gillespie at a local bar near his Indian Trail home and, over a few beers, he told me the story of how he became Homer for the night. It quickly became clear that he was one of the funnier people I'd ever met, and I had decided while heading home that I would simply transcribe the interview and let him do all the talking through Q&A.
The aftermath of "Homer's Night on the Town" was fun for a couple weeks, but it was tainted by a certain sense of guilt. While I in no way forced Gillespie to speak with me for the story, he hadn't spoken with a lawyer yet at that point and was facing two felony charges. The publication of what basically amounted to a printed confession would certainly limit his options in the courtroom.
Looking back now, he said he doesn't regret the debauchery of that night as much as he regrets how he broadcasted his role in the crime in the following days. He posted many of his exploits on Facebook, which helped police find him after speaking with restaurant servers and others he had run into during his night as Homer.
"Maybe posting everything before the court date wasn't a good idea," he says now. "Not as much the story as me posting pictures everywhere in general. Maybe I'd say now, 'Don't tell the story until after the court date.' You live and you learn."
On June 7, I was able to shift the guilt and Gillespie could finally breathe easier, as his court case was settled and he dodged felony charges that had been held over his head for nearly a year.
Prosecutors in Mecklenburg County agreed to drop the felony larceny and breaking-and-entering charges if he copped to a misdemeanor larceny charge and agreed to serve 15 months of supervised probation.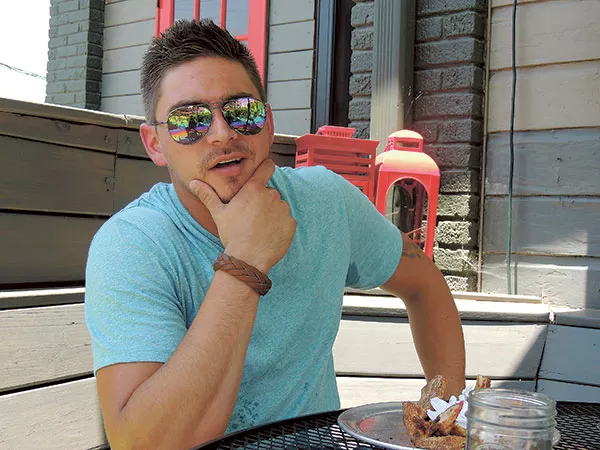 Photo by Ryan Pitkin
Joe Gillespie was sentenced to 15 months of supervised probation for his drunken antics as Homer the Dragon.
I met with Gillespie, who recently turned 24, for lunch about a week after the plea deal. His mane of a mullet is gone, and he was more subdued than the night we originally spoke. That was fine. I wasn't expecting "Homer's Night on the Town" redux — some forced journalistic version of those horrible Hangover sequels — I just wanted closure, and felt I owed that to the countless people who enjoyed the original story.
We spoke over pizza directly after he met with his probation officer for the first time. Despite his frustration with being forced into supervised probation, he takes it in stride and recognizes that things could have been worse.
He said he was relieved to have the charges dropped, but still believes the punishment was steep for the crime. He'd rather have been assigned community service to be done on his own time rather than be forced to meet with a probation officer at times when he should be at work.
"[The plea deal] definitely took a lot of weight off of my shoulders," he says. "The probation thing kind of weighed on me because it's time and money. I have my company going wide-open six to seven days a week and I just don't really have time to check in with people. I'm not a convict. I'm not a drug addict. I think they could have went a little lighter. The property all got returned. Some community service and court costs or fines would have been better."
The first legal wake-up call — well, second to the time police literally woke him up — came when his lawyer showed him a stack of what looked to be 100 pages of paper documenting every move he made on the night of the incident.
"I think it was maybe the Knights and the district attorney getting as much information as they could on me," he says. "They went around everywhere and got pictures, watched videos, they got everything they could against me."
It's doubtful that the Knights organization was very active in the investigation, but Gillespie does believe they should be held partly accountable for leaving him in the stadium.
"I would definitely say that I learned a lesson from it and I feel like they should learn a lesson too, to check a little better, especially after a beer festival," he says. "Make sure your stadium's empty and there's not some drunk guy passed out down there."
He said he was never contacted by anyone with the Knights organization, despite being told by police early on that he would be able to explain himself.
He remains a fan of the organization, however, and said he's visited BB&T Ballpark since the incident and shopped around in the team store, buying a shirt and hat.
Photo by Joe Gillespie
A selfie from that fateful night.
Gillespie hays plenty of stories from the two months or so following the article's publication when he was being recognized everywhere. Colorado-based band Pigeons Playing Ping-Pong contacted him after reading the story and invited him to join them on stage at The Rabbit Hole for their Charlotte show. The band wanted to rent a full mascot costume for him to dance on stage with, but had to settle for the head of a pigeon costume when that plan fell though.
Gillespie drank free Jack Daniels on the house all night. It wasn't the only time folks who knew him only from his Homer exploits picked up his tab.
"There were free beers. One night at NoDa Brewery. Triple C Brewing. A lot of bars. That was a party for me," he says. "It lasted a good month or two. As long as I had the hair, people recognized me, it was like a statement. I took a lot of pictures, especially when the mullet was still luscious and flowing."
He said he plans to let the mullet grow back over the next few months.
For now, Gillespie says he wants to focus on his plumbing business, but a recent call got him thinking about fame and fortune again.
In May, Gillespie was contacted by a representative of Creative Artists Agency, a large Los Angeles-based talent agency that's apparently interested in buying the film and television rights to "Homer's Night on the Town." The representative was just making a preliminary inquiry, and it's unclear if anything will come of it, but it raises an interesting question: Who would play Gillespie in a movie?
"Me. It would have to be me," he says. After a minute, he hypothetically agrees to settle for a cameo or maybe an appearance while the credits roll so people know he's the real guy. He chooses James Franco to play him, since a younger Bill Murray wouldn't realistically be available.
In case this could turn into a series of films, I took the opportunity to ask Gillespie the question that had been raised by countless Internet commenters since the story was first released. At one point during our original meeting, he told me the Homer costume incident was just "one of his top three nights of all time."
So what stories are we missing? What could possibly beat gallivanting around Uptown as Homer the Dragon, and can I please tell those stories?
"I don't know, man. There's been so many good nights," he says, smiling. "But, no, I would have to retract that and say now that it was number one. It got me to here."
So much for the sequel.