Anna Lefoy, 28, thought it would be easy.
She would just call up a real estate agent, and after a couple months of looking, she'd buy a house near downtown. Not a 600-square-foot condo like all her friends were buying, but a real house with a yard, shiny hardwoods and those big, chunky baseboards they just don't make anymore. The realtors showed her the "bargains" in the Arts District, Plaza Midwood and Commonwealth.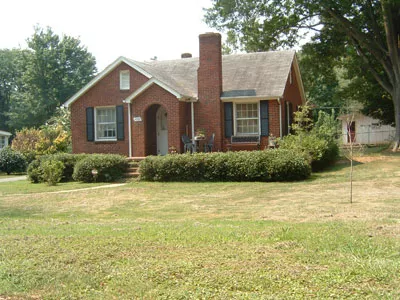 A house in the Oakhurst neighborhood bound by Commonwealth Avenue and Richland Drive to the north and Independence Boulevard to the east
"They were all $175,000 and needed $50,000 worth of work and were on a postage stamp of land," Lefoy says.
Lefoy wasn't looking for the Taj Mahal or anything. She was willing to overlook some imperfections, but she didn't want to live next door to a crack house, either. Eventually, reality dawned on her. On the salary she made as an event planner, she couldn't afford to buy a house in a downtown neighborhood. "I was in tears," she said.
A year or two ago, you could still buy a house in decent condition in Sedgefield, Chantilly and even some of the better parts of Plaza Midwood for $260,000. But prices for your typical 1,250-square-foot, two to three bedroom, one to two bath home in those neighborhoods broke the $300,000 barrier this year and continue to shoot through the stratosphere. Four years ago, you could still buy the same type of house in parts of Elizabeth and Dilworth for about $250,000. Today, you're looking at a minimum of $350,000 for something in decent shape in those neighborhoods.
So what's left for those who don't want to do the urban pioneer thing and spend the next five years living next to a boarded up house, waiting patiently while the neighborhood appreciates? That's what Lefoy and others like her who want to move a short drive away from downtown wanted to know.
The first half-dozen realtors Creative Loafing called out of the phone book all gave us the same answer to that question. If you couldn't afford a house in Dilworth, Plaza Midwood, Chantilly, Elizabeth or NoDa, and you weren't prepared to do the urban pioneer thing in tough but appreciating neighborhoods like Belmont and Villa Heights in order to own a house with a yard, then you were pretty much out of luck. But CL wasn't willing to accept no for an answer. There had to be thousands of young professionals out there just like Lefoy, and they had to be moving somewhere.
As it turned out, CL was asking the right questions, just to the wrong people. An antiquated neighborhood coding system still used by most Charlotte realtors has been holding over a dozen cool in-town neighborhoods with affordable housing back because many of them don't show up in standard area searches even though they may be right next to one of the city's hottest neighborhoods. Many realtors also have certain stigmas about going beyond certain area boundaries to see if anything has changed from five years ago. So when realtors who don't live and breathe downtown's neighborhoods and drive its streets daily type in the old codes, nothing comes up but the same old overpriced houses. Meanwhile, other downtown realtors are finding new hot neighborhoods and personally colonizing them with those who crave the urban lifestyle, all under the radar.
The whole thing drives Dwellings Realty's Elizabeth Grillo nuts.
"We tell other realtors all the time, drive around," said Grillo. "A lot of realtors won't cross over Eastway Drive. We'll ask, 'Well, have you ever gone?' And they'll say they've never been there and I'll say, 'Just drive over there and then pull up what has sold.' Then they go, 'Oh wow, I never even knew this was over here.'"
If you want to live in a nice neighborhood near downtown but don't have $300,000 or even $200,000 to plunk down on the table, you've got to set aside your expectations and your preconceptions and be willing to take a look at neighborhoods you haven't heard of.
"People need to find a realtor that they like to work with and trust who will show them a few things out of the box," said Grillo. "People say to me all the time 'Thank you for showing me that. I never would have looked in that neighborhood and I never would have looked at that house.'"
Dwellings' Lexie Longstreet is a longtime downtown realtor who lived in Plaza Midwood when Midwood wasn't cool. She did the urban pioneer thing for years, heard the gunshots and had her things stolen. She says she understands that many of her clients just aren't willing to go in for that kind of rough living to be five minutes from downtown, and she says that they don't have to.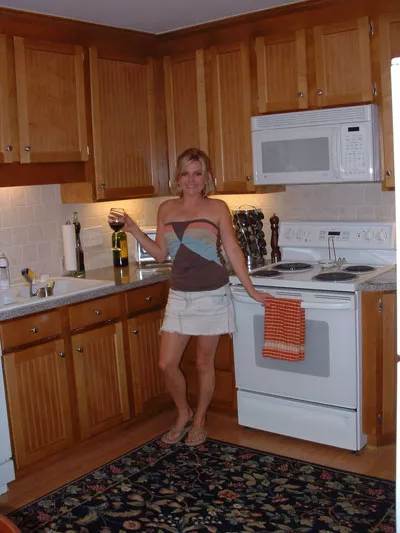 Anna Lefoy in her newly renovated home in Merry Oaks
But they do have to be a little flexible and realize that the adorable $150,000 house they are looking for may be right in front of them if they're willing to rip up a few old carpets, refinish a few hardwood floors and apply a fresh coat of paint, all things that should run you less than $6,000 total on your typical 1,200-square-foot bungalow.