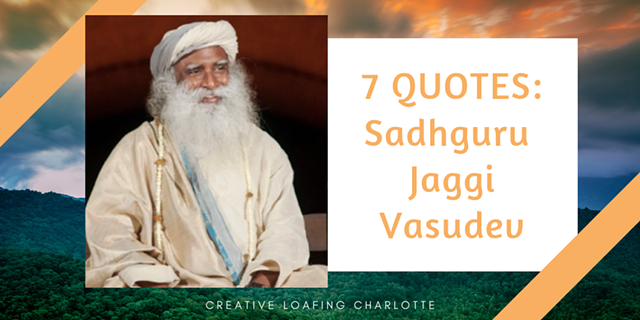 Jagadish Vasudev
born on the 3rd of September 1957 in Mysore, Karnataka, referred to as simply
Sadhguru
, is an Indian yogi, mystic, speaker, and author.
Sadhguru
is the founder of the
Isha Foundation
, an organization that provides yoga service worldwide. Isha Foundation is a volunteer-based, non-profit organization founded to create an inclusive culture towards global harmony and progress.
Sadhguru
has achieved many lifetime-worth accomplishments as he helps to create a new form of peace on earth. Millions have grown to appreciate his words of wisdom and how he communicates awareness of love and spirituality.
Sadhguru
has
spoken
at various educational institutions including, Oxford University, Stanford University, Harvard University, Yale University, Wharton University, London School of Economics and Massachusetts Institute of Technology. He has also been a
speaker
at premier technology companies like Microsoft and Google.
Herein are life-altering messages communicated in simple quotes by this englightened being.
1)
The mind remembers only certain things. The body remembers everything. The information it carries goes back to the beginning of existence. ~Sadhguru
2)
A human being is like a seed. Either you can keep it as it is, or you can make it grow into a wonderful tree with flowers and fruits. ~Sadhguru
3)
Life is rooted in reality, not in your thoughts and emotions. ~Sadhguru
4)
The greatest thing in your life is that you are alive and throbbing right now. Everything else is secondary. ~Sadhguru
5)
Let life happen in ways that you have not imagined possible. Allow that which is beyond your imagination to happen. ~Sadhguru
6)
Do not try to be special. If you are simply ordinary, more ordinary than others, then you will become extraordinary. ~Sadhguru
7)
Look at everything as an infant does-absorbing everything, not judging anything, not labeling anyone. ~Sadhguru
Latest Wisdom from Sadhguru available
HERE
.