You really do want to give thanks, but you don't want to give it along with that racist, homophobic uncle who will surely find a way to thank Trump along with God when saying grace.
Don't worry: Creative Loafing has your back.
There are plenty of places to go and things to do on Thanksgiving for those who choose not to spend it with the biological family. Some involve dropping lots of dollars at any number of local restaurants promoting Thanksgiving events. We're not including those on our list.
We're including things to do that won't break your bank.
One of the more gratifying things we all could do more of is donate our time to those who are less fortunate, and we have a category for that. But not all of us are so altruistic, and no one should be guilted into selflessness. So we also have categories for spending Thanksgiving with your nonbiological families — yoga buddies, party friends, social and political allies.
Whatever you do, be safe. And be thankful you didn't spend Thanksgiving with your racist uncle.
A Mindful Thanksgiving
Thankfulness is all about balance, right? So before the holiday feasting and conviviality begins, why not stretch, sweat and try to hold that tree pose? At least that seems to be the rationale for Yoga One's "Pluck Yeah Live: A Thanksgiving Celebration Class." Basically it's a holiday edition of the studio's popular power flow class with instructor Shannon Wiseman at its Plaza Midwood location.
Pluck Yeah Live
Yoga One
1318 Central Ave.
Thursday, November 23 at 10 a.m.
Although a similar class is scheduled at Yoga One's Dillworth studio, the Central Avenue session is special because it's streaming live on Facebook, so you can get your sweat on at home or anywhere else you happen to be. (There's no mention if there will be a live announcer's play-by-play for the class, but wouldn't it be awesome to hear some guy shouting "Namaste!" at the top of his lungs?) Yoga One's manifesto is to empower and inspire people to take concrete action to improve their lives. What better time to do that than on our communal day of thanks?
Yoga's spiritual side – in addition to it's grunting, groaning and twisting side – is also given a forum with Thankful for Friends Yoga at I Am Yoga's studio at a private home in north Charlotte. Owner and instructor Kiesha Battles was planning on closing for the holiday when a friend contacted her on Facebook.
"One of my friends posted: 'Is anyone offering a yoga class on Thanksgiving?'" Battles says. "I meditated on it for a day and decided it was me who would be teaching."
Battles who calls Thanksgiving her favorite holiday has invited her tribe of yoga students to her home to "stretch, breath, meditate, and be grateful for friendships and family."
Thankful for Friends Yoga
I Am Yoga
2216 Southwind Drive
Thursday, November 23 at 9 a.m.
Both Pluck Yeah Live and Thankful for Friends Yoga are scheduled in the morning, so you can do downward facing dog and still have plenty of time to get the dinner in the oven or set out for your holiday destination. Cruelty-free Tofurkry is optional.
Thanksgiving's Over - Time to Party
Everyone's cleared out of the dining room to watch football, there's nothing on the table but the dregs of sweet potato pie, and that Trump-loving uncle is passed out in the corner.
Thanksgiving is done — so stick a fork in it, exchange your fat pants for a pair of dancing shoes and head out for some fun! Allow us to present this trio of events, promising drunkenness and debauchery to balance out all that wholesome family fun.
Creative Loafing's AvidXchange Music Factory neighbor Club One is hosting an event it is billing as the Biggest Thanksgiving Party Bash Of the Year. We don't know about that, but the hot spot, founded by The Real Housewives of Atlanta ex-husband Peter Thomas, knows how to throw a swanky soiree. The club's Facebook page instructs revelers to arrive early and "Come grown & sexy ready to party."
Thanksgiving Bash
ClubOne
950 NC Music Factory Blvd.
Thursday, November 23 at 10 p.m.
Team Bobby Productions presents Turkey Thursday at Fusion Lounge in East Charlotte. It offers drink specials, a full kitchen open all night if you're still hungry, and best of all — no cover.
Turkey Thursday
Fusion Lounge
6432 East Independence Blvd.
Thursday, November 23 at 10 p.m.
At the Thirsty Beaver, aka That Plucky Little Dive Bar Amid A Box Canyon of Condos, The Loose Lugnuts will hit the stage with their rough-edged rambunctious country. They're the perfect fit for a Thanksgiviung night of drinkin', dancin' and honky tonkin'.
The Loose Lugnuts
Thirsty Beaver Saloon
1225 Central Avenue
Thursday, November 23 at 7 p.m.
facebook.com/The-Thirsty-Beaver-Saloon
Thanksgiving with Friends
For those of you with a family that's close both in proximity and friendship, it's easy to take for granted that you can spend holidays with those you love the most. But Charlotte is a transplant city after all, and not everybody wants to go through the stress of holiday travel. Also, not everybody really likes their family, or has a family that likes them, for that matter. For these folks, we've rounded up a few options for you to go spend Thanksgiving with your better family, the one at the neighborhood bar.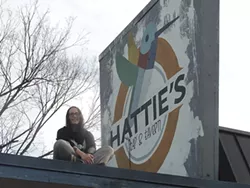 Jackie Deloach, owner of Hattie's.
At our favorite neighborhood bar, Hattie's Tap and Tavern on The Plaza, owner Jackie Deloach will be serving up that familial feel without having to worry about your Trump-supporting uncle spouting off about "ungrateful" NFL players. What says family on a fall afternoon more than board games and cider? Deloach will also be bringing in her very own piece of multi-generational nostalgia: a stereo that plays vinyl, cassettes and CDs, so whether you're collection is from the '90s, 'the '80s or before, you'll be able to play it there on Thursday.
Hattie's Tap & Tavern
2918 The Plaza
Thursday, November 23, 4 p.m.-2 a.m.
Just south of the airport, where thousands of folks will be quietly resenting their far-off families for making them travel to or from Charlotte to see them, the fam at The Trap on Westinghouse Boulevard will be sharing food and knocking back a few cold ones. Owner Tad McGrath has been holding "Trapsgiving" for the last five years as a way to give back to the community, he says, and usually sees a big turnout of folks who may not be looking to spend Thanksgiving at a stuffy dinner having to answer questions from mom about why they're not married yet (that part he didn't say outright, but we added it on). The bar will provide two turkeys and mac-and-cheese, and it's up to everyone else to bring their favorite Turkey Day side dishes and dessert treats.
Trapsgiving
The Trap
1923 Westinghouse Blvd.
Thursday, November 23, 1 p.m.-2 a.m. (Dinner at 6 p.m.)
For those wanting to spend the day in the Uptown area, the folks at Belfast Mill Irish Pub will be celebrating America's most food-driven holiday the right way. At their Orphan Thanksgiving, Belfast Mill-ers will be offering up a full Thanksgiving spread free of charge. And if that's not enough to send you into a coma, the $5 "Crown and Down" cocktails will help send you blissfully to bed (or chair). But you should stay up, because the games will be on with the volume up. Nothing makes you feel fatter after a big meal than watching guys in peak physical condition slam each other senseless, but hey, it's the reason for the season.
Orphan Thanksgiving
Belfast Mill Irish Pub
144 Brevard Court, Suite A
Thursday, November 23
4 p.m.-12:30 a.m.
Nonbiological Family Thanksgiving
Biological families can be hell for people whose gender identities or sexual preferences aren't acceptable to Uncle Bob, the homophobe, or for folks who suffer from a disease that Aunt Mae, the judgemental one, refuses to understood. Oh, those microaggressions — they just don't go down well with the turkey dresssing. That's why many of us feel more comfortable with our nonbiological families — those who support and truly understand us. When it comes right down to it, our real families oftentimes are not necessarily our biological families.
For those whose lives are made better by our support groups, Thanksgiving dinner at Chasers or with our AA or NA friends can be a godsend. There are tons of support groups in the Charlotte area offering Thanksgiving dinners for their members, and we've offered just a very few here. If your group isn't listed, it's a safe bet you can call a hotline or check online for details on where to go and what to bring.
Chasers has a long history of offering Thanksgiving to LGBTQ folks and anyone else who wants to come along, including friends and allies. "Each year we have this dinner and also we do a canned food drive for the Metropolitan Community Church food pantry," the folks at Chasers tell us. "This will be our third year of doing the food drive. The food pantry is open to anyone, and last year we raised enough food to stock the pantry for six months."
So, not only do you help yourself by spending Thanksgiving with your nonbiological family — you help others, too.
Thanksgiving at Chasers
Chasers
3217 The Plaza
Thursday, November 23, 9 p.m.-2 a.m.
Earler on Thanksgiving Day, out on South Boulevard, eat up at Sidelines Sports Bar and Billiards before heading over to Chasers. Sidelines will be opening their doors to anybody who wants to join the family for their annual pot luck dinner. "You don't have to be LGBT to join us," the Sidelines folks say. The bar will provide the turkey, ham, dressing, gravy, cranberries and mashed potatoes. All you have to do is bring a side dish, dessert or your lovely self.
Sidelines Annual Thanksgiving Pot Luck Dinner
Sidelines Sports Bar and Billiards
4544 South Blvd.
Thursday, November 23, 4 p.m.-7 p.m.
If your family is a support group for addicts or alcoholics, most of the Anonymous programs in the Charlotte area offer all-day alternatives to saying cheers with your drinking or drugging bio-family members over a giant spliff, glass of wine or bottle of craft beer. You can find out about any of them by contacting the specific program's website or hotline — Alcoholic Anonymous, Narcotics Anonymous, etc. — but here's a cool option in Belmont. It happens at a cozy Boy Scout hut — with meetings every two hours, from 6 a.m. until 8 p.m., and dinner at 4:30 p.m. — and you can bet you'll feel welcome, whether here or at any other 12-step Thanksgiving event. Just bring a covered dish.
Thanksgiving Alcothon
Belmont Scout Hut
302 Brook St.
Thursday, November 23, 6 a.m.-8 p.m.
Giving Back on Thanksgiving
It's great to spend time with family and close friends on Thanksgiving, but not everybody has that option. Our homeless neighbors in the Charlotte area either spend most of their time on the streets or, if they're lucky, in one of the area shelters. Many organizations and houses of worship in the Charlotte area offer hot meals for those folks, but it takes a village to prepare and serve them. You can donate your time or resources to the organizations listed below. And if you're homeless yourself, drop in and know you are loved.
Final Harvest feeds the homeless year in and year out, and their Thanksgiving dinner is one of the organization's most popular events.
Thanksgiving Dinner with Final Harvest
1200 Alleghany St.
Thursday, November 23, Noon-6 p.m.
Charlotte Rescue Mission is another local organization known for feeding the homeless on Thanksgiving, and they always need help. Find out how you can contribute by going to the website for their Rebound and Dove's Nest operations.
Charlotte Rescue Mission