Josh Norris was in high school in Charlotte when he realized he needed to do something extreme to give himself a competitive edge over his fellow soccer players. He began a casual study of nutrition, experimenting with ways to increase his energy level. By the time he got to the University of North Carolina at Wilmington, Norris was a full-fledged expert on superfoods.
"I've always been competitive," says Norris, 28, who cofounded the Charlotte-based Green Brothers Juice Co. a little more than two years ago with his brothers Jacob and Jason. "When I started to get really serious about soccer and had to train my butt off just to be able to walk on the field at a Division 1 school, I began to look at how I was eating. Then later, I started doing triathlons, and when you're doing that kind of exercise, you have to be especially cognizant of what you put in your body in order to maximize your fitness and your recovery and your mental clarity."
Norris became so knowledgeable about nutrition and juices and smoothies that he began to evangelize about it. "At my own house I ended up accumulating ridiculous amounts of supplements for my own personal desires," he says. "It got to a point to where I said, 'How cool would it be to make the world's most nutrient-dense superfoods readily available to the masses — to make it more convenient so people wouldn't have to source it themselves?"
Green Brothers' "Detox Me"
Voila! Green Brothers was born. Norris, whose juices and smoothies are available in two spots uptown — at Bank of America Plaza and the Duke Energy Center — is not the only jock in Charlotte who's sharing the love about nutrient-rich juices. Across town, near Park Road Shopping Center, former pro basketball player Johnny Foster and his partner Tameyka Rustin founded the One Life Raw Juice Bar last February because, he says, "We both live that lifestyle."
That lifestyle, according to Foster, is veganism, and it's become more and more popular in the Charlotte area. The city boasts four full-on vegan restaurants — Fern: Flavors of the Earth, in Plaza Midwood; Bean Vegan Cuisine, on Independence Blvd.; Luna's Living Kitchen, in South End; and Zizis Vegan Take-Out, in the University Area. Of course, the vegan lifestyle also includes copious consumption of raw, organic juices, and over the past couple of years, Charlotte has experienced an uptick in locally owned juice bars that have popped up from Noda to Uptown, Myers Park, South End, and Ballantyne.
Two Charlotte businesses catering to healthy lifestyles — Luna's, in historic Atherton Mill and Market, and Viva Raw, in the 7th Street Public Market — were among the earliest pioneers of raw, cold-pressed juices in this neck of North Carolina. And other locally owned hotspots, including Common Market in Plaza Midwood, have expanded existing businesses to include juice bars and other vegan options.
In 2013, Living Kitchen — founded not by a jock, but by a native of Bogata, Colombia, who subscribes to more of a new age spiritual philosophy — got so big it moved to a larger space in Charlotte as well as new spots in Raleigh and Chapel Hill. Owner Juli Luna says she was at first concerned about all the recent competition, but now feels it's a good thing — it means Charlotteans are more interested than ever in taking care of their bodies, minds and spirits.
"There's room for all of us," Luna says. "I've found that most people in Charlotte are very open to this way of life. It's become more important to them. They're understanding that food is our medicine. And I'm happy that raw foods and juices are now more accessible than ever."
CL looked at five locally owned juice bars — from the pioneers to the newbies — that are accessible at a relatively short distance from wherever you live. But if you're willing to travel, you might also want to check out Fresh Vibes, a locally owned juice bar just over the border in Rock Hill, S.C.
NODA
Owner Kim Wilkinson opened this storefront juice bar on North Davidson Street across from the Johnston YMCA about a month ago, and business is picking up. On a recent afternoon, manager Conner Flowe was preparing fruits and veggies while Kaylan Frazier and Noda resident C.J. Mason sat at a window seat enjoying their juices after a workout.
Juice Box customers Kaylan Frazier and C.J. Mason
"We'd just left the Y and I told Kaylan, 'Hey, look, there's the new Juice Box — let's try it!'" said Mason. "Kaylan's very health conscious, so I knew she'd want to check it out. She knows all about juices."
"I like it," said Frazier, who lives in the University area. "I go to a lot of juice bars and I'd rather come to a place that uses quality ingredients than a [franchise that uses]concentrate."
Flowe said Juice Box uses as many locally grown organic fruits and vegetables as possible, and the store soon plans to begin recycling its compost into other goodies.
Address: 3100 N. Davidson St., #101
Contact: 980-939-1612; juiceboxcharlotte.com
Vibe: Chill. A relaxing trip-hop mix played during our visit.
SOUTH END
Starting out in 2010 in a tiny space wedged into a corner of Atherton Mill next to the farmer's market, Living Kitchen has moved to a larger building in the same complex and expanded its raw vegan menu and line of juices. Luna, a native of Bogata, Colombia, and a veteran of high-end restaurants and hotels across Europe, wanted to do something more soulful in Charlotte. Her dream, she said, was to express her gratitude through offering healthy raw foods. The idea of also including cold-pressed juices using 80 percent locally sourced veggies and fruits fit into her philosophy.
"We were the first ones to start bottling juices — we started doing cold-pressed juicing in 2012," says Luna, who thinks the popularity of juice bars is due to Charlotte's open-mindedness about health and sustainability. "People are really beginning to understand that when you go the source, to the farmer, who harvested your food day before, and you eat that food before it's been in the refrigerator for too long — that's when you get best nutritional value. And that's what you want in your body."
Address: 2000 South Blvd.
Contact: 704-333-0008; livingkitchen.com
Vibe: Positive, multi-cultural vibe. Ultra-cool wait staff. Could be more attuned to customers' needs.
UPTOWN
When one of Deborah Friss's coworkers in an Uptown business got the idea of doing a pop-up juice bar in her office, Friss knew who to call: the Green Brothers, aka Josh, Jacob and Jason Norris. "We try to be creative in serving our clients' needs," said Josh Norris on a busy weekday during lunchtime.
Friss, of course, was at the juice bar in Bank of America Plaza as Norris talked about his growing company that expanded to a second location in the Duke Energy Center a year ago. "My favorite juice here is the 'Regulator,'" Friss said, referring to the Green Brothers' mix of cucumber, kale, celery, spinach, parsley and coconut water. "Gosh, I wish I could figure out how much I've spent here!"
"You're not complaining, are you?" Norris quipped.
"Oh, no."
Friss was hardly the only regular in the crowded juice bar. Norris couldn't walk more than two steps without chatting with a familiar face — like Brett Ezarsky, who'd just come in after his daily workout and stopped to joke around with Norris.
Josh Norris (right) chats with customer Brett Ezarsky at Green Brothers' Bank of America Plaza store
"We've been able to foster some really meaningful relationships with our customers in large part because they're already people who go out of their way to spend a little extra money on taking care of their bodies, and they typically care about other things at a higher level as well," Norris said. "And that spoils us a little, because we do see some of the most awesome people come through here."
The Norris brothers launched the business in this location in 2014, partnering with the
Address: 101 S. Tryon (inside Bank of America Plaza)
Contact: 704-575-9280; greenbrothersjuice.com
Vibe: Loud, energetic, buzzing with bankers and other Uptown workers.
MYERS PARK
After being drafted by the Cleveland Cavaliers and then playing pro basketball as a point guard in Europe for 16 years, One Life Raw Juice Bar co-owner Johnny Foster and his partner Tameyka Rustin moved to Charlotte for a more calm and relaxed life. Today he's a sports agent and health nut, courtesy of Rustin's influence.
The juice bar, Foster said, was "her concept, my funding. She's hardcore, man — 100-percent raw vegan." He chuckles as he presses an orange to make a glass of One Life's "Green Refresher" for a customer, and says there's one key difference between his own vegan lifestyle and Rustin's. "I've been vegan for about three years. I'm not 100-percent raw."
The couple opened One Life in Myers Park because they liked the jumping stretch of Selwyn Avenue across from Bicycle Sport and a stone's throw from Park Road Shopping Center. But they're already planning to open a second location at Tompkins Hall (formerly the Highland Park Mill project) in Optimist Park near Noda by November.
And why the name? "Tameyka felt like you only got one life to live — live it the right way."
Address: 2927 N. Selwyn Ave
Contact: (704) 910-5558; oneliferawjuicebar.com
Vibe: Calm, quiet, casual, colorful, friendly, attentive
BALLANTYNE
One of the more rapidly growing juice bar franchises in the Charlotte area, Clean Juice launched in June 2015 and already boasts four operational locations from Concord to Wilmington, and 25 more in development. Most of the current stores are in the Charlotte area, and this one, in Ballantyne, serves South Charlotteans who don't often make it into the city.
Or maybe they do.
Landon and Kat Eckles moved to the Lake Norman area in 2014 from Pennsylvania, where they frequented juice bars near and far. "We'd go into New York City, where juice bars are like Starbucks — they're everywhere," said Kat Eckles. "I had already been juicing and blending at home for years, and when we got to Charlotte, we knew there was a need for this outside of places like New York and L.A."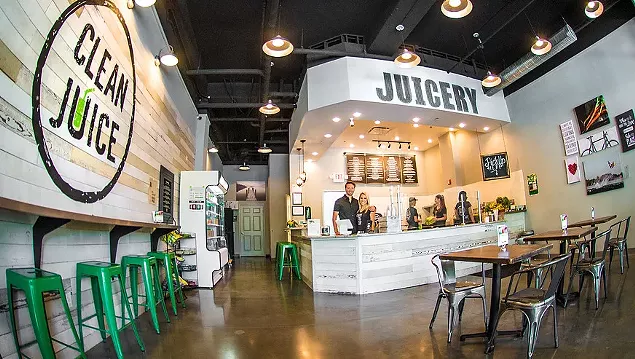 All praise for Landon and Kat Eckles' clean juice
Clean Juice is dedicated to serving certified organic, and in instances where the stores can't get an organic ingredient, they indicate it prominently on a chalkboard so customers can make their own choice whether or not to order that particular juice. "We are the only USDA certified organic juice bar franchise in the country," Eckles said.
Clean Juice is a bit differnt from the local juice bars owned by athletes or hippie philosophers. The Eckles are members of the hip Elevation Church in Lake Norman, and their own perspective on spirituality appeals to this area's younger adherants of that time-honored Charlotte tradition, Christianity. All of Clean Juice's correspondences include the biblical scripture from 3 John 1:2, "Dear friend, I pray that you may enjoy good health and that all may go well with you, even as your soul is getting along well."
"We also put an emphasis on families," Eckles said. "We really wanted to make drinks that kids would like. For example, we do one called the Immunity One, which is orange, pineapple, carrot, lemon and tumeric. Those are ingredients kids might not always get at home, but we make it taste good and make it feel good. And parents like that. They tell us, 'I'd rather get them Clean Juice than ice cream."
Like Juli Luna, the Eckles went into business with the idea that Charlotteans are more interested than ever in taking care of their bodies, minds and spirits — it's just that the Eckles' view of spirit comes from a distinctly Christian perspective.
Address: 7918 Rea Rd. #D
Contact: 980-256-2464; cleanjuicebar.com
Vibe: Contemporary Christian playlist, homey feel with distressed barnwood panels, family friendly.