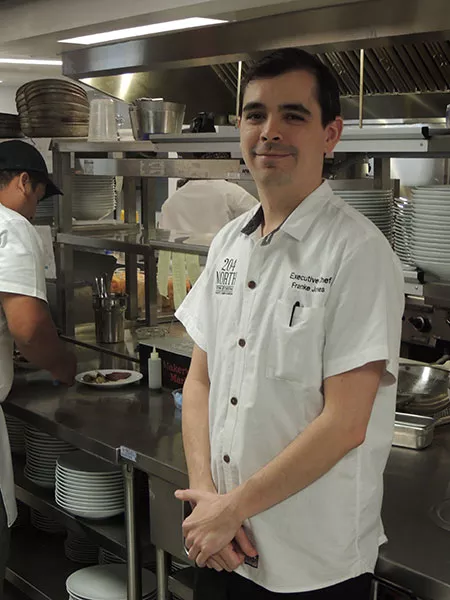 At first glance, 204 North Kitchen & Cocktails looks like just another happy hour bar for the young professional crowd, but it's a farm-to-table restaurant behind it all, focused on showcasing the best that area farms have to offer. Since opening in May, executive chef Franke Jones has been methodically developing new menus. He recently added a late-night bar menu in addition to the already-impressive lunch and dinner options, and now he's set his sight on brunch, which he's aiming to launch on Father's Day weekend.
Creative Loafing spoke with Jones about putting fresh food from local farms on Uptown plates.
Creative Loafing: How important is the farm-to-table vision for you?
Franke Jones: My dad lives on a 400-acre farm that he was born on. Farming has always been in my family. We were self-sustaining from a vegetable standpoint. We grew a lot of corn, a lot of soybeans. We had a vegetable garden. We canned and preserved fresh food year-round. So we had this great produce year-round. Not only does that have a strong hold on me, but it affects the community in positive ways. There's a lot of people in the outlying areas of Charlotte that do have small farms, that do have families that are still based in those counties and smaller cities that grew up farming. We show them support and see eye to eye on their sustainability missions. To provide the community of Charlotte with great local produce and be able to cook food was something that was very attractive to me.
How do you incorporate those foods onto your menu?
You'll see a lot of vegetables on the menu that make it onto the plate, because I want to showcase that piece of meat or that fish or that shrimp that we get off the coast, but I want to showcase these vegetables as well. So I don't want to make a dish with a multitude of vegetables and other stuff just as a side. If we're getting great turnips in from a small city farm, I want to be able to show those turnips or those radishes or the kale off. So you'll see that throughout the seasons, depending on what they're selling. The tomatoes in the summertime are going to be represented very well on the menu, in numerous forms. [The current menu features fried green tomatoes served over a bed of house relish, cabbage chow chow, pimento cheese and country ham.]
You're also a cocktail bar, do people get confused about what type of place this is?
We're wanting to be able to provide a high-end culinary experience without making the guests pay for it. Our menu isn't anywhere close to what some people would consider our competitors. We do have a big bar and we do offer a happy hour menu from 4-6. We do have a late night menu that's available from 10 o'clock on. If people do want the bar experience they can get that too. There has been a little learning experience you could say from an operational standpoint about what the guest perception is, and it's been an extremely fun and challenging process to take the small amount of time people have and educate our guests on what we're really about.
From a culinary standpoint, we want to have a reputation for, 'Where can I go to get some good food and not break the bank?' We want to be at the top of that list. Where you can go get good food and it's reasonably priced. You can come in off the streets just wearing shorts and flip-flops and get some awesome food without paying a huge number for it. Or if you want to take your significant other here for a birthday or anniversary, you'll have a great experience as well. We can provide anything the guest is looking for.