For 20 years, WEND 106.5 The End has been putting new music on the Charlotte map. From in-studio performances with national acts to Divakar's Sunday night local music showcase "90 Minutes"; from the annual Weenie Roast to the Not-So-Acoustic Christmas events, WEND has been an outlet for music of all kinds. Other area stations have been around longer, but it's tough to find one that has had a more constant and consistent influence on the area's musical tastes from the local, regional and national level. So, outside of the music you can hear on a daily basis, here are 106.5 things you should know about 106.5 The End:
1. The station, which is licensed out of Salisbury, has been broadcasting since March 16, 1946.
2. That's why on-air station identifications always list Salisbury first.
3. At 3 p.m. on May 12, 1995, the station switched formats from beach music to The End, Charlotte's "New Rock Alternative."
4. The first voice heard on the station was Keith Abrams of The End's sister station, Magic 96.1.
5. The first song played under the new format was "Alive" by Pearl Jam.
6. Other bands played that first day include Stone Temple Pilots, Collective Soul, Live, Nirvana, Lenny Kravitz, Green Day, Alice in Chains, Weezer and Bad Religion.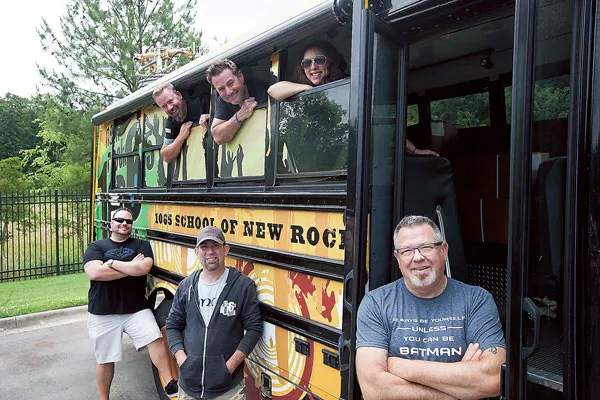 Jeff Hahne
106.5 The End DJs.
7. Jack Daniel has been there since the The End's start.
8. So has Chris Rozak.
9. So has Divakar.
10. The worst pronunciation of his name that Divakar has heard is "Drive a car."
11. DZL has been with the station for six years.
12. "Diesel" was an old sports nickname that got shortened over the years. DZL also makes it easier than remembering the 'i' before 'e' rule.
13. DZL's band Drop D was the first band to play the first Carolina Rebellion.
14. Woody & Wilcox joined The End five years ago.
15. Chelsea Paxton, The End's lone female DJ, started as an intern in 2011 and joined Woody & Wilcox as an on-air personality in January of 2014.
16. John Hancock, who is now on WBT AM, worked at The End from 1998-2000.
17. Aside from that short stint, Hancock has been at WBT for 23 years. He refers to his time at The End as a "timeout."
18. The End's home is located off of Billy Graham Parkway. It's the third building in its history.
19. The first building was at the corner of Kings and Morehead, which is now the Greenway.
20. The second building was located further down Morehead.
21. Many employees noticed the "humor" of having a radio station called "The End" across the street from a funeral home at that time.
22. 96.9 The Kat shares a home in The End's current building.
23. So does 96.1 WHQC.
24. So does 99.7 The Fox.
25. So does 102.9 The Lake.
26. So does 98.7 Fox Sports.
27. So do John Boy & Billy.
28. There are at least 35 microphones in the building.
29. The End is now an official NASCAR station, airing all 38 Sprint Cup races.
30. The target audience is 18-34 year olds.
31. On May 12, 2015, alumni and staff went on air at 3 p.m. for their remembrances of the original sign-on.
32. A "Big Fat Birthday Bash" to celebrate 20 years will be held on June 6, 2015, at the Uptown Amphitheatre featuring Cake, New Politics, Flagship and Big Data.
33. The station is giving away a Polaris Slingshot to celebrate its birthday... It looks like a Batmobile.
34. The first 106.5 Weenie Roast was held on Sept. 23, 1995.
35. It featured Buffalo Tom, Jewel, 7 Mary 3, The Innocence Mission, Dragmules, Green Apple Quickstep and Dandelion.
Kodar
Creative Loafing ran a photo in 1995 of Rozak on stage with Jewel.
36. Trying to make a lasting impression, Rozak hit the stage halfway into Jewel's first song and dropped his pants in front of the folk singer.
37. The second Weenie Roast was held on Sept. 14, 1996, and featured Spacehog, Nixons, Stabbing Westward, Self, Lustre, Super 8, For Squirrels, and the Verve Pipe.
38. 18 local bands performed at the 1996 Weenie Roast including the Jonathan Wilson/Benji Hughes band Muscadine.
39. The third Weenie Roast was held on Sept. 13, 1997, and featured Faith No More, Seven Mary Three, the Nixons, Goldfinger, Gravity Kills, K's Choice, Bloodhound Gang and Cowboy Mouth.
40. The fourth Weenie Roast was held on Sept. 5, 1998, and featured Creed, Better Than Ezra, Dishwalla, Jimmie's Chicken Shack, Athenaeum, Everything, Far Too Jones and Jolene.
41. The fifth Weenie Roast took place on Sept. 19, 1999, and featured Bush, The Verve Pipe, Sponge, Marvelous 3, Econoline Crush, Luscious Jackson, Moby, Joydrop and Jact.
42. The local stage in 1999 featured Justincase, Leisure McCorkle, Sheva, Collapsis and the Tender Idols.
43. The sixth Weenie Roast took place on Sept. 16, 2000, and featured Everclear, The Cult, Everlast, Papa Roach, Missing Persons, Angie Aparo, Fuel, Eve 6, Stir, Dexter Freebish, Collapsis, Peter Searcy and 2 Skinnee J's.
44. Shortly before the gates opened, Everlast's manager asked that no pork products be sold at the Weenie Roast (?!). While the singer performed, some nameless individuals took it upon themselves to fill his dressing room with hot dogs, pork rinds and pepperoni.
45. Among the performers on the second stage that year was the Jennifer Nettles Band -- as in Sugarland.
46. The seventh Weenie Roast took place on Sept. 15, 2001 -- four days after 9/11.
47. The performers were 3 Doors Down, the Crystal Method, Dave Navarro, Athenaeum, The Fixx, American Hi-Fi, Poe, Good Charlotte and more.
48. Nickelback played on the second stage in 2001...
49. ... only to return in 2002 as the headliner of the eighth Weenie Roast.
50. Other bands in 2002 included Filter, Default, Our Lady Peace, SR-71, Doves, Andrew WK, Butch Walker, Goldfinger, Berlin, Greenwheel and Epidemic.
51. The ninth Weenie Roast took place on Oct. 5, 2003, and included Staind, Dokken, Trapt, Sevendust, Eve 6, Socialburn, Three Days Grace, Kill Hannah and Shinedown.
52. The local bands in 2003 were Elevator Action, Etheric, Status Flow, The Missing Days and The New Blacks.
53. The tenth Weenie Roast took place on Sept. 11, 2005 and featured 3 Doors Down, Staind, Shinedown, Alter Bridge, Silvertide, 30 Seconds to Mars, In-V, Closet Pop Junkies, Scapegoat and more.
54. After a hiatus, the Weenie Roast returned on Sept. 16, 2012, with The Offspring, Garbage, Flogging Molly, Coheed & Cambria, Switchfoot, Our Lady Peace, Eve 6, Anberlin, Paper Tongues, Evans Blue, Drop D and Vess.
55. The 12th Weenie Roast was held on Sept. 28, 2013, and featured 30 Seconds to Mars, Sublime with Rome, Awolnation, Sick Puppies, Filter, Airborne Toxic Event, New Politics, Manchester Orchestra, Biffy Clyro, Langhorne Slim & the Law, Matrimony, The Unlikely Candidates, Leogun and more.
56. The 13th Weenie Roast was held on Sept. 6, 2014 and featured Weezer, Foster the People, Fitz and the Tantrums, J Roddy Walston & The Business, Fuel, Foxy Shazam, Wild Cub, Bear Hands, The Pretty Reckless, Big Data, Sir Sly and IamDynamite.
57. You can expect this year's Weenie Roast to be a continued celebration of their 20th anniversary.
58. Same for the Not-So-Acoustic Christmas concert.
59. The End has held a Christmas concert each year, called the Not-so-Acoustic Christmas.
60. The first concert the station hosted was at The Ritz on Independence Boulevard in June of 1995. The lineup featured Hole, Sponge and Letters to Cleo.
61. The most requested song in the station's history was "Detachable Penis" by King Missle.
62. The first band to play an in-studio acoustic performance was Incubus.
63. NASCAR driver Brad Keselowski once took over a show for DZL after winning a bet that he would win the Cup Series Championship.
64. The station never thought they would play Metallica, but they eventually did. It didn't go well.
65. "Y'all used to rock" is the most commonly heard complaint.
66. The station's slogan is "Charlotte's New Rock Alternative."
67. If Jack Daniel could go back in time, he'd change it to "Charlotte's New Music Alternative."
68. Heist Brewery once sold a DZL Double IPA.
69. NoDa Brewing currently sells a Woody & Wilcox IPA.
70. Woody & Wilcox wake up at 3:45 a.m. each day in order to make it to the station on time for their 6 a.m. show.
71. Jack Daniel is on air from 10 a.m. to 2 p.m.
72. Rozak is on air from 2-4 p.m.
73. DZL is on air from 4-8 p.m.
74. Divakar's show 90 Minutes Plus airs every Sunday night from 8-10 p.m.
75. "Skratch 'N Sniff" is a nationally syndicated show based out of San Diego which airs on Saturday nights.
76. Competitive eater Joey Chestnut was one of the most recent in-studio guests.
77. The shortest song played is Blur's "Song 2," which is 2 minutes and 3 seconds long. Woo-hoo!
78. The longest song played is the Big Mac Mix of Filter's "Hey Man, Nice Shot," which clocks in at 8:42.
79. The most popular artists over the years have remained the same -- Pearl Jam and Nirvana.
80. Divakar has hosted more than 400 bands in studio on his show 90 Minutes Plus.
81. The most bands in-studio during one episode of Divakar's show was seven.
82. Matthew Sweet was the first in-studio guest.
83. Dave Grohl was in the studio early on while Foo Fighters were playing Charlotte's Center City Fest in 2003. ...
84. ... Rozak assumed they'd never be nearly as popular as Nirvana.
85. Jack Daniel is from the Charlotte/Concord area and has been in the market since 1970.
86. People can hear the station from Greensboro to Asheboro to south of Rock Hill, South Carolina.
87. Jack Daniel was the co-host of the Budweiser Lounge from 1997 to 2000; and then from 2001-2008. It ended when his co-host Kristen moved to Fayetteville, Arkansas.
88. The Lounge was constantly going on location to broadcast from different locations and had an array of guests on from musicians to comedians to porn stars.
89. Kristen has since returned to the area and now hosts a show on 102.9 The Lake.
90. When Jack Daniel handed over the Budweiser Lounge to DZL, he did so by symbolically handing him a can of Bud.
91. There have been times when the station has gone down due to thunderstorms; though an absent-minded Jack Daniel has also caused some dead-air in the early days by forgetting he was on air after taking a break.
92. Kristen once called Daniel after she noticed his car leaving the parking lot while on commercial break. Daniel said he was going home because it was 6 p.m. It was actually only 5 p.m.
93. Jared Leto and Gavin Rossdale have repeatedly given thanks to the station for all of their support over the years.
94. One of the most prized possessions in the studio is a wall of posters featuring the Weenie Roast lineups from over the years -- some of which are signed.
95. In 1998, Jack Daniel was so comfortable on air that he accidentally dropped the dreaded 'f' word while addressing a guest on the Lounge.
96. Jack Daniel does like to drink Jack Daniels -- preferably the Tennessee Honey variety.
97. The station gets a fair share of mail from area prisons. The Lounge used to get a good bit from two South Carolina inmates who referred to themselves as "Big Steve & The Worm."
98. Jack Daniel once did the voiceover for "Get in the zone, Auto Zone" commercials.
99. Divakar is an actor and was recently in a Barry Levinson movie called "The Bay."
100. The station has been streaming online since around 2000 when they were bought by Clear Channel.
101. A numbered art print of the Stone Temple Pilots Tiny Music... Songs from the Vatican album cover hangs in Jack Daniel's office.
102. Performers at the station's Red Ventures Sound Stage sign a wall in the building -- it currently includes George Ezra, The Offspring, Iamdynamite and The Griswolds.
103. One of the worst ideas they had over the years was the "iPod weekend." DJs were allowed to play whatever was on their iPod. The format was so all-over-the-place it wasn't done again.
104. DZL has a tattoo of a microphone on his upper right arm.
106. When it comes to musical guilty pleasures -- Divakar's is classic '70s disco, DZL is a Hall & Oates fan and Jack Daniel love's ABBA's "Dancing Queen."
106.5. And here's to 20 more years...