Former Illinois State Old Time Fiddle Champion Rachel Baiman knew she wasn't cut out to be a classical violinist.
"When I went to college (as an anthropology major at Vanderbilt), I took a secondary degree in music," says Baiman, one half of alternative folk duo 10 String Symphony.
"They had core requirements, one of which was orchestra. I'd sit at the very back of the second violin section, hoping no one would notice me, but my teacher (would start) saying, 'You in the back, you're doing it wrong!'"
Baiman laughs at the recollection. "It was struggle for me, but it was probably worse for the orchestra."
Annoyed orchestra instructors aside, Baiman has been forging a new path for fiddle playing ever since — exploring the outer edge of what the instrument can do and coaxing new sounds from it. Luckily Baiman found a partner in experimentation — Christian Sedelmyer, a classically trained fiddler and touring member of Country Music outfit The Jerry Douglas Band.
"Christian lived in a house in Nashville with a bunch of musicians. I was still finishing school, but I was at the house all the time. There was always a big jam going on. I like to say that (Christian and I) were the only two people willing to play as much fiddle as the other."
Fueling Baiman and Sedelmyer's shared love of playing was their discovery of the five-string fiddle, an instrument favored by famed fiddlers like Brittany Haas and Darol Anger.
"We had both recently acquired five-strings, and were obsessing over what they could do," Baiman recalls. The duo started exploring the possibilities offered by their instrument of choice — a lower, almost guttural range, and an expanded rhythmic palette due to the five-string's thick, percussive chop. Bouncing ideas, riffs and rhythms off each other, Baiman and Sedelmyer came up with the concept for 10 String Symphony, a duo creating a full band sound with just a pair of fiddles.
"One thing that's really nice about a duo is that you become incredibly in tune with each other's playing. You're playing stronger, because you only have one other person to link to. You become a part of each other's style," she says.
10 String Symphony's Weight of the World album.
The pair's tight, almost telepathic playing, and their whirlwind flights based on the five-string's expanded range and rhythmic capabilities can be heard on Weight of the World, 10 String Symphony's sophomore album released last October. With their knotted, conjoined fiddles — ocassionally joined by Baiman's cantering Appalachian banjo — the duo builds compositions around spare bagpipe drones, primitive percussive scratching and smoldering ostinatos that swarm like angry hornets. Baiman and Sedelmyer's entwined vocals weave throughout the mix, sometimes harmonizing with their instruments and at other times climbing free or dropping in a free fall. It's an alluring yet disquieting collection that blows away preconceptions of what fiddle music should sound like.
"We did things that were outside the box — things that were a little less pretty than what you'd expect — and making it part of our sound," Baiman says. "We wanted to do something original that reflects every part of our collective experience — not just traditional folk music."
Baiman based the lyrics of Weight of the World's title track on a scene from Charles Frazier's North Carolina and Civil War-set novel Cold Mountain, where a bear charges the main character W.P. Inman. Inman doesn't want to harm the mother bear so he steps aside as the animal comes at him, but the bear runs off a cliff and falls to her death.
"Inman is left with this little bear cub that is going to die, so he shoots it. He realizes he can't waste it, so he eats it." As he eats, consumed with remorse, Inman can't quite place the flavor of the young bear's flesh, Baiman says. "He's trying to figure which sin it tastes like, but he can't decide. So he invents a new one, which is the sin of regret."
"I liked that idea about regret," Baiman explains, intrigued that some of the most terrible things a person can do are often undertaken without bad intentions. "Like I say in the song, regret is the one sin you can't take back."
Baiman, who writes or co-writes seven of the album's ten tunes, always starts a song with the lyrics.
"I feel that if (a song) doesn't say something, then it doesn't matter how great the music is. Generally I'll compose the lyrics first and then work out the melody. With this band, (songwriting) is really fun because the songs are so heavily based on the arrangements. A lot of the composition happens in the arrangement process — where we figure out how to make a song work with two fiddles."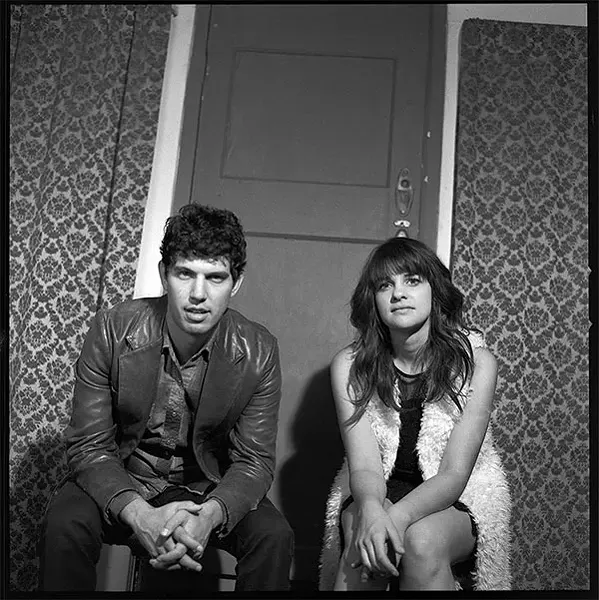 Christian Sedelmyer and Rachel Baiman of 10 String Symphony. (Photo credit: EJ Holmes)
"We take the melody and start throwing out ideas — playing a crazy riff or a rhythmic chop – and we record everything. Every once in a while, something sounds really cool. That's when we press stop, go back on the recorder, and figure out what we did. Those are the pieces we keep for the final arrangement."
Baiman admits that the duo's songwriting process is time consuming and inefficient, but she feels the results are worth the painstaking effort.
Once the songs are written and recorded, performing them live presents a new set of challenges and rewards.
To replicate the acoustic sound of their fiddles in a concert hall, 10 String Symphony "used to use all these microphones and pick-ups and pre-amp boxes," Baiman explains. "We tried to control every input."
The duo finally fixed their live sound woes by going old school — switching to a single microphone set-up. That adjustment wasn't easy though. The fiddles would often drown out the vocals when both were the same distance from the mic.
"We had to work on microphone technique, understanding how and where to stand so that both the fiddles and the vocals are loud enough."
According to Baiman, the laborious adjustments have paid unexpected dividends in increasing the interaction, and instrumental give-and-take between her and Sedelmyer.
"It makes our show so much more dynamic and musical."
Though Weight of the World has garnered rave reviews in Americana, folk and bluegrass quarters, Baiman maintains that 10 String Symphony has finally hit their stride not in the studio, but onstage.
"We feel our live show has actually surpassed our recorded material."