So you haven't gottten enough golf even after a full day of PGA madness under the hot sun (or hot rain, depending on the weather) at Quail Hollow. Want to spend your evenings in Charlotte doing golf-related stuff, too? How about taking the kids out to the mini golf links? Or, take an afternoon off from the big event to practice your driving, or get nine holes of Par 3 in. Below are 10 options in and around the Queen City if you just must have more.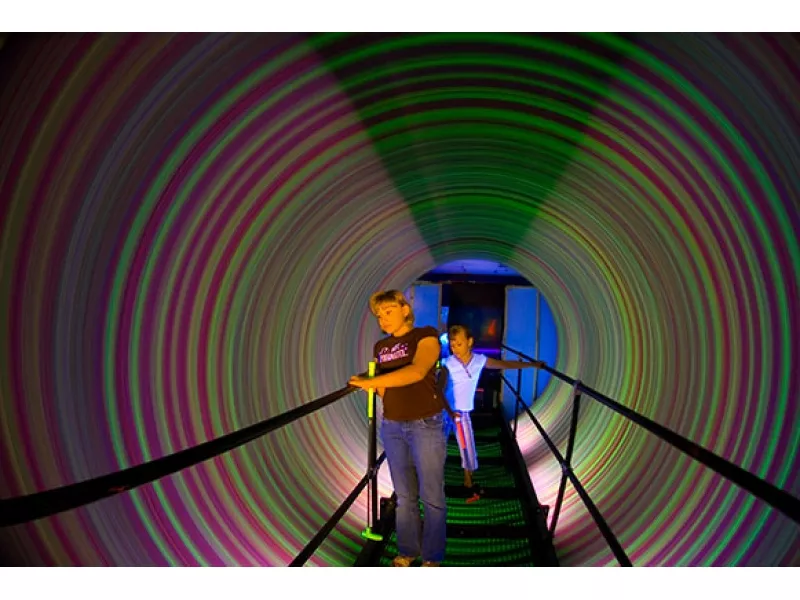 Hole in One: Kids get psychedelicized at Purple Planet. (Photo courtesy of Purple Planet)
1) PURPLE PLANET 3-D MINI GOLF
You've been outdoors all day long and you're dehydrated. A little buzzed from the booze. You're tired of trying to follow the tiny ball in that sea of green grass and blue (or grey) sky. You need some psychedelics. No, we're not talking about illicit drugs, we're talking climate-controlled, glow-in-the-dark, outer-space-themed mini golf in an old refurbished mill building in Belmont. Now, if you want to take illicit psychedelics before you get there, we won't judge you. Just be careful.
Where: 6325 Wilkinson Blvd., Belmont
When: Fri., 4 p.m.–11 p.m.; Sat., 1 p.m.–11 p.m.; Sun., 1 p.m.–7 p.m.; closed all other times.
Price: $8-$10
Deets: 704-277-2459; purpleplanetminigolf.com
2) LUNAR MINI GOLF
Maybe you feel more comfortable doing the glow-in-the-dark thing in a mall. (Hey, we're not judging.) Lunar Mini Golf's web page isn't as good as Purple Planet's, and we haven't actually been there, so you're on your own here. But it's the same set-up: lots of blacklights and stuff that glows in the dark. Lunar gets up and running earlier than Purple Planet, so go on — get outta that hotel.
Where: Eastridge Mall, 246 New Hope Rd., Gastonia
When: Fri. 3 p.m.-9 p.m.; Sat. 10 a.m.-9 p.m.; Sun., noon - 6 p.m.; closed all other times.
Price: $6-$9
Deets: 704-277-2459; purpleplanetminigolf.com
Don't Go Chasing Waterfalls: LKN Mini Golf at Lake Norman. (Photo courtesy of LKN)
3) LKN MINI GOLF
If you're more of a laid-back, Jimmy Buffett type of person who prefers that your mini golf experience not be like a Pink Floyd concert, there's LKN, one of those confusing three-letter hipster names that just means Lake Norman. You'll be up there where folks ride boats, fish and sing "Margaritaville" out of tune, but don't get distracted — you're there for the putt-putt. Kip and Kari Zent founded LKN one day after moving to Lake Norman and realizing there weren't any decent mini golf joints nearby.
Where: 18639 Statesville Rd, Cornelius
When: Mon.-Sun. 10 a.m.-10 p.m.
Price: $6.50-$12
Deets: 704-892-9800; lknminigolf.com
Queens Landing Mini Golf: A spectacular way to spend a day. (Photo courtesy Queen Landing)
4) QUEENS LANDING
What Kip and Kari Zent apparently didn't know when they moved to Lake Norman is that, just up the lake, in Mooresville, is Queens Landing. Its kick-ass mini golf course has caves, waterfalls and a giant sandcastle. And folks up there are singing the same Jimmy Buffett song, for cheap. They have a bunch more stuff at Queens Landing, too, but let's not get distracted. This is about hitting little golf balls.
Where: 1459 River Hwy, Mooresville
When: Mon.-Thurs., 10 a.m.–7 p.m.; Fri.-Sat., 10 a.m.-11 p.m.; Sun. 11 a.m.-6 p.m.
Price: $4-$6
Deets: 704-663-BOAT; queenslanding.com
5) TRAILS DYNASTY
Closer to Quail Hollow is Trails Dynasty, a mini golf course and ice creamery in tiny Indian Trail. They had us at ice cream.
Where: 2228 Younts Rd., Indian Trail
When: Mon.-Thurs., 10 a.m.–10 p.m.; Fri.-Sat., 10 a.m.-11 p.m.; Sun. 12 a.m.-9 p.m.
Price: $6-$8
Deets: 704-893-0093; trailsdynasty.com
Mr. Putty's Fun Park is just over the line in South Carolina. (Photo courtesy of Mr. Putty's)
6) MR. PUTTY'S FUN PARK
Two years ago, Mr. Lionel Westley Putty was a neighbor of Santa Claus when he relocated to the northernmost part of South Carolina from the land of Putt-A-Zerus in the North Pole. In Tega Cay, about a half-hour south of Quail Hollow, Mr. Putty built his Fun Park and made up this silly story for folks like us to repeat in our newspapers and on our websites. Seriously, though: It may be in S.C., but it's one of the closer mini-golf courses to the PGA tournament.
Where: 2333 Dam Rd, Tega Cay, S.C.
When: Sun.-Thurs., 10 a.m.–10 p.m.; Fri.-Sat., 10 a.m.-11 p.m.
Price: $8.50-$17
Deets: 844-677-8889; mrputtys.com
7) PARADISE VALLEY
You know they're serious about their mini golf when they call it miniature golf, and Paradise Valley is damn serious. Not only can you putz around the rather challenging putt-putt course — a replica of a 19th century Mecklenburg County gold mining camp — but you also can play a round of Par 3. (But book your tee time for that.) Oh, and the putt-putt is nice and cheap. The Par 3? Not so much.
Where: 10 Barton Creek Dr.
When: Mon.-Sun., 9 a.m. - 8 p.m.
Price: $5 (up to $16 for the Par 3)
Deets: 704-548-1808; facebook.com/ParadiseValleyGolf
Leatherman Golf will hook you up for a long drive. (Photo courtesy of Leatherman)
8) LEATHERMAN GOLF
First, take a moment to savor that name, and then — fahgitaboutit. This is not the place to see leatherboys hunched over a pair of frilly balls. Leatherman — named for resident pro Chris Leatherman — has it all: mini golf, a double-decker driving range, putting greens, pro shop, learning center, beer, the works.
Where: 5845 S. Tryon St.
When: Mon.-Fri., 10 a.m. - 9:30 p.m.; Sat., 9 a.m. - 9:30 p.m.; Sun., 10 a.m. - 9 p.m.
Price: $6-$8 (up to $15 for a bunch of balls at the range)
Deets: 704-527-1123; leathermangolf.com
9) SUNSET HILLS
This public golf course prides itself on offering two easy courses for beginners, one of which is this 9-hole Par 3. If you're pressed for time and just want to tee off, chip it up onto the green and putt for nine holes, this is your spot. This ain't country club golf, though. Don't expect a challenge. Or any frills. At all.
Where: 800 Radio Rd.
When: Mon.-Sun., 6:30 a.m. - 9 p.m.
Price: $9.25-$11.75
Deets: 704-399-0980; charlottepublicgolf.com/sunset_hills_course
10) WESTWOOD DRIVING RANGE
You could drive out into the country with a bucket full of old, crapped-out balls and smack balls out into the wild blue yonder. Or, you could go to Westwood, where the grass is brown and the skies may or may not be blue. You can only drive during weekday business hours, though, and it'll cost you. We're not sure exactly how much it'll cost you, because Westwood's prices aren't on the Facebook page and the fellow who answered the phone wasn't sure. You might try to to give 'em a shout yourself, if you want to. Whatever you do, drive at your own risk. Or, better yet, head out into the country with that bucket of old, crapped-out balls.
Where: 5604 Beatties Ford Rd.
When: Mon.-Fri., 9 a.m. - 5 p.m.
Price: $??
Deets: 704-399-0980; odarcy.com.com/sunset_hills_course