Paco's Tacos and Tequila opened Monday, south of the Uptown border in SouthPark.
And unlike Taco Macs, which also recently opened in SouthPark, the place actually serve tacos ... along with 60 different kinds of tequila — 100 percent agave tequila at that. There is  no "other" as you'll see in a lot of bar brand tequilas, and "other" is mixtos — that's the stuff that makes your clothes come off and gives you a hangover.
The place has tequila-marinated in mango, prickly pear, and jalepeno, and its specialty drink is this little diddy ...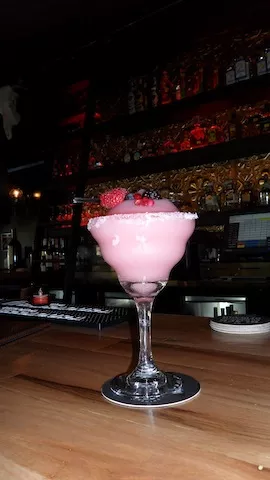 The Blackberry Pomegrante frozen margarita. It's like a margarita popsicle. Then there's the Durango Mango, that has the Cock and Bull Ginger Beer with Mango tequila, fresh squeezed OJ, and a splash of lime. (Leave it to me to accidentally type "Ball" instead of "Bull" on my first draft of this blog.) Anyway, this Cock and Bull non-alcoholic ginger beer concoction (pun intended) plays a role in the invention of vodka, and is randomly manufactured in West Jefferson, North Carolina at the Dr. Pepper plant. And is now served at Paco's Tacos in SouthPark.
They have a build your own margarita menu, which was somewhat overwhelming, like a chemistry lab project.
1. Pick your tequila. You choose between Blanco (white, for lightweights like myself), Reposado (golden and aged in wood for two to  11 months), and Anejo (aged a minimum of one year).
2. Chose your mixer between fresh-squeezed juices and low-sugar-house made sour mix
3. Select your seasoning — as in form of liquor. Since I like Amaretto Sours. I used their sour mix and seasoned mine with Amaretto.
So many decisions ...
You then decide whether you want to rim it with salt, sugar, chili powder, or naked. And last but not least, on the rocks or frozen.
Meanwhile their skinny margarita is basically just tequila and lime juice, definitely no sour mix or Amaretto like I had.
Speaking of which, Vida Mexican Kitchen y Cantina is opening grandly Sept. 30, but they're having a private unveiling of their signature skinny margarita this Saturday, Sept. 18 at their VIP First Look party. And I'm inviting two people to go as my personal guests.
All you have to do is be a guest to my new personal website, BrittneyCason.com and drop me a line via the contact form. I'm easy like that ... but not like that.
More pics of Paco's Tacos ...
It's an upscale Western Bar, if that makes sense.
It has the same ownership as Big Daddy's Burger Bar, my absolute favorite place to go, and Cantina 1511 — but don't expect the same kind of food. Paco and his tacos are Tex-Mex. That's like calling me Mexican when I'm Costa Rican.