Ed's Tavern opened up a second location in Elizabeth… and for this I am grateful. Not only because 7th Street is closer to me than Park Road (that runs east and west, not to be confused with Park Road that runs north and south) but because I've morally been banned from the Ed's in Dilworth.
You see, a long time ago I wrote about the famous Turtle Races at Ed's Tavern. Next thing I know, some animal activist that became aware of it by reading my column is motioning to shut it down. And that was the end of turtle racing… and it was my big mouth that crashed the party. I even got hate mail about it.
I have gone to Ed's several times since the column came out, and without fail – someone will say something to me about it.
So, here's my public apology to the many patrons of Ed's: I am sorry that I was the fun police that ruined the turtle races … I didn't mean to!
To make it up to you I'm giving you a peek into the new Ed's Tavern in Elizabeth that is having its grand opening party this weekend with Chad Mackey Band on Friday and Rockstar on Saturday.
If this Ed's was an identical twin to the one in Dilworth, well then it would essentially be just Jackalope Jacks and Philosopher's Stone extended. But this Ed's is more upscale than a five-star dive. You just feel like you're at your friend's house for a party. Perhaps because you're in an actual house – one that fits right in with the Elizabeth neighborhood.
They took off the fried turkey balls, but both Dilworth and Elizabeth locations have the same menu … bar food. A bar with food vs. a restaurant like Nolia, the former tenant of that house. I just wanted a bowl of their famous black bean soup – only problem was, it costs 25 cents as a side, and $25.00 if you order it alone. Seriously, it says that on the menu. But it ended up costing me $0.00 because the cool chick behind the bar comped it for me — and gave it to me after the kitchen had closed. Now that's what I call a neighborhood bar: one with neighborly service.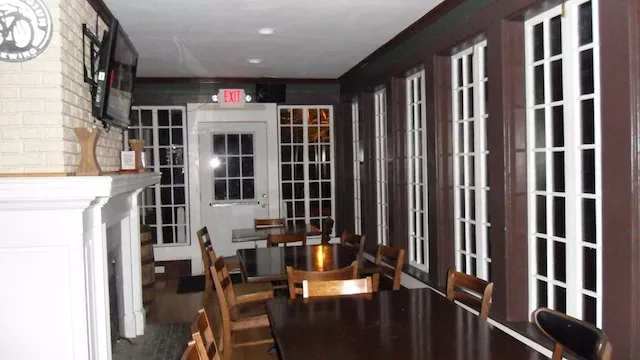 I got really excited when a bulldog came in and sat down next to me at the bar. A real, actual, bulldog who made his way in from the dog-friendly patio. He was perhaps the cutest boy there. Speaking of which — just a random note to guys with dogs. When you're walking your dog and some chick says, "Hi cutie!" in a gushy voice… chances are she's talking to the dog. Just thought you should know.