By Chandler Smith-Currie
If you are looking for good music, cold beer and a "boot stompin', shit kickin', hell raising good time" ... then City Limits Saloon is where you should go. According to manager, Kevin Frazier, City Limits is not as traditional as Coyote Joe's and not as upscale as Whiskey River. It is a nice alternative for country and non-country fans.
I went into City Limits expecting to see the same layout and decor of what was previously Buckwild; however, they completely renovated the ambiance. The place looked great with its red, white and blue country theme. And the painting of Johnny Cash flippin' the bird on the wall behind the stage was a nice touch. It made even my hip-hop loving self was ready to throw on some cowboy boots and start line dancing.
City Limits' Charlotte location is one of two in North Carolina with the others in Wilmington and Raleigh. City Limits Charlotte will have their official grand opening tonight, March 26 featuring country artist, Sunny Ledfurd. They will have drink specials all night and will be promoting there house specialty, "Donkey Punch" which is served in a 32-ounce Cowboy boot that customers can take home as a souvenir.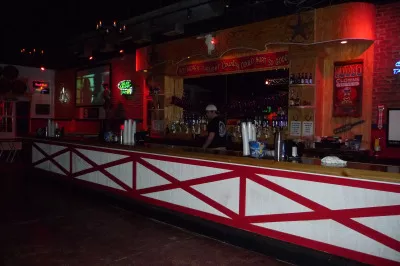 If you're not a college student then you will probably want to stay away from City Limits on Monday nights. College night's main event is the Battle of the Sexes bull riding challenge with bikinis vs. boxers, and girls vs. guys. There is a $500 cash prize for first place. Friday is 1 2 3 night with free line dance lessons from 8-9 p.m. and Saturday is Shit Kickin' Saturdays with music ranging from classic country to hip-hop.
In the words of Frazier, "Wear a hat, don't wear a hat, tuck your shirt in, don't tuck your shirt in. We don't really care. Just come ready to have a great time."