Last week, I went country… back to my roots (and to Coyote Joe's).
You can take the chick out of Dixie, but you can never take the Dixie out of the chick. In 8th grade, my friends and I used to have our parents drop us off at "The Round Up" on the weekends — which was a barn converted into a dance floor with a band where people of all ages line danced. But then after a while we used that as an excuse to meet up and then snuck off to some high school or college party. We got caught eventually, and needless to say, I was never allowed to go to the round up again… and I haven't country line danced since.
That is, until I went to Coyote Joe's last week for their FREE line dancing lessons. First thing my friend and I noticed is that most of the dance moves don't require any hand movements… it truly is the boot scootin' boogy. We figure it's so they can hold their beers. As the instructor was going through the eight counts, I found myself naturally incorporating hip-hop moves into each step... and I couldn't help it. I call it "hick-hop"...
I also felt like I was in Zumba class at the gym too. But mostly because I was sweating and feeling a burn in my things. There were also a lot of couple type dances — like a Southern version of ballroom dancing... which I, of course, was left out of. Although the dude that looked like Dwight from The Office combined with Richard Simmons was looking for a partner.
Just when I thought I was getting the hang of it ....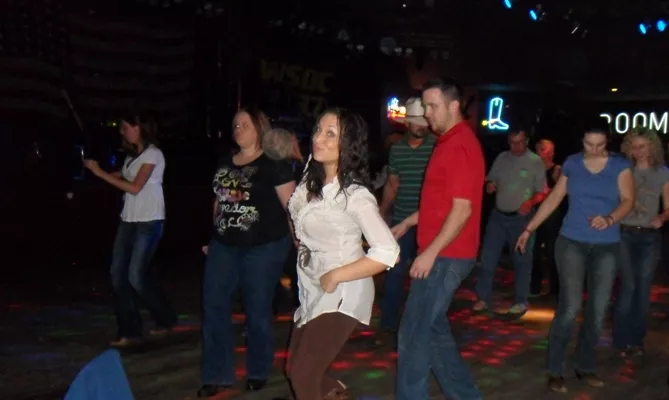 TIMBERRRRRRRRRRR!!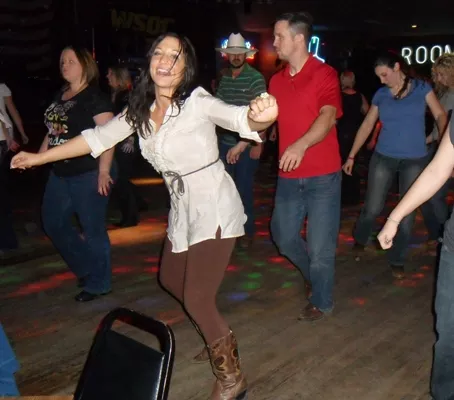 Yeah... my boots were definitely made for walking... and not dancing.
Coyote Joe's offers their free lessons every Wednesday starting at 7 p.m. Next time, I'm going I'm wearing tennis shoes and a sports bra though!