Trick or Treat? Halloween isn't just for the tricks ... sure, it has turned into "Dress Like a Slut Night" with so many girls going as "Slutty (insert occupation here)" — but despite the fact that it's hard to find costumes that'll cover your ass anymore, there were a lot of creative costumers out this Halloween. And as I made my rounds to judge various costume contests, I captured some of the winners .... Treat!
A blind Jake Delhomme seen at Coyote Joes — and even though just in costume, he still got boo'ed off stage during the costume contest. I also saw a Jake with a for sale sign on.
All the single ladies! Beyonce and her back-up dancers seen at Andrew Blair's
And here we have the mugshot magazine, The Slammer, that you can find at your local gas stations. But I found this one on Rich and Bennett's Halloween crawl through Uptown.
Inspector Gadget and Spencer Pratt (his Heidi was off looking for her shampoo) were chillin' together at Andrew Blair's.
Dorothy wasn't in Kansas ... or Oz. She was at Halo, with her whole crew — the Cowardly Lion, Tin Man, and Scarecrow ... everyone but Toto.
And this girl apparently just skipped the "Slutty (insert occupation here)" costume and just went as a slut.
I meanwhile procrastinated on making a costume ... much like I do everything in life. So about an hour before the costume contest, into my closet I went ... and came out with my old TopCats warm-up uniform and boxing gloves, and the Tampa Bay TopCats fighting in the bathroom costume was born ...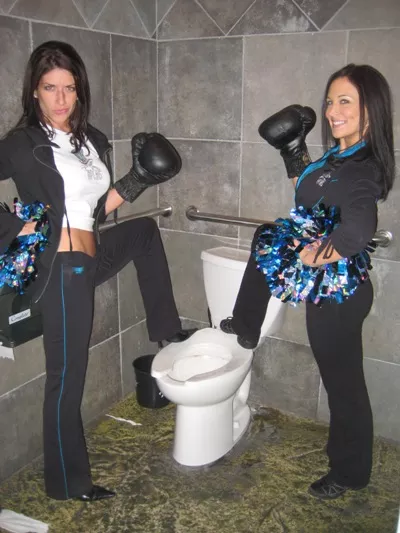 To see more Halloween photos, visit QCAfterDark.com.