I always thought I belonged in the circus with the sideshow freaks … but I found another form of circus act welcoming me to their big-time-big-top. Although, they called me a dork when I hadn't yet seen their show, referring to it as "Nitrus Circus," as opposed to the correct name of the popular MTV show — Nitro Circus.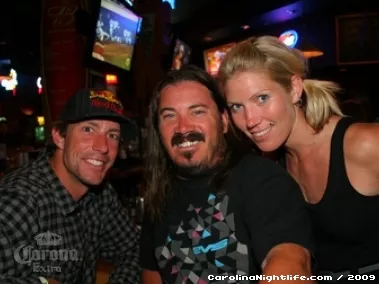 But I quickly became a fan of these fun and funny guys, and apparently I fit right in when I suggested we hijack paddle boats and race them through the lake at University – apparently that was illegal though, so we just ended up playing beer pong at Boardwalk Billy's instead … with water.
I met up with the guys (and gal) Tex, Jim "T-Rex," Andy Bell, Travis Pastrana and Jolene in University due to the fact they were staying at the Hilton and remaining within walking distance. Nitro Circus set up tents, and shut down downtown in order to film their show here, including Andy and Travis racing Scott Speed and Brian Vicker's RedBull cars through Uptown Charlotte.
And meanwhile in University …
The multi-talented Andy Bell performed his "Dick Tricks" also known as "Genital Gymnastics" which entails making shapes with his genitals - kinda like balloon animals. His repertoire includes the "Squirrel on the Trampoline," "The Hernia" and "The Big Mac," for starters. He actually broke out the "Kobe Beef Burger" in the bar … it was definitely an interesting sideshow act, but more like a Cock Circus than a Nitro one. We figure this talent must have come from a lot of practice masturbating. Also, anytime anyone said the word "MINE" they had to drop down and do ten push-ups right there in the middle of the bar.
And I heard the funniest story, perhaps ever, but it is regrettably a random act of gossip …. Apparently Andy Bell's ex-wife is now dating Brian Vickers … so after he smashed his car all to hell during the filming of the episode, he took a picture of him pissing on his totaled stock car, kinda like the caricature Calvin.
Meanwhile, they are going to Kitty Hawk to be first in flight … in a motorcycle with wings