I'll take you out to the ballgame. Well, RockHouse Events will ...
All aboard the Ragin' Uptown Party Bus to the Knights Stadium for the Charlotte Knights vs. the Louisville Bats, Triple-A affiliate of the Cincinnati Reds for which I am throwing out the first pitch on June 24. Cost is just $15 and includes lower level reserved ticket to the game, transportation to and from, and beers on the bus. BUT ... I am giving away a ride, as well as a RockHouse Event baseball hat (to get you into the mood).
And for added entertainment you can point and laugh at me while I attempt to successfully get the ball from the plate to the mound without making the catcher dive for a ground ball. Last year, I didn't do as bad as Mariah Carey, Carl Lewis or BaBaBooey ... I did get the ball to the plate, but let's just say that if I were bowling, it would have been a gutter ball.
Special thanks to Wes Wisler for diving to catch the play then play it off as though he never changed his stance, and to my friends at LazyDay for capturing the before and after shots of my missed shot...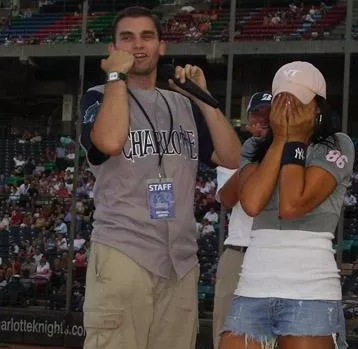 You can purchase tickets here