… a Holistic Healing HAPPY hour. Emphasis on the happy.
My friends all call me a dirty hippie – yes, to my face - but I beg to differ … I'm more like a hygienic hippie. I just prefer holistic medicines over western ones — and not just because the cost of health care is ASStronomical, but because it's natural and effective in most cases. My primary care physician, Dr. Haas is even a holistic healer.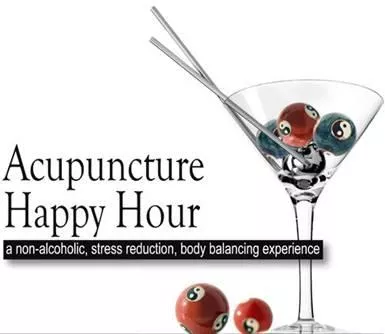 Well, I took my hippie ass to Healing Hands Clinic for their Acupuncture Happy Hour.
For a mere $10, I got a 15-minute acupuncture treatment on the "5 points in the ear" and 15-minute massage. Now I have gotten a lot of rub downs in my life … as in massages, and that might just be the best one I've ever gotten – even if it was just a quickie … again, I am talking about a massage.
It's like a sample of Chinese medicine — a buffet of health.
Healing Hands Acupuncture and Herbal Clinic serves their holistic healing happy hour once a month, and each one with a different form of modality treatment from yoga to Reiki to massage. The next one is coming up July 14.
Oh, and Adrienne that works there makes the most amazing dip!
6207 Park South Dr.
Suite 101
Charlotte, NC 28210
704-571-8783