What is up with a noon game on a weekday? I'm sure all the VT and UNC fans throughout Charlotte are going to be real productive at work tomorrow. Two words for you: long lunch. Or fuck it, it's Friday and game day, just take half a day. It's like an unsaid Tarheel holiday, after all.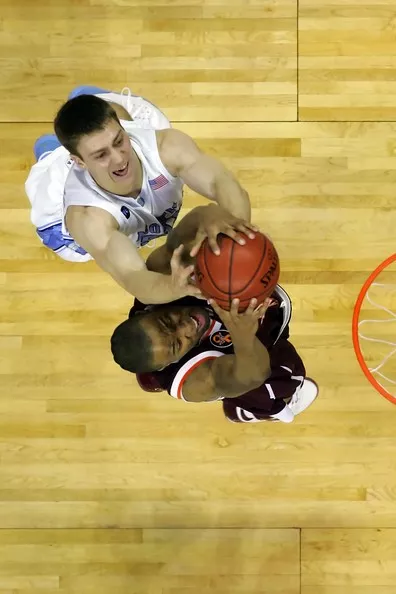 I know so much about college basketball that when I met Sean May the year after he helped UNC win the National Championship, I asked him which school he went to. But I do know that VT and UNC both have to win three games in order to win the ACC tournament.
I had tickets to VT vs. Miami game in Atlanta on Thursday, but instead I went up to the lake to watch the game during the live broadcast of WFNZ's Frank & Buck at the LKN Sports Grille.
Places to go to "lunch" to watch the game...
Tarheels tend to monopolize pretty much every bar in Charlotte, but especially LKN Sports Grille, Stool Pigeons (all of them) and Wild Wings ... Wild Wings is by no way Hokie friendly, which we learned when we went to watch the Virginia Tech vs. Georgia Tech game. We were a table of 10 watching one little TV for the VT game while most everyone else was there for the UNC game that came on after. There was a minute left of the VT game, GT and VT were tied – and it was still 45 minutes before the UNC game started... And they changed our channel! By the time they changed it back the game was over.
VT fans meanwhile hide out at Picassos, Fox & Hound, or Blackfinn. And there's also Jocks and Jills, which is a non-denominational sports bar.
Pretty much any venue that has a television will be playing the game (probably even the office break room) … where you can spend your lunch break. And don't feel bad about having a drink half past twelve … it's 5 o'clock somewhere.
Wanna wager?
Last year for this game I made a bet with Sean May and his UNC entourage that if UNC wins I'd have to wear Sean's UNC jersey and tap dance in front of Phil's for 20 minutes…. Luckily, my Hokies pulled through.
The following ACC Tournament schedule is as follows (all games are on WBTV, Channel 3)
Friday's Quarterfinals
No.1 North Carolina vs. Virginia Tech, noon
No.4 Florida State vs. Clemson-Georgia Tech winner, 2:30
No.2 Wake Forest vs. Maryland-N.C. State winner, 7
No.3 Duke vs. Boston College-Virginia winner, 9:30
Saturday's Semifinals
North Carolina-Virginia Tech-Miami winner vs. Florida State-Clemson-Georgia Tech winner, 1:30
Wake Forest-Maryland-N.C. State winner vs. Duke-Boston College-Virginia winner, 4
Sunday's Final
Semifinal winners, 1