Valentine's Day, other wise known as the "Hallmark and other fine retailers make a profit day," is more of a holiday for the economy than anything else. For couples, it's an excuse to go out to eat, exchange presents and have sex. But for single people, it's the best night to go out — especially for guys looking to get laid. What?... I'm just being honest. It weeds out all those in a relationship so it's a free-for-all — and a solid opportunity to meet other single people.
If you don't want a prefix three course meal at an expensive steak house when you don't even eat meat, well don't worry because there is plenty to do otherwise.
I present to you the "Fuck Valentine's Day" party menu...
Tonight at Snug Harbor is Shiprocked's Fuck Romance, Let's Dance. But for D-Day, er, I mean, V-Day...
* Wave your freak flag at Purgatory XLII: St. Valentine's Day Massacure where you will find erotic acts, interactive fetish play areas, and a human red carpet... literally a carpet of people, probably red because they're bleeding from people digging their heels into them.
* Anti-Valentine's Day Charity Bash at Cans.
* Luv Sux at Howl at the Moon with games including Nuts N' Bolts and Buckets N' Balls.
If you bring a mutilated picture of your ex you'll receive discounted admission? What is up with all this mutilating and shredding of pictures? I found it just as effective to simply delete photos from Facebook and removing them from your desktop... But do what you gotta do.
* MingleBerry is having a Single's Mingle: An Anti-Valentine's Day Party For the Non Lover in You at The Ember Grille within the Westin.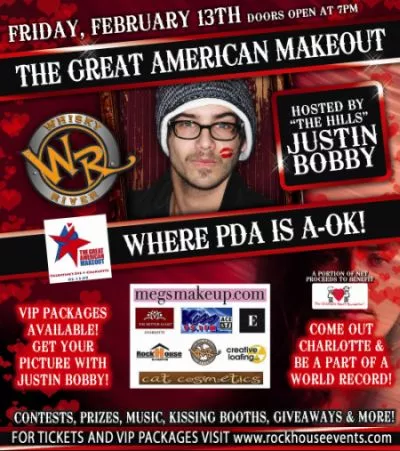 Since Valentine's Day falls on a Saturday it seems to be "Valentine's Weekend" in the Charlotte nightlife scene... as if one night wasn't enough. But it's Friday the 13th... either something freaky is set to happen or people all over the country are just going to get their freak on.
Cason-Point: The Great American Makeout at the EpiCentre hosted by Justin Bobby from MTV's "The Hills."
Am I normal because I have no idea who that is? And by the EpiCentre they mean Blackfinn where they're having a VIP dinner at 7 p.m. followed by frisky festivities at Whisky River including the record-setting smooch. Benefit the Children's Heart Foundation by swapping spit with a stranger.
Also on Friday the 13th...
The Anti-Valentine's Single Beer Pong Tournament at Alley Cat. No partner, no problem – there's no teams for the Friday the 13th King of the Hill Tournament!
And if you are taking the bitter bus out this weekend, why not go to Angry Ale's for their Anti-Valentine's Day party?
And because laughing is so much more fun than going to the "Bitter Ball"... The Chuckleheads are having a fundraising party at Beef O' Bradys in Fort Mill on Friday and Last Comic Standing's Dale Jones is going to be at ALIVE on Saturday.
And for guys really needing to get laid, Girls Gone Wild is going to be at BAR Charlotte... of course.
And for another installment of Brittney's Random Revelations...
Although the thought is sweet — I don't fully understand the concept of giving cookies and chocolates via Facebook... is that like the diet form of giving sweets to sweeties. And why do guys think it's a good idea to get grown women stuffed animals? What are we, 10? We decorate our bed with throw pillows... not teddy bears. I even covered this on ESPNU's Campus Connection's Valentine's Day segment.
See...