Mutual friends told me she was creative and passionate and a bit quirky - just my kind of gal. When we initially met for lunch at Levant in Uptown, I assumed we were going to have a friendly "meeting of the minds" to discuss networking, writing and Charlotte's socio-political climate. Then, as we were settling the bill and gathering our things to head back to work, she surprised me with an invitation. Rather business-like, she asked me if I would like to join her in bed. After a moment's hesitation, I agreed. Even though we had only met an hour earlier, we had a connection. We set a date for a few weeks later. I wasn't quite sure what was in store, but I enjoyed the anticipation.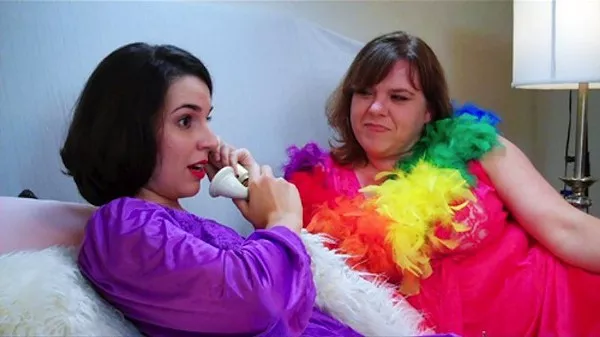 When I arrived at her home, I was nervous. She greeted me at the door wearing nothing but a lilac negligee and bright red lipstick. (Gulp!) She offered me a drink, but I declined. I went directly to the guest bathroom and stared into the mirror. What was I thinking? How do I keep getting myself in these situations? Why do I agree to do things that terrify me? I gave myself a short pep-talk and gathered my courage. I changed into a pink nightgown, newly purchased for this special occasion, smoothed my hair, and put on a fresh coat of lipstick. I opened the door and stepped bravely into the unknown.
Not only did we get into bed together, but we did it under hot lights and in front of a camera. Yes, friends, I joined Joanne Spataro on the set of "Pillow Talk." What did you think I was talking about? Sorry to disappoint you. Yes, I did get into bed with a woman, but no it was not to have sex. It was to talk about sex - something I find incredibly satisfying, but in a wholly different way.
Joanne is a contributor to Creative Loafing and a blogger at The Huffington Post. She writes about LGBT issues and gender politics. She is also the creator and star of several YouTube episodes of Look It's Joanne. Recently, she has developed "Pillow Talk," a series of filmed short interviews with local folks, conducted in the comfort of her big pink bed.
I assume she asked me to be one of her guests because she thought I would be saucy and provocative and maybe a bit naughty. But alas, I fear I was none of those things. I went into sex nerd mode instead of sex kitten mode. Seriously, I was in a pink nightie, in bed with a woman and a giant vulva pillow, and I was boring!?!?! I hope my saucy side shines through but I won't know until I see the finished product. Episodes begin airing on Jan. 14, and mine will air just in time for Valentine's Day. Click here for a sneak peek.