As more and more of the Forty Days of Dating (comically nicknamed "40DD") project is revealed, I find myself becoming a little bored by most of the daily entries. They are exactly like being with a friend and analyzing the minutiae of her new relationship - tedious and inconclusive. I have, however, become increasingly fascinated with the comments, particularly the ones raising the When Harry Met Sally question.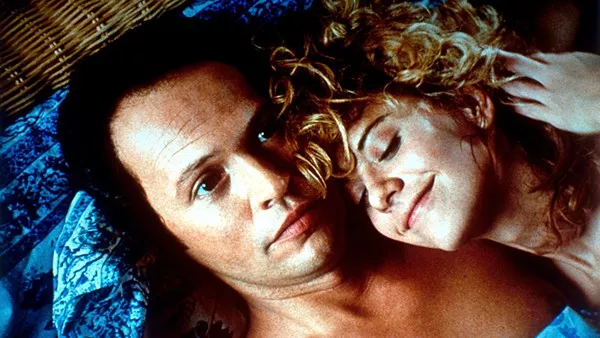 Anyone who knows rom coms has no trouble fitting this project into the family of scripts that made Nora Ephron and Rob Reiner famous: friends are adamantly just buds, then drinks/age/sex happens, and everything goes coo coo bananas until they figure out that - SURPRISE - they've been in love the whole time! Were they ever truly "friends" to begin with? This is the "When Harry Met Sally question."
Harry insists that men and women can't be friends because the sex part always gets in the way, and Sally insists that she has male friends that she does not sleep with. Harry trumps her with the declaration that men inevitably want to nail all the ladies, even if they are only "friends." They spend the remainder of the movie as best buds, until the end when, in a twist worthy of M. Night Shyamalan, Harry shuts the whole thing down by marrying Sally.
More recent versions of this trope show Kutcher-Portman and Timberlake-Kunis pairing off to display the post-millenial Harry and Sally: the fuckbuddies. The movies tell us that this friendship is designed to fail, and it does, but only because, like Harry and Sally, they were in love all along. Awww.
This is obviously not the way it works in real life.
In graduate school, I started sleeping with a friend who was, by all-American standards, a stud. Green-eyed, chisel-jawed and cut like Adonis, his rippling body was a strange and welcome sight among the bookworms and sunless, bespectacled egomaniacs that were the rest of us. One day he just lunged at me, and all of a sudden we were fucking. But I was fresh out of an almost six-year relationship, and he was fresh into his sobriety. Both new to an intense writing program, we decided it was best to remain friends. But we kept having sex. Everywhere. All the time. So we had to talk about it. We knew that "friends with bennies" have a sort of tragic reputation, but we decided we would be different. We were in grad school - we had priorities! The arrangement worked, for the most part. We were close friends with some pretty real boundaries, so we worked and wrote and fucked like rabbits, and never made any plans past our graduation date. Two years in, however, shit inevitably got complicated, and not in a good way.
An old friend of mine was telling me today that she's in a similar situation. The guy is an old high school boyfriend she reconnected with when they both wound up living in the same city almost a decade later. She says they started hanging out, and one day he just lunged at her and they ended up having sex (which, sadly, she said was just like high school: quick, short and confusing). Though they talked about it and decided they aren't really in a place to really date, they are, by the looks of it, dating anyway: they go out for picnics, bring each other gifts from work trips, have grown-up sleepovers and go out to breakfast the next morning. "We shop for furniture together," she says. Like my grad school not-boyfriend and I, they are also sexually exclusive but definitively not a couple.
Harry and Sally had it easy. When they were walking the streets of New York together in the '80s, "friend" was a much easier term to define. Now, people are a little more casual about the boundaries that separate friend from lover, and within each coupling the rules and regulations only get more blurred, more grey, more complex. At best it's what happens when people realize that their needs may not entirely fit the prescribed notions of acceptable, socially mandated relationships, at worst it's what happens when people compromise their needs to fit what's available.
Sometimes we need complicated. Sometimes complicated is all that's out there.
My special friend and I crossed and uncrossed and re-crossed every boundary imaginable: we were just friends and secret lovers, then openly just "fuck buddies," then actually called each other the "g" and "b" words, just to avoid our opinionated friends from constantly showering us with their judgment. They also thought our arrangement meant we were just in love with each other but unable to say it, but I knew then just as surely as I do now that love was not the endgame of that strange arrangement at all. What we had was companionship. Comfort. A safe and unpressured place to be a little more sexually uninhibited, a little more selfish. That's not to say we didn't fall into some traps, because we did: you can't spend two years ostensibly in a relationship with someone and expect the parting to be anything short of a real breakup. There were tears. There were long, soul-searching emails. There were ill-advised road trips and even more ill-advised post-mortem sexual encounters, and eventually there was silence.
Millenials live more in grey areas than any generation before them. Grey areas are more comfortable because they offer us the promise of possibilities, or, a way out. Grey areas leave room for failure, because it doesn't have to be seen as failure: Harry and Sally were friends, then they were lovers, and unless they defined the next step immediately they were nothing. My grad buddy and I were friends, then we were lovers, but we were always friends. Now more than ever these relationships aren't mutually exclusive. We may still be attracted to labels, to find a way to make sense of the myriad relationships we manage in our daily lives, but we can also exist in uncertainty - and learn from it. It may not land us a marriage, but it doesn't necessarily have to cost us a friend.