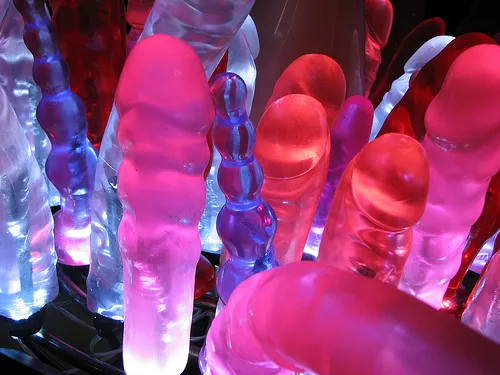 Photo credit: Christina Xu
A few weeks back, we told you that the federal government had expanded its consumer database to include sex toys — so you and yours can look up your favorite implements of pleasure to be sure you're not harming each other with nasty chemicals that can do everything from make you fat to cause cancer.
Well, recent news from Germany suggests that you take a gander at the database again to be on the safe side. And, we all want to be on the safe side of sex, right?
Germany's Green Party is worried about the health of their countrymen. But this time they aren't concerned about typical environmentalist causes like nuclear radiation or pesticides in food. Instead, their latest fears regard the potential health hazards of sex toys.

Now a group of 10 Green Party members of the German parliament, the Bundestag, are demanding that the government take action. They have drawn up a paper entitled "Sexual Health as a Consumer Protection Issue."

"Many dildos and other sex toys such as vibrators and anal plugs contain a high amount of phthalates, other carcinogenic plasticizers and toxic substances," the paper reads. The substances, which enter the body through mucous membranes, can lead to infertility, hormone imbalances, diabetes and obesity, the parliamentarians warn. The chemicals can also cause hormone disturbances in unborn babies, the paper reads. Phthalates and other plastic softening agents are being officially phased out of products in many developed nations.

Because dildos and other sex toys are widely used in Germany, the Greens see the issue as a problem for society as a whole. While children's toys are subject to strict regulations that allow only the smallest percentage of plasticizers, a 2006 study by the Öko-Test consumer magazine found that sex toys contain high quantities of the chemicals. Plasticizers comprised up to 58 percent of materials used in such products, the magazine wrote. More than half of the vibrators examined by Öko-Test contained so many toxic substances that they failed the test entirely, it said.
Read the entire Spiegel article, by Anna Reimann, here.
— Rhiannon Fionn-Bowman