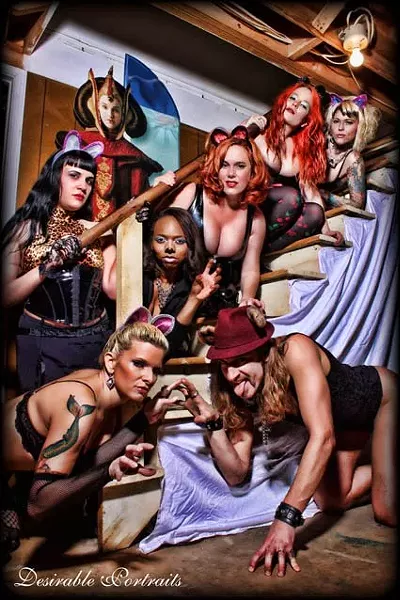 Are you ready for some bikes, babes and burlesque?
Then you want to be at Tremont Music Hall's Trash-O-Rama this Friday, if for no other reason than to see Greensboro's siren of burlesque, Tiger RoXXX — sleek like a kitten with costumes and performances that purr — growl and amp up the sexy.
Trash-O-Rama is a grindhouse style of entertainment with live music, a car show and of course the babes.
Creative Loafing: What can Charlotte fans expect from your troupe?
Tiger RoXXX: Burlesque is the art of tease, and we're on the more traditional end of that. They can come out and see a good and alluring show. We have a lot of different characters. We have girls who stick to the traditional end. We have a lot of fun-loving girls and we get out there and have a good time. We also have a comedic side and that's lots of fun.
Who is your most popular character?
We have a girl named Just Jingles. She's one of the younger girls, and she puts her heart and soul into it and is a lot of fun. She really grasps the idea of what burlesque is about, you know, women's empowerment and about finding yourself and just speaking your story through your body and through the music. She raises up that energy and pulls the crowd into the act.
How long have you been doing burlesque?
I've bee doing burlesque for about five years now.
What have you seen in the five years since you've been doing it?
I think that people are understanding that it is an art form and we take the theater, comedy, sideshow and put it all together, along with dance, movement and storytelling. We put that all in a three- to seven-minute number. Before people just thought it was just 'shaking your thing.'
That said, what are some misconceptions that people have about burlesque?
I think that people have the misconception that we're going to get naked or do something lewd. We're not trying to go out there and drop our pants and our top in the first 10 seconds of our number, because that's not what it's about. It's about playing with the mind and playing with our attitude. Then showing that we're proud of our bodies and telling a story. It's like reading a book — you don't put the good stuff in the first chapter because then you don't want to read on.
Friday March 25th Pre-party $10, Saturday March 26th $20, Combo pass $25, Tremont Music Hall, 400 West Tremont Ave., 704.343.9494. www.tremontmusichall.com