After holding out for 15 seasons, I broke down and started watching The Bachelor for the first time this season, merely because I know two of the girls on it – Kim and Emily, both from Charlotte. And after DVR'ing the season thus far and even attending a Bachelor viewing party for the first episode to support Team Kim and Emily, I am still rather confused. Can someone please explain this show to me?
So let me get this straight … There are 25 girls living in a house like sorority sisters, but are all fighting over the same guy? And he goes around making out with each of them until he decides which one he wants to marry?
Since when has winning a man's affection become an audition where you vie to make the cut? Do we like a challenge so much that we're willing to make dating into a game show, literally?
A harem of women competing for one man on national television gives him the power to say, "Any many miny mo, catch a ho with a rose."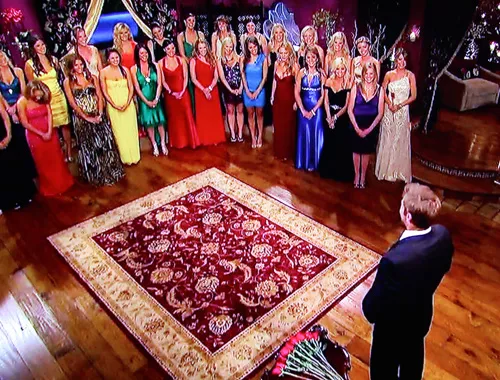 The Bachelor is everything that is wrong with the world of dating.
First of all, it takes more than five minutes of alone time to get to know someone, let alone conclude he or she is the love of your life. It takes at least six months for someone to introduce you to their flawed self — not the six-month representative they send for the honeymoon period. Then you take a bunch of girls looking for attention, be it from love or fame, sharing a man like a polygamist colony — and the insecurities and claws come out. I mean, is The Bachelor a spin-off of the show Big Love?
And they try to make it seem romantic? More like dramatic. The show is so cheesy it makes me crave crackers and wine (Though, that joke was pretty cheesy in itself). And why did Brad Womack need years of therapy for not choosing either of the girls the last time he was on The Bachelor? … he just didn't want to marry either one of them. There's the breakthrough.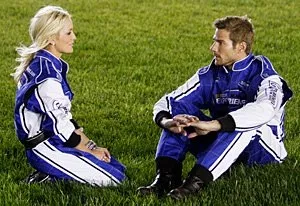 Meanwhile, there's all this backlash about Emily's infamous NASCAR date. Nevermind that —ABC arranged for Emily's first date with Brad to be via a private jet, knowing very well her traumatic experience with her fiancé Ricky Hendrick dying in a plane crash en route to a NASCAR race. If anything, that was insensitive. Anything for ratings I guess ... it's as easy as ABC.
Calling pot, this is kettle, you're black…
But I don't have any room to hate on reality shows. I went on Holidate and got to serial-date three guys in Chicago, like I was the Bachelorette. But in reality, they were more like hired actors, and after every highly produced and orchestrated date, I met up with a guy from Second City – and he's the one who ended up being my boyfriend.
The Bachelor isn't completely unrealistic. Guys garner that kind of power in real life when women go against one another and submit to sharing. And those poor girls — they had to give up their phones (not to mention their dignity), stay up all night to film rose ceremonies, and keep their suitcase packed in case they didn't make the cut ... and for what? A stupid rose, oh, and 15 seconds of fame ... or public humiliation, depending on how you look at it.