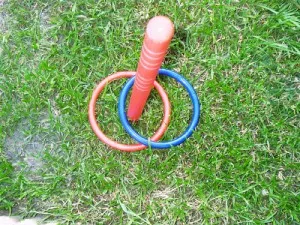 We all hate office parties. I know I have a co-worker who would rather dig her teeth out of her mouth with a rusted butter knife than attend the yearly Christmas bash at one of my jobs. But what recently happened at a hotel in Oregon was just plain gross.
A hotel employee in Eugene, Ore., is suing her boss after she had a company get together and employees were encouraged to play ring toss on her husband's penis. But wait there's more.
The husband danced nude and masturbated publicly, and guests guessed the size and circumference of his penis, and his wife handed out sex toys as prizes for correct guesses.

Jessica Webber sued the Markum Inn in Federal Court, alleging civil rights violations, sexual harassment, hostile workplace and constructive termination.

She says she worked for 3 years at the hotel owned by Ward and Julie Frederick until their outlandish behavior forced her to quit.

Webber says that in December 2008 Julie Frederick showed her a letter from her husband, "promising to fulfill any sexual fantasy."

Mrs. Frederick often "talked about her sexual fantasies and asked plaintiff and other employees for advice or suggestions," according to the complaint.

On April 18, 2009, she says, the Fredericks threw a private party at the hotel on a day when Webber was scheduled to work until 11 p.m. She claims Mrs. Frederick told employees she had hired a male stripper to perform, as a "practice run" for a bachelorette party.

The Fredericks invited female employees, customers and friends to the party, according to the complaint.

Webber says that during her shift, "Mrs. Frederick handed out a questionnaire to plaintiff and others with questions relating to the genitalia of the male stripper and Mr. Frederick, including questions regarding the size and circumference of Mr. Frederick's penis. Mrs. Frederick also showed plaintiff a bag of adult sex toys that she intended to hand out as gifts at the party for correctly answered questions."
This party isn't even appropriate for your closest girlfriends. I've been to some wild Pleasure parties, bachelorette parties and drunken house parties and not one involved a ring toss on someone's penis. At times, I rail about how sexually repressed we are as a society, but this is beyond bad taste. You can't force sex on someone in the workplace. There's nothing fun or funny about subjecting your employees, or your husband for that matter, to such a degrading event. I hope this woman wins her lawsuit.