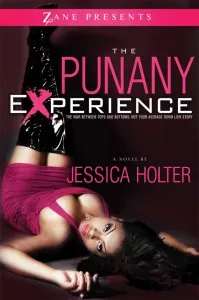 Jessica Holter is known as a Punnany Poet. You've seen her on HBO's Real Sex and in Charlotte at the Charlotte Literary Festival in 2007.
Now Holter is back with her first fictional novel, which takes a look at gender roles and sexuality like no other book has done. In The Punany Experience, Holter tackles sexual identity, pleasure and STDs without preaching or getting political; however, if you don't find a message in the pages of this fiction, then you've missed the biggest part of the experience.
Here's a brief look at what the book is about:
Take an unhappy husband with a spoiled and suspicious wife, an androgynous businesswoman with a knack for inflicting pain, an executive assistant with no shame, then add a passive-aggressive lesbian pillow princess to the scene and you have just started The War Between Tops and Bottoms.
Holter spoke with Creative Loafing about the book, which was released on July 6.
Creative Loafing: